Roanoke Vineyards
by
Erin Sullivan
January 2009 Update
We first visited Roanoke Vineyards in 2007. Since that time the winery has added two new Cabernet Francs and a red blend. The current case production is 2,800 cases. The owners would like people to know that they "specialize in red wines and offer exceptional hospitality."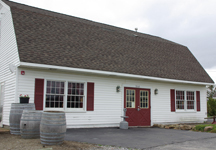 Upon entering the tasting room at Roanoke Vineyards, one is welcomed into a cozy environment that immediately feels comfortable. Roanoke is relatively new - the vines planted in 2000 and the tasting room opened in the fall of 2004. The owners, Richard and Soraya Pisacano began the winery with the idea that they would be dedicated to making ultra premium wines, while specializing in blends and quality but keeping it small. Seven years later, they have succeeded. With only seven acres of vineyards and case production at 900-1200, the Pisacanos find great joy in getting to know and nurture each and every vine.
The vines planted on an old apple orchard, may account for the different tastes of the same grape in different sections of the vineyard. The area also has a small pocket of warmth, making it easier to grow great Cabernet Sauvignon, one of Roanoke's specialties. Advertising is all word of mouth and it is easy to see why the Pisacanos do all of their sales through the tasting room and their Wine Members Club.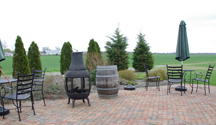 While sipping on red wine out of Riedel glasses with complementary cheese and bread, one can easily see what all the talk is about around town. This wine is simply glorious with reds that seem to be truly age worthy. One can spend an afternoon here out on the patio that has tables, chairs, music and an excellent view of the vineyard.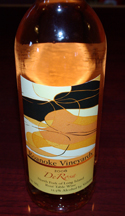 Although Roanoke specializes in reds, they do also have a rosé, named De Rosa. Richard's father wanted him to make a rosé in honor of Richard's grandmother, Marie De Rosa. It took awhile to get the formula right, as they wanted a wine that Marie would have liked. The first few tries yielded wine that was just too sweet, "not to say Marie was not sweet, but that wine just wasn't her!" laughed Soraya. The first year that the rosé was sold, 79 cases were produced. It should reflect upon the wine to know that these cases sold out within two months. Last year's vintage will be released at the Rosé Party on May 12th.
Some other events include an Art and Wine Show (May 25th from 6-10pm), a Wine and Chocolate Valentine's weekend, a Wine Club members party, and of course their yearly Anniversary Party in October. Private group tastings are also available if booked in advance.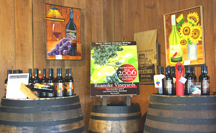 Richard Pisacano began tending vines in high school and has been doing it ever since. With nearly 30 years under his belt, he still has the same passion as when he began. Anyone who enjoys a fine red wine would sincerely enjoy a visit to Roanoke Vineyards.
Roanoke Vineyards
3543 Sound Avenue
Riverhead, NY 11901
631.727.4161
Website: Roanoke Vineyards
---