Peconic Bay Winery
by
Kathy Sullivan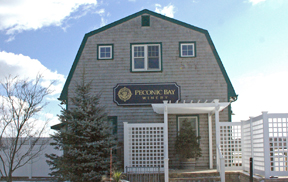 Summary: Peconic Bay Winery is one Long Island's oldest wineries. Their first vineyards were planted in 1979. The winery has a unique tasting room in the Riverhead Tanger Outlet. In season, wine tastings take place at the tasting/event room near the winery and vineyards.
Peconic Bay is one of Long Island's oldest wineries. The first vineyards were established in 1979. In 1989 Peconic Bay began producing and selling wines. Today Paul and Ursula Lowerre own Peconic Bay Winery.
We were fortunate to be able to talk with Greg Gove, who has been the winemaker for Peconic Bay Winery for many years. We also met Charlie Hargrave, the enthusiastic vineyard manager. Greg became interested in winemaking as a result of sailing. Originally he had been a chemist who enjoyed sailing. In 1985 he came out to Long Island to sail. Eventually he started working at Hargrave Vineyards followed by Pindar and Laurel Lake. Greg has been winemaker at Peconic Bay since 1999.
Greg took us on a tour of the winery. We tasted a few of the 2012 whites and were impressed with their potential. It looks like 2012 was a good year for the North Fork whites. The winery produces 6,000 to 8,000 cases each year with grapes that have been harvested by hand. Several solar panels are used to supply electricity for the winery.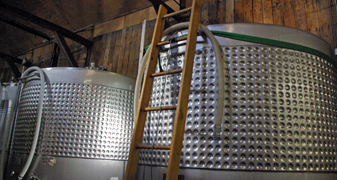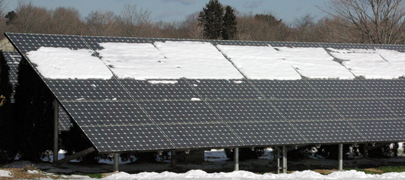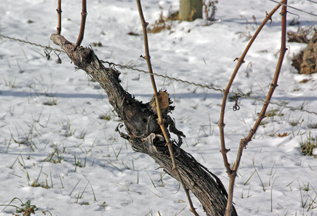 Vineyard
Prior to the planting of the vineyard, the property was an active farm since the late 1800s. Ray Blum who started the winery planted the grapevines in 1979. Eventually Ray sold the property to the current owners, Paul and Ursula Lowerre.

Twelve acres of grapes are planted around the winery and event/tasting room. In 1980 Riesling, Chardonnay, Cabernet Franc and Merlot were planted. Other varieties included Sauvignon Blanc and Viognier planted in 2008. Fifty acres of vines are at the Oregon Road vineyard. These were planted in 1998, 1999, and 2003. Grape varieties at that location include Cabernet Franc, Pinot Noir, Malbec, Petit Verdot, Chardonnay and Merlot. Greg noted that white grape varieties like the climate more than the red grape varieties.
Winemaking Tip
Greg commented on the technique he uses when filling a barrel without spilling wine. He has timed how long it takes at a certain pressure to fill an oak barrel almost to the top. In order to prevent the wine from overflowing the bunghole, he carefully watches for a shadow that resembles a crescent moon.
Tasting Room/Event Room
Across a driveway, a separate building is the location of the event center also used as a tasting room at certain times of the year. During the warmer months make reservations if planning to use the picnic tables. If the tasting room is closed, Peconic Bay Winery has a unique tasting room, Empire State Wines, at the Riverhead Tanger Outlet. Due to our schedule we tasted the bottled Peconic Bay wines at Tanger Outlet.
Private and public events can be scheduled at the winery. Those looking for wedding or reception facilities will want to check out what Peconic Bay winery has to offer. Other private events that can take place at Peconic Bay include business
meetings and company picnics.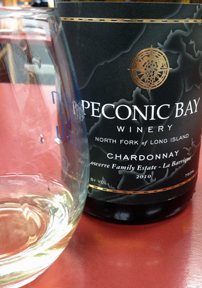 Wines
We tasted several Peconic Bay wines while at Empire Cellars. Steel-fermented Chardonnay 2011 was a straw color. The aroma had lemon grass notes. The taste offered citrus and hints of tropical notes. The finish was crisp and fruity. Chardonnay Lowerre Family Estate 2010-La Barrique was a light yellow. The aroma had scents of vanilla, caramel, and apple. The taste had notes of caramel and pear/apple. The finish was crisp with caramel hints.
Lot #4 with a dark ruby color was a blend of Malbec, Merlot, and Cabernet Franc. The aroma offered dark fruit notes and hints of sweetness. The taste was like a fruit salad of black fruit and red fruit. The crisp finish had mild tannins and was fruity. Malbec 2010 was a dark ruby color. The aroma was of dark fruits and leather. The essence of the taste was of black fruit including black cherries and blackberries. The finish was crisp and fruity with tannins. Cabernet Franc 2010 was a dark ruby color. The aroma offered plum and black cherry nuances. The taste had leather and plum notes. The finish was crisp with chewy tannins. Lot #5 was a blend of Cabernet Sauvignon, Malbec, and Merlot. The dark ruby wine offered black fruit notes including blackberry and black raspberry. Leather was also observed. The finish was crisp with mild tannins.
When visiting Long Island, be sure to check out Peconic Bay wines at the winery and at Empire State Cellars in Riverhead's Tanger Outlet
Peconic Bay Winery

31320 Main Road, Rte. 25
Cutchogue, New York 11935
GPS: N41º 01.116' W72º 28.797'
Empire State Cellars
308 Tanger Mall Drive
Riverhead, New York 11901

GPS: N40º 55.184' W72º 43.117º (parking area nearby)
Article written January 2013
---