The Lenz Winery
by
Terry Sullivan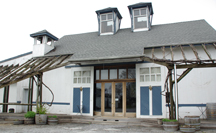 Think of making your favorite fruit salad and its combination of different tastes. This will give you an idea of the approach that winemaker, Eric Fry, uses to produce his wines. Eric picks his Chardonnay grapes at different times and then uses his "fruit salad" method to create a glorious blend with different complexities of Chardonnay. The Chardonnay grapes may have the flavor of citrus, green apple or melon among others. The fruit blend concept is also applicable to red wine that is a blend of the traditional Bordeaux red grapes.
The Lenz Winery and Vineyard established in 1978 is one of the oldest wineries on Long Island. The tasting room was once a potato warehouse. Today 65 to 70 acres are planted with grapevines. The Vineyard is micromanaged so that it produces a little over two tons per acre. The Lenz Winery and Vineyards only use grapes from their estate. They produce about 10,000 cases of which 500 cases are sparkling wine. Eric also helps make wine for 15 other wineries.
If you like dry wines, Lenz is definitely the winery to visit. Eric believes that fruit taste should be evident in a wine. Lenz wines have an intense fruit taste without the sweetness one may expect. Whether you are a sweet or dry wine lover, you will enjoy these wines.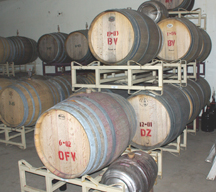 We asked Eric if he uses a group for feedback on creating his blends. He told us that when he was a chemist for Robert Mondavi Winery he worked on a committee that decided on the blends. He spoke of how difficult it is for a committee to decide on a blend since everyone is different and has various likes and dislikes. To further emphasize this, Eric was teaching a class later in the morning and one of their activities was to come to a consensus on a blend. Today, at Lenz, Eric makes the decision by himself. Eric's philosophy is, "This is one place where democracy does not work." He does not rely on chemical analysis. Eric believes, "If it tastes right, it is right." He uses his sense of taste to determine the composition of the blends.
Eric's tour of the winery was one of the most educational tours that we have experienced. From the start, he wanted us to taste wines from the tanks and discuss what we thought of them. Unlike many wineries that tell you what you are going to taste before you taste it, Eric asks you to describe what you smell and taste before he makes comments about the wine. "I think people can taste for themselves," Eric said. He uses the same presentation when tasting the whites and the reds from barrels. Eric made us feel comfortable and in fact encouraged us to spit. He tasted all the wines with us and listened to our comments.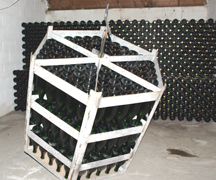 The Lenz Winery makes a sparkling wine using the traditional method. The cuvée is a blend of about 70% Pinot Noir and 30% Chardonnay. The bottles are riddled in a hand moveable gyropalette. They are then stored five to seven years on their sides. Eric believes that the fizz makes the wine feel alive. He believes that a dry style sparkling wine pairs better with food. We tasted the Pinot Noir from the tank. This Pinot will eventually be part of the Cuvée. We also tasted the 2000 Cuvée. It was very dry, fruity, had small bubbles and a lively fizz. This would make an excellent dinner wine that could accompany many different foods.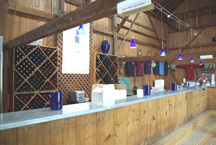 The wine tasting room at Lenz is large with a long tasting bar. Several tasting staff members are available to help visitors with wine tastings. Looking around the room, one sees displays of wine, wine glasses and books about wine. Austrian wine glasses engraved with Lenz are available for sale. A large display shows the results of a wine tasting between Lenz wines and French wines.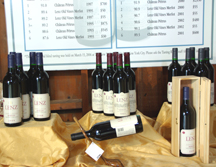 Lenz Winery is proud of their ranking in blind tastings that compare their wines with others from California and France. Recently several wine professionals blind tasted five flights with four wines in each flight. Two of the wines in the flight were from Lenz and two were from a top French producer. The Lenz wines did extremely well. In three of the five flights, the Lenz wines placed first and second. The average score for the Lenz wines was 90 points while the average score for the French wines was 89. These blind tastings have shown that Lenz wines can stand up to the French wines and at a fraction of the price.
Eric strives for quality wines and it is apparent he continually meets his goal. You will enjoy tasting these quality wines produced by a winemaker who sees making wine as an art.
The Lenz Winery
RTE 25 - Main Road
Peconic, New York