Shinn Estate Vineyards
by
Kathy Sullivan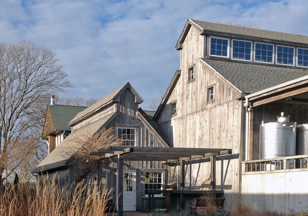 Summary: Enjoy a unique winery visit by stopping by the boutique tasting room at Shinn Estate Vineyards on the North Fork of Long Island in Mattituck, New York. Wines include a sparkling wine, reds, whites and an Eau de Vie.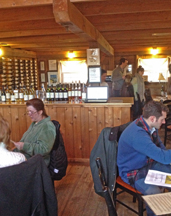 Shinn Estate Vineyards offers wine enthusiasts a unique experience at their small, quaint winery. Visitors will discover several small tables where they are invited to sit. Winery staff members pour the wine tastings at each table. It provides a delightful and relaxing experience to taste Shinn wines in this manner.
The winery is a large building adjacent to the tasting room while the barrel room is a few steps away from the tasting room in another structure.
The owners of Shinn Estate are Barbara Shinn and David Page. Previously they owned the Home Restaurant in Greenwich Village in New York City. They became known as the pioneers in the "farm to table" movement. While owning Home Restaurant, they came to Long Island for their restaurant wines. Eventually they followed their dreams and bought the winery property in 1999/2000.
We met Patrick Caserta, winemaker, who gave a tour of the winery. Patrick attended the Culinary Institute of America in Hyde Park, New York. After taking a wine course he was bit by the wine bug and decided to become a winemaker. He traveled to New Zealand and worked at a winery, Te Mata. Patrick has also studied at Fresno State and worked in California and the Pomerol region of Bordeaux at Vieux-Chateau-Certan and Le Pin.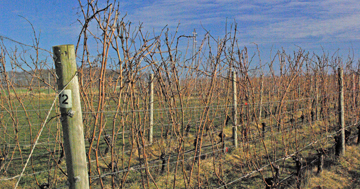 Vineyards
The 20 acres of vineyards are planted with Cabernet Sauvignon, Cabernet Franc, Petit Verdot, Merlot, Malbec, Sauvignon Blanc, Semillon, and Pinot Blanc. In the vineyards organic and biodynamic principles are used. Some of the concepts followed include the use of compost, cow horns, and teas. Planting is done using the biodynamic calendar. If the winery is in need of additional fruit, grapes are sourced from North Fork.
Plan extra time at Shinn Estate Vineyard and take the self-guided tour. A full description of a vineyard tour is available to use as a guide while walking the Self Guided Vineyard Walk. Each area to stop at is marked by number. Several of the stops described include: Organic and Biodynamic Vegetable Garden, Japanese Bantam Chickens, Our Vineyard Floor-a Blooming Meadow, and Creating Natural Wildlife Habitat.
Wines
Patrick bottles wines on the biodynamic calendar fruit days. He believes that for grapes grown on their property the wines bottled on fruit days are fruitier than if he bottles on a "root" day that tends to bring out the vegetative character of a wine.
First Fruit Sauvignon Blanc was a gold color. A touch of Semillon was blended with the Sauvignon Blanc. The aroma and taste reminded one of floral notes and freshly baked bread. The finish was crisp and citrusy. Haven 2010 was a blend of Sauvignon Blanc and Semillon. The wine was a gold color. The aroma was floral. The taste offered layers of honeysuckle, citrus and caramel. The wine had a long aftertaste.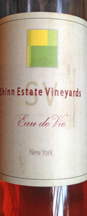 Cabernet Franc 2009 was a dark ruby color. The aroma and taste had a jammy dark fruit character. The finish offered bold tannins and was crisp and chewy. The long aftertaste was chewy. Pair this wine with game. Wild Boar Doe 2009 was a blend of Merlot, Cabernet Sauvignon, Cabernet Franc, Malbec and Petit Verdot. This dark ruby wine had an aroma of dark fruit notes. The taste had cherry, blackberry and currant nuances. The finish was crisp with tannins.
Eau de Vie was produced with Seyval Blanc from the Finger Lakes. The spirit was a reddish-orange with 40 percent alcohol. The aroma had floral and alcohol nuances. The taste had heat with a touch of citrus. There was a long aftertaste.
Futures Dinner
Each year in January, the winery offers a Futures dinner. The dinner, foods paired with future wines, provide guests with the opportunity to taste these future wines and secure a case or so of the preferred wine. The funds raised with the Futures orders helps with the purchase of oak barrels. Tables and chairs were set up in the barrel room and in the winery.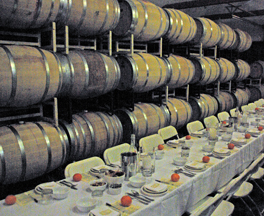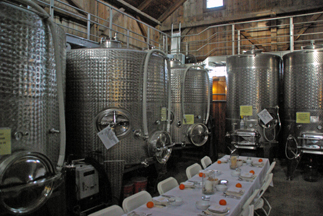 Enjoy a relaxing visit at Shinn Estate Vineyards. Taste wine in a relaxing tasting room and take a self guided walk of the vineyard.
Shinn Estate Vineyards

2000 Oregon Road
Mattituck, New York 11952
GPS: N41º 00.839' W72º 31.951'
Article written January 2013
---