Pindar Vineyards
by
K.L. Sullivan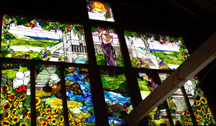 Upon entering the Pindar Winery, directly across from us past windowed doors we saw a room with oak barrels. To the left a door led to a large tasting room. Entering the tasting room, we saw an array of gifts and accessories on the left. A beautiful stained glass window is located above the beams at one end of the room. To our right were two large rectangle-shaped tasting counters. When we first arrived, tastings were taking place at only one of the tasting counters. By the time we began our tasting, many visitors were comfortably spread out around the tasting counter tasting and conversing about the wines. Areas of the tasting room appear old and we learned that the building was originally a potato barn. Before the building of the new winery building, all of the winemaking took place in this building. Today the bottling takes place in this building. The winemaking and aging takes place in a new building a hundred yards or so away.
Pindar Winery and Vineyards was founded by Dr. Herodotus "Dan" Damianos in 1979. Gewürztraminer and Chardonnay were the first grapevines planted. Currently Pindar owns over 600 acres with over 400 acres planted with grapevines. Pindar produces about 90,000 cases per year. Approximately 25 workers take care of the vineyards. Skip told us that birds are a major problem in the vineyards, especially starlings. To combat the birds and deer, netting provides protection for the grapes. Covering the vineyards with netting takes place in July and is a difficult and expensive but necessary job. The vineyard manager and assistant manager check the vineyard everyday.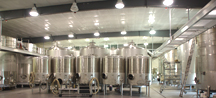 We met the assistant winemaker, Skip, who readily agreed to give us a tour of the massive new building housing 50 tanks and able to hold 1700 barrels. The new building is not complete and in the future will have an upper level to hold a laboratory. Stainless steel tanks of various sizes are in one area. The larger stainless steel tanks hold 12,000 gallons.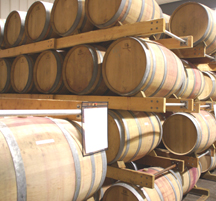 Another section of this facility houses the barrels. Four barrels are stacked on top of each other resting on what appears like wide ladders. At the end of each row is a chart with data collected about the contents of the barrel including year, variety, vineyard and cooperage. The winemaker writes data including the dates for the SO2 test, SO2 addition and when the barrel was last topped.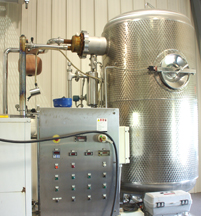 This was our first winery where we saw an evaporator. This machine removes water from grapes to make a concentrate. This will increase the brix (sugar level) of the liquid. Winemakers could add this grape concentrate to a wine to increase the sugar level.
Outside of the building are the presses. They have two 10-ton presses and one 30-ton press. Two motorized barrels can rotate. The fermenting "must" can be placed in these tanks and rotated rather than punching down.
Behind the tasting room and across from the large winery is a pavilion. Outside events are on weekends including bands and acts. Check out their website for more information. The large parking lot outside of the tasting room is filled from Memorial Day to Labor Day.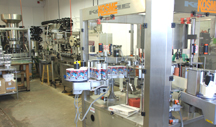 We walked back into the original winery building to see a large bottling machine. The bottling machine takes up three sides of a room. This is one of the largest bottling machines that we have seen thus far. It can bottle and label 3000 cases a day.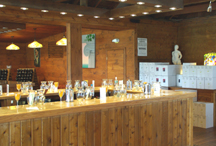 After our tour with Skip, we returned to the tasting room to try some wines. You can get your choice of cheese and crackers for $5 with a tasting. Terry Montenegro was our tasting consultant. She had several groups and we were impressed that she learned the names of the people with whom she was discussing the Pindar wines. Sunflower Chardonnay is a fruity Chardonnay with hints of oak and is light. Semillon (oaked for one year) is surprisingly good for a new grape, with hints of lemon grass and pine, with a smoky aroma. Johannesburg Riesling is very sweet but not syrupy. It had a fruit and floral bouquet and a peach taste. Winter White is a blend of Cayuga grape and non-oak Chardonnay which is semi-dry with sweet notes. Pythagoras is full bodied with a balance of acid and fruit. It is a blend of the five Bordeaux grapes. The Syrah is peppery. Riesling ice wine is candy in a bottle. Merlot is dry and very smooth.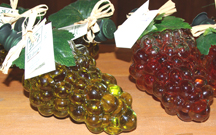 Do not miss the gifts available in the gift area. Whether you are in need of wine accessories or a unique gift, you may find the perfect item here. We saw an unusual olive oil bottle in the shape of grapes. It was hard to resist buying it.
We enjoyed our visit to Pindar and appreciate the time that Skip and our tasting guide took with us explaining the winery and wines. We believe you will enjoy your visit to Pindar Vineyards.
Pindar Vineyards
Peconic, Long Island, New York

---