Osprey's Dominion Vineyards
by
Kathy Sullivan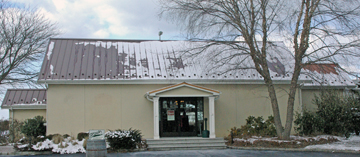 Summary: Osprey's Dominion Vineyards is a wonderful winery to visit. The modern style tasting room sits on the main vineyard site. Osprey's Dominion Vineyards is known for having the largest variety of grapes grown on Long Island. Outdoor activities make Osprey's Dominion a great place to bring the family.
Osprey's Dominion Vineyards, located on Long Island's North Fork, is named for the beautiful osprey bird. The owners, both pilots, were also childhood friends. The Osprey name comes from their fondness of osprey. These beautiful elegant birds are frequently seen hovering over the vineyards.
Osprey's Dominion Vineyards' tasting room provides a delightful stop for wine tourists. Large windows afford views of the separate winery building as well as acres of vineyards. Visitors are encouraged to take a picnic basket to enjoy outside. An area is set aside for a barbecue and outdoor games including volleyball. Kite flying may also be enjoyed.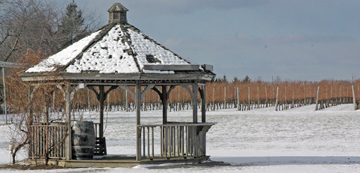 Vineyards
Osprey's Dominion Vineyards consist of 90 acres of grapevines located on three farms. The tasting room is located at the primary vineyard site. The vineyards include 13 varieties: Sauvignon Blanc, Chardonnay, Gewürztraminer, Riesling, Pinot Gris, Merlot, Cabernet Sauvignon, Cabernet Franc, Petit Verdot, Tannat, Malbec, Pinot Noir and Carmenere. Occasionally the winery sells excess grapes to other wineries. A gazeob is set close to the vineyards. This is a perfect site for a wedding during mild days.

Tasting Room
The spacious tasting room has a long tasting counter off to the side and a circular counter at its end. Honey toned woods make up the sides of the tasting counter with a granite-like top. Several tables and chairs afford visitors a place to sit and view the vineyards. Light floods the tasting room from the surrounding windows. Displays offer a variety of wine related items including clothing, glassware and wine gift baskets.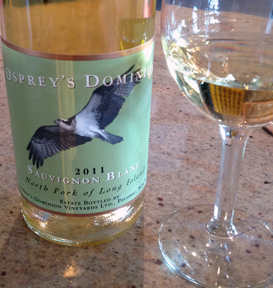 White Wines
Reserve Chardonnay 2010 was a golden yellow. The aroma offered apple and pear nuances with a hint of caramel. The taste had apple and pear notes. The finish was mild with a hint of chewy tannins. Fruit yielded to caramel. The wine had a long aftertaste. Sauvignon Blanc 2011, a gold color with fruit nuances including citrus, was smooth and fruit lingered on the finish. "Flight" Edelzzwickent 2010 was a blend of Pinot Gris, Gewürztraminer and Riesling. The aroma was intense with floral and fruit notes. The taste was of fruit and was smooth and dry. Suggested pairings included shellfish, poultry, and aromatic cheese. Riesling Semi-Dry 2010 was a gold color. The aroma offered floral notes with hints of honeysuckle and roses. The smooth taste had honey and floral nuances with hints of orange blossoms.
Red Wines
Carmenere 2010 was a dark ruby to dark purple color. The aroma had tobacco and black fruit notes. The taste was of blackberries and plum. The finish was chewy with bold tannins and tobacco yielding to dark fruits. Malbec 2010 was a dark ruby color. The aroma and taste were of dark fruits including blackberry, plums, and black cherries. The fruity finish was chewy with bold tannins yielding to tobacco and leather. Pinot Noir 2009 was a ruby color. The aroma and taste had cherry and leather notes. The finish had tannins with cherry and spice nuances. Merlot Reserve 2007 was a dark ruby color. The aroma and taste offered dark fruit notes, especially cherry, with hints of leather. Bold tannins were on the finish.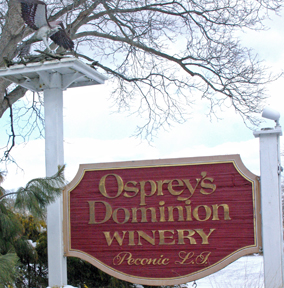 Events
Osprey's Dominion Vineyards is a great location for families to bring and enjoy a picnic lunch on the grounds. Watch for frequent live music events as well as special events.
Osprey's Dominion Vineyards
44075 Main Rd.
Peconic, New York 11958
GPS: N41º 02.692' W72º 27.068'
Article written January 2013
---