Wölffer Estate Vineyard
by
Kathy Sullivan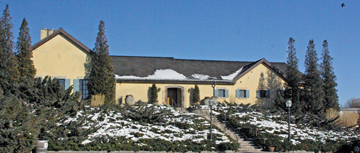 Summary: Wölffer Estate Vineyard produces classic, traditional style wines that have layers of fruit and are food friendly. The Tuscan-style winery and estate are located in Long Island's Hamptons area. The delightful and relaxing wine tastings take place in a sophisticated room at numerous available tables.
The Wölffer Estate Vineyard winery and tasting room is located in a Tuscan-style, yellow building with light blue shutters. Stepping inside the facility, visitors will realize that this is no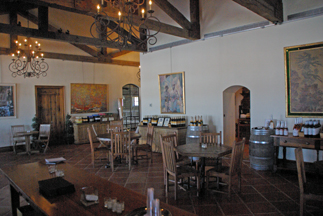 conventional tasting room. Great care has been taken in furnishing and decorating the interior. Inside, the first floor is primarily divided into four sections of various sizes. A large gift boutique, with walls of golden pine offers an array of special items. It is separated from the tasting room while a long room/hallway with windows overlooks the winery. The large tasting room, also with views of the winery, reminds one of a museum with many antique ceramics displayed on a wall of enclosed shelves. A German made stained glass double door leads to an event room. Large paintings are displayed on the walls. A terrace is adjacent to the tasting room.
A wood ornate back bar with a long table in front is more for show than tasting wines. Wine tastings take place at tables spaced apart throughout the room. The atmosphere in the tasting room is quiet, warm, and friendly.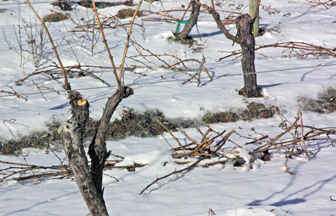 Vineyards
At the time of our January visit, the vines near the winery had been pruned. Wölffer Estate Vineyard's consist of 50 onsite acres that include Chardonnay, Merlot, Cabernet Franc, Pinot Noir, Cabernet Sauvignon and Trebiano. The vineyards are only 2.6 miles from the ocean that provides a constant breeze that helps keep fungus low. The soils are a clay loam silt mix on top of sand. Grapes can be left on the vines until late October or early November. The winery also works with three growers in the North Fork region. Grapes are hand harvested.
Christian Wölffer planted the first vineyard in 1988. The first vintage was 1991 and Roman Roth, winemaker, arrived in 1992. The winery building was completed in 1997.
Winemaking
Roman's father was a cooper and winemaker. Roman likes the creative part of winemaking as well as the seasonable part. He creates classic traditional style wines with layers of textures. In the winery Roman primarily uses French oak but he noted that American oak is getting better and better. The Long Island winery produces 25,000 cases of wine.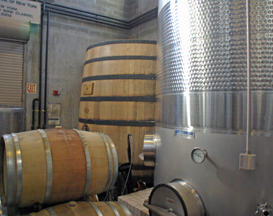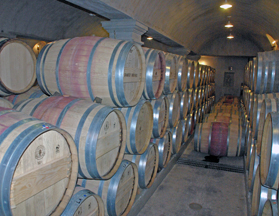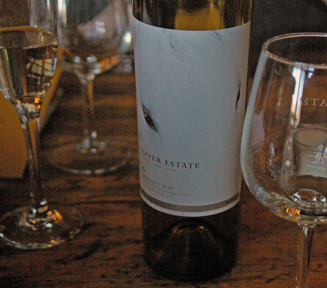 White Wines
Our wine tasting took place at a table led by Roman. He brought the wines to the table. While in the tasting room, Roman chatted with other visitors. Look closely at the white labels and notice the horse.
Chardonnay 2010 was a blend of wine, 90 percent stainless and 10 percent barrel fermented. This estate grown Chardonnay was a light yellow. The aroma had notes of pear and the taste had pear and apple nuances with hints of vanilla and caramel. The crisp finish was fruity. Perle 2010 was named after a horse. This Chardonnay was yellow with apple and pear notes. The finish had a touch of tannins with fruit yielding to caramel and vanilla. Pair is pan-fried seafood.
Red Wines
Merlot 2009 was a ruby color with an aroma of cherries. The taste was of cherry and hints of licorice. There was a perceived sweetness from the fruit. The finish had tannins and was chewy with fruit. Fatalis Fatum 2008 was named for a horse. The wine was a blend of Merlot, Cabernet Franc and Cabernet Sauvignon. This ruby wine offered notes of dark fruits and licorice. The finish had tannins and was chewy. Caya 2009 was a Cabernet Franc that was a dark ruby. The wine offered plum notes with hints of licorice. The finish had bold tannins and was chewy with layers of fruit. The yellow label Caya was aged in barrel for 12 months while the white label Caya was aged in oak for 22 plus months. Cassango 2009 was a Cabernet Sauvignon. This dark ruby wine offered aromas and taste notes of licorice and dark fruit. The finish had bold tannins with fruit yielding to a hint of pepper. Cabernet Franc 2010 was a dark red . The wine offered cherry and spice notes including baking spices. The fruity finish had soft tannins and was chewy.
Sparkling and Dessert Wines
Noblesse Oblige was a blend of Pinot Noir and Chardonnay. The wine was a very light salmon color. The wine offering notes of baked bread and marmalade is a crispy palate cleansing sparkling.
Diosa 2011 Late Harvest was a blend of Chardonnay, Viognoles, Gewürztraminer and Trebiano. This golden wine had an aroma of honeysuckle. The smooth taste had orange, honeysuckle and yellow stone fruit notes. The finish was crisp with layers of flowers and fruit.
Events at Wölffer Estate Vineyard
Public and private events take place at the Wölffer Estate Vineyard facility. Look for music events, Candlelight Fridays, and the James Beard Foundation's annual Chefs and Champagne fundraiser. A variety of private events take place at the winery. For those looking to book an event, private events include: weddings, corporate dinners, holiday parties, and celebrations such as birthdays and anniversaries.
When planning to visit Wölffer Estate Vineyard, save time to enjoy the atmosphere of the tasting room while enjoying delicious wines created by Roman Roth.
Wölffer Estate Winery

139 Sagg Road

Sagaponack, Long Island, NY
GPS: N40º 56.692' W72º 16.690'
Article written January 2013
---