Macari Vineyards and Winery
by
Kathy Sullivan

Summary: Wine enthusiasts will enjoy a visit to Macari Vineyards & Winery where they can experience a colorful tasting room with an array of wines to taste, wine-related gift items, a large deck, and numerous events.
Visitors to the Macari Vineyards & Winery tasting room pass acres of vineyards and arrive at a large modern structure that includes the winery, tasting room and a large deck overlooking many acres of vineyards. This modern building has a striking style with redwood and glass. The owners, Alexandra and Joe Macari and the staff are friendly and it's obvious they enjoy what they are doing. Alexandra noted, "The people you meet are fascinating."
Wine enthusiasts to the Macari Vineyards & Winery tasting room will discover a friendly welcome and a large location to enjoy wines. The bright and cheerful tasting room has wrought iron chandeliers. The walls are light green and Tuscan yellow. Wood beams across the ceiling add to the ambiance of the room. Numerous gift items are available including a large selection of decanters and gift baskets. Hand painted stemware is also available for purchase. Gourmet foods are available. Visitors may want to purchase cheese, charcuterie, crackers and preserves to enjoy at a table on the deck.
The tasting counter is towards the back of the tasting room. Two video screens overhead show the process of viticulture and winemaking at Macari.

Joseph Macari Sr., his wife, Katherine, and Joseph Macari Jr. founded the winery and vineyard. Today Joseph Macari Jr., his wife Alexandra and their children focus on producing quality wine from the grapes provided by their vineyards. The Macaris believe in producing only quality wines. The first vineyards were planted in 1995 and today 200 acres of vines cover the area. Grape varieties include: Chardonnay, Grüner Veltliner, Pinot Gris, Sauvignon Blanc, Viogner, Cabernet Franc, Cabernet Sauvignon, Malbec, Merlot, Petit Verdot, Pinot Meunier and Syrah. Viticulture care includes the use of organic and biodynamic principles including compost and special teas, principles made renowned by Rudolf Steiner. The Macaris noted, "It (biodynamics) is worth doing." Grapes for their own Macari wines are hand harvested.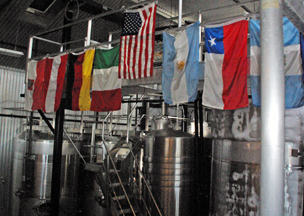 Winery
The Macari winery is located on the lower level of the facility. Windows behind the tasting counter overlook the winery, giving visitors a glimpse into the tank room. Colorful flags contrast with the gleaming stainless steel tanks. The flags represent the countries that have had an intern work at Macari.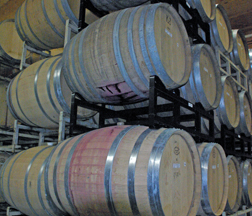 Joe and Alexandra added an additional room for barrel aging wines. While touring the winery, Joe noted that while he enjoys the winery, he would have liked to have the opportunity to design his own winery. Kelly Urbanik is the winemaker.
White Wines
Riesling 2010 was produced with grapes sourced from the Finger Lakes. The straw color wine offered mineral and lime notes with hints of peach. The finish was crisp. Sauvignon Blanc 2012 was scheduled for bottling soon. The wine had notes of grapefruit and lemon grass. The finish was crisp and refreshing. Early Wine Chardonnay 2012 was produced with grapes harvested early at 19 brix. The color was clear to very light straw. The wine was citrusy with lime notes. It had a soft mouthfeel and a long fruity aftertaste.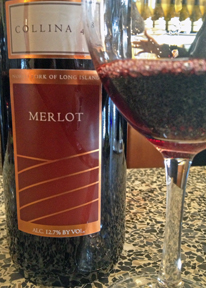 Red Wines
Collina 48 Merlot was 100 percent Merlot. This dark ruby wine had an aroma of dark fruits and violets. The wine finish was fruity with tannins. Merlot Reserve 2007 was aged in oak for 22 months and three years in the bottle. This was a dark ruby color. The aroma offered cherry and blackberry notes. The taste was of cherries and blackberries with a hint of vanilla. The finish was crisp with chewy tannins and fruity. Cabernet Franc 2008 was a ruby color with cherry and plum notes. The taste also had a hint of cloves. The finish had bold tannins, was chewy and fruity yielding to pepper.
Dessert Wine
Block E 2009 was from a designated vineyard block. This was a blend of Chardonnay, Pinot Gris and Sauvignon Blanc. The dessert gold wine had floral notes with honeysuckle and yellow stone fruit. This dry wine was crisp with apricot on the aftertaste.
During our wine tasting we met Katharina and Helmut Gangl. Helmut is the winemaker at Gangl Wines in Illmitz, Austria. Helmut is also a consultant and winemaker at Macari Vineyards & Winery. He specializes in sweet wines.
Plan to stop at Macari Vineyards & Winery to discover wines to enjoy and plan to have a picnic lunch with you to enjoy on the deck with wonderful views of the vineyards.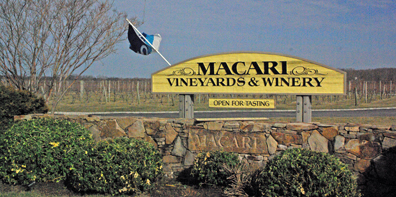 Macari Vineyards & Winery
150 Bergen Avenue
Mattituck, New York 11952
GPS: N40º 59.180' W72º 34.060'

Article written January 2013
---