Pugliese Vineyard
by
K.L. Sullivan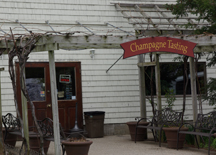 We met Larry Pugliese of Pugliese Vineyards, in the tasting room where he was friendly and happy to talk to us about Pugliese Vineyards. Pugliese Vineyards started in 1981. By 1986, they had produced their first 200 cases of wine. The tasting room opened in 1991. In 2000, they expanded the building.
Pugliese began from a hobby turned into a business, growing slowly acre-by-acre. Five generations of the family have been involved in winemaking. Today with about 50 acres and buying a minimal amount of grapes from upstate New York, Pugliese produces 7,000 to 10,000 cases per year. The majority of wine sales take place in the tasting room.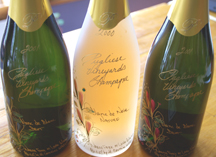 Pugliese produces four sparkling wines. The riddling takes place by hand. The best selling wine is the Blanc de Blanc, with bottles that are hand painted. In 2001, at the Los Angeles County Fair, the Blanc de Blanc brut won Double Gold Best Sparkling Wine Best of Class – Best of Show award. We found the Blanc de Blanc very good with good flavor, dry and many tiny bubbles. White port is Muscat and Niagara grapes with a very floral and fruity bouquet. The alcohol is 20% and it is sweet. The Pinot Grigio and Riesling are the best selling white wines. Cabernet Sauvignon is the best selling red. Sangiovese is amazing and tastes like old style wines, with vines planted about ten years ago. Niagara is sweet but not syrupy, with the perfect blend of sweetness. The Late Harvest Riesling is an excellent dessert wine.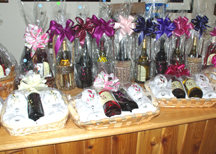 After the wine tasting, we wandered into another room. This room contained a selection of t-shirts and hats and more striking were the lovely framed pictures for sale. Many pictures featured lighthouses. Also available were unframed pictures. Numerous gift baskets were available. Most unique were gift baskets but rather than using baskets, birdhouses were used to hold the wine. All were gift wrapped in cellophane. These would make perfect Mother's Day gifts or gifts for any occasion.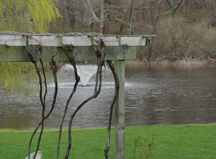 The area around the vineyards is a great place for picnics. The Niagara grape covered pavilion is available with tables. Other tables are placed near a large pond with a fountain.On the day we were visiting a willow tree with its trunk submerged in water, was leafing out.
Larry said the family owned and run vineyard would like to be known for its quality wines.
Pugliese Vineyard
Cutchogue, Long Island, New York
---