Pellegrini Vineyards
by
Kathy and Terry Sullivan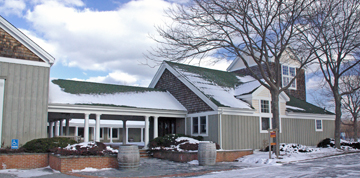 Summary: Pellegrini Vineyards concentrates on producing quality wines. Visitors will enjoy the self-guided wine tour. Bob and Joyce Pellegrini founded and own Pellegrini Vineyards. Bob always had an interest in wine and came out to Long Island to investigate and decided to invest in the wine industry on the North Fork.
Pellegrini Vineyards with a winery completely underground opened in 1991. Today they are one of the only wineries on Long Island to have a mechanical punch down.
Vineyards
The grapevines on the property date back to the 1980s. Today Pellegrini Vineyards has three vineyards on Long Island. Grape varieties include Chardonnay, Gewürztraminer, Sauvignon Blanc, Cabernet Franc, Cabernet Sauvignon and Petit Verdot. On the day of our visit, the grapevines contrasted with the snowy blanket covering the ground. In the central location of the vineyards, a white gazebo is a favorite location for weddings.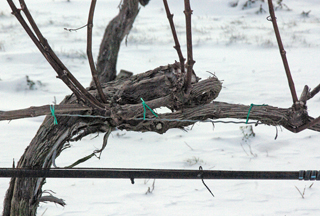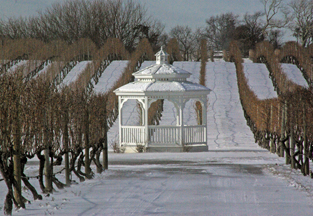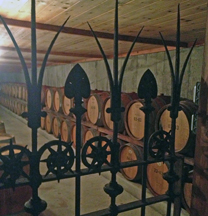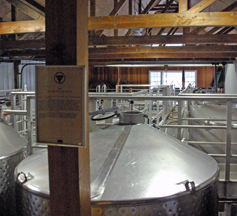 Winery
The barrel rooms, with 300 barrels, are built so that the barrels are exposed to the open earth that provides some humidity to the barrels. One room is for barrels from the current harvest and one is for the one-year-old wines.
Another area houses stainless steel tanks. Above the stainless steel tanks a ground level walkway allows for viewing the winery below. Framed descriptions provide an explanation of what is happening. When visiting Pellegrini Vineyards ask about the self-guided tour.
The Pellegrini Vineyards wines are totally estate grown. Some grapes from their vineyards are sold to other wineries. "The quality of wines speaks for itself." They have a very dedicated wine club. Pellegrini winery has an incredible gated wine library. Wine club members have access to the available library wines.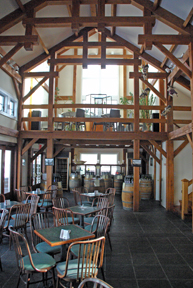 Tasting Room
The roomy tasting room is on two levels. The honey tone of the exposed wood beams contrasted with the light colored walls. There is plenty of light that floods the area. On the second level, tables and chairs offer a quiet area for guests. Additional tables and chairs are on the first level. The tasting bar is located to the right of the entrance. Adjacent to the tasting room is a courtyard, a lovely area to enjoy wines in mild weather.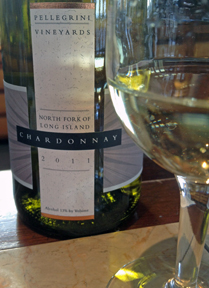 White Wines
Chardonnay East End 2009 was produced in stainless steel. This light yellow wine offered notes of apple and a crisp finish. Chardonnay 2011 was oaked and was a light yellow. The aroma had notes of caramel, vanilla and pear. The taste offered apple, pear, and vanilla with caramel nuances. The finish had a hint of mild tannins. It was crisp with fruit interplaying with spice. Vintners Pride Chardonnay 2009 was unfiltered. This yellow wine offered nuances of apple and pear with faint hints of an oak influence. The finish was crisp and fruity. Medley White was a blend of Chardonnay and Sauvignon Blanc. This pale yellow wine was crisp with a smooth citrus and very pleasant taste. The lingering finish was fruity with hints of grapefruit. The wine was food friendly. Gewürztraminer 2011 was a light gold color. The grapes were hand harvested for this wine. The wine with an intense aroma had a taste of fruit making one think "yum." The finish was smooth with fruit.
Red Wines
Merlot 2005 was a dark ruby. The aroma had cherry notes. The taste also had notes of cherries and leather with a hint of licorice. The finish offered chewy tannins, dark fruits and spice interplaying with the fruit. Cabernet Franc 2007 was unfiltered. This dark red wine was dry with blackberry, currant and pepper notes. The finish was dry with tannins. Petit Verdot 2007 was a dark ruby to black color. The wine had dark fruit nuances including plum and blackberries. The crisp finish offered bold tannins and fruit notes. Merlot 1997 was a dark ruby color. The aroma was of dark fruit and leather. The wine offered bold tannins and dark fruit notes on a very long aftertaste.
Dessert Wine
Finale was a blend of Gewürztraminer and Sauvignon Blanc produced using cryogenics. It was a deep yellow color. The full-bodied wine was smooth with honey notes. The finish was sweet and lingered. Suggested pairings included roasted nuts and fresh fruit.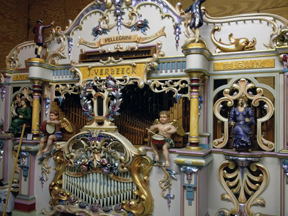 Events
Pellegrini Vineyards has spaces inside and outside for public and private events. In addition to weddings, private events to consider having at the winery include private wine tastings, wine and cheese events, corporate meetings, private dinners and bridal showers.
Visitors to Pellegrini Vineyards might have the opportunity to hear a Verbeeck Concert Organ being played. This ornate organ was designed based on the concert organs built in the 1920's. According to information at the winery, "These organs first appeared in Europe and America around 1900 in dancehalls, fairgrounds, and amusement pavilions, silent movie theaters and traveling festivals. Their purpose was creating a musical attraction as well as to replace live music."
This large and colorful concert organ is capable of simulating many instruments including violins, clarinets, and trumpets. Along with 99 keys, the organ has 687 brass and wooden pipes. The sounds are created by airflow. Johnny Verbeeck of Antwerp, Belgium crafted this particular concert organ. Verbeeck is a fourth generation builder of organs.
Enjoy tasting wines at Pellegrini Vineyards and be sure to take a self-guided tour of the winery.
Pellegrini Vineyards
23005 Main Road

Cutchogue, NY 11935
GPS: N41º 00.107' W72º 30.027'
Article written January 2013
---