Paumanok Vineyards
by
K.L. Sullivan
January 2009 Update
Paumanok currently produces about 8,000 cases from 72 acres of grapes. In an online interview, Kareem Massoud wrote that he would like the public to know that, "Paumanok is a family, estate winery dedicated to the production of varietal and blended wines of the highest quality. The Massoud Family are hands-on operators. We oversee every aspect of viticulture and vinification. All of our wines are made from grapes we grow ourselves from vineyards that we own and operate. The entire vinification and bottling process is performed at our winery."
---
We were greeted quickly in the Paumanok Vineyards wine tasting room and as we watched visitors come in to the building, we saw that they were also greeted immediately. Friendliness is one of many Paumanok's major attributes.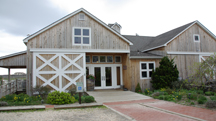 We met Charles Massoud, the proprietor of this truly family-run vineyard. Paumanok Vineyards began as an interest and hobby and ultimately became a life-fulfilling dream. With 72 acres of planted vineyards and producing between seven and eight thousand cases of wine, Paumanok Vineyards is continuing in a family tradition. When mentioning that Paumanok is a family-run winery, Charles had a big, bright smile. He is so very pleased that his sons are part of the winery and as passionate or more so than he is about wine. Today Charles, his wife and three sons: Kareem, Salim and Nabeel, run the winery and vineyards.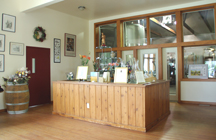 The tasting room is bright, light and cheerful. One can look out large windows, past a wood deck with ample tables and chairs, towards acres of vineyards. In 1983 and 1984, the vineyards began with the planting of 14 acres of grapevines. Near the center of the tasting room is a large glass display. If one peers down over the glass one sees down to the cellar where barrels are resting while aging wine.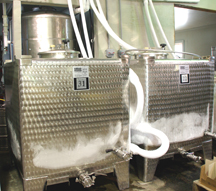 We began with a tour of the winery where we viewed several rectangle tanks as well as a number of round tanks. Charles mentioned that he considers the size of the tanks by how many barrels each tank holds rather than how many gallons. Doing it this way provides an easier method of making sure he has enough space for the number of specialty wines produced at Paumanok. We noted that several tanks and pipes had thick ice on them and the room felt very cold. The wines in these tanks are undergoing cold stabilization. Further on, we saw numerous large tanks and a stainless steel walkway that enables workers to access the tanks from the top. A South African company built this particular walkway. Other wineries are now using this type of scaffolding.
We saw a bottling truck. Charles explained how the first bottling machine was shared with five other wineries. Bottling machines tend to be expensive and the sharing of the bottling machine allowed wineries to share it back and forth every few weeks. That worked very well for several years. He is now in the process of planning for a new stationary bottling machine.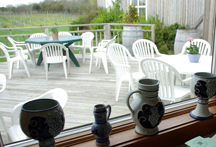 After our tour, we sat at a table on the deck. It was a partly sunny day with a brisk breeze blowing across the deck and the vineyards. Charles talked with us for a few more minutes and then his son, Kareem, winemaker for Paumanok Vineyards, came and talked to us.

We enjoyed talking with Charles and Kareem about their passion for winemaking. It was interesting to hear about the beginning of Paumanok Vineyards and how it has become a family enterprise. Kareem mentioned how he remembered when he was 11 years old, his parents purchased the property, and he helped with planting vines in the vineyard. This is one of the "truest" family wineries. Today Charles and his wife and three sons all work full time at the winery and vineyard.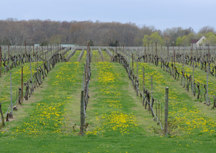 Kareem mentioned birds and pests being a problem in the vineyards. Even though the vineyard manager uses netting to protect grapes, the birds are very persistent and aggressive. They will gather in flocks to attack the nets covering the grapes and actually work together pulling off the netting. As devastating as this must be for the vineyard, it must be fascinating to see.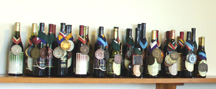 While we were outside enjoying our discussions with Charles and Kareem, we began tasting several of Paumanok wines beginning with three of their Chardonnays. The 2006 Festival Chardonnay's aroma is festive. It fermented in stainless steel and had intense fruit flavors and a long fruit finish. The barrel fermented Chardonnay was buttery and soft, while the 2004 Grand Vintage Chardonnay was soft and buttery in a salty way. The Grand Vintage is produced in years with an outstanding vintage. The Sauvignon Blanc also had intensive fruit flavors. The Chenin Blanc is semi-dry with a hint of sweetness. There was a hint of natural carbonation and would pair well with shellfish. The 2005 dry Riesling had a clean fresh taste while the 2006 semi-dry Riesling was a bit sweet and very aromatic. We tasted the 2002 Cabernet Sauvignon Grand Vintage that exhibited black fruit flavor and was very soft on the finish. To taste the last wine, we headed back to the tank room.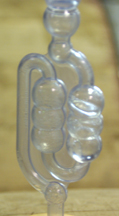 Several barrels in the room were currently fermenting and we were able to see and hear the CO2 bubbles released from the barrels. Currently four barrels are slowly fermenting a dessert Sauvignon Blanc. We tasted this wine and everyone enjoyed it immensely. Asked if they would ship the wine, the answer was "Yes." Of course, they only ship to states, which allow the shipping of wine. Different wines were aging in other barrels.
Today, Paumanok Vineyards produces four red and four white varieties. The tasting room and Club Members account for 50% of their sales. Wholesalers and retailers buy the rest of the wine. Kareem sees the future of Paumanok as one that will continue to grow. We had the feeling when we left, that no matter how large Paumanok Winery grows, family will always be important.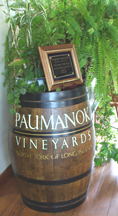 Paumanok Vineyards

North Fork of Long Island
Aquebogue, New York
---