Apple Barn Winery
by
Kathy Sullivan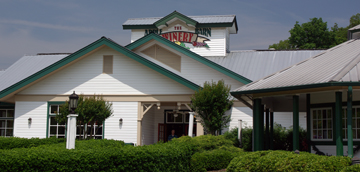 Summary: Located in the Apple Barn Village area of Sevierville, Tennessee Apple Barn Winery focuses on producing apple-based wines. While visiting take time to watch the virtual tour. Large windows allow views of the winemaking process in progress.
Apple Barn is the second winery owned by executive Don Collier. With the success of Mountain Valley Winery, Don decided to add a second winery to his businesses by opening a winery that focused on fruit wines especially apple-based wines.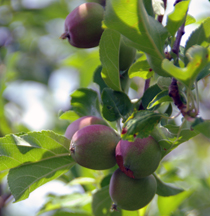 Apple Barn Winery is located just a short distance off the main tourist route through Sevierville, Tennessee. The area offers small shops many of which are apple related. Apple Barn Winery is located in an apple orchard.
Many of the wines produced at Apple Barn are made with apple wine as the base. Sweet wines are popular at this location with sweet wine sales reaching 65 percent. Several good apple types are required for winemaking. These include Jonathan, McIntosh and other tart apples.
Kirk Kurber is the assistant winemaker at this location. Kirk began his career in winemaking as a home winemaker. Kirk used the area's abundance of blackberries to make wine. Now he makes apple-based wines at Apple Barn Winery.
Large viewing windows of the winemaking area provide visitors with good views of the winery. Visitors will discover an assortment of wines to taste and purchase. These wines include four dry, three semi-sweet and four sweet wines.
Tasting Room
Travelers to the tasting room will find a screen with a virtual tour of the winemaking process. Currently the winery is producing 17,000 cases of wine. The tasting room has a large selection of gifts to purchase.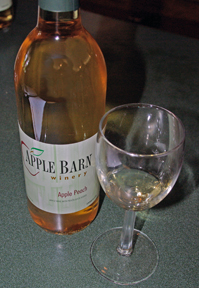 Apple Barn Wines
While visiting Apple Barn Winery, try samples of the wines. The Apple Raspberry was ruby with an aroma of raspberries. The taste offered raspberry and apple notes. The finish had varying nuances of apple and raspberry. Apple Wine was a golden yellow with an apple aroma. The soft taste was of apples. The finish was crisp and long with a subtle apple aftertaste. Orchard White was a blend of apple and Riesling. The result was a light yellow wine with notes of apple and floral on the aroma. The taste offered notes of apple, peach and floral. The crisp finish cut the sweetness. Applewood White offered apple and Riesling notes. The wine had apple notes with peach nuances. The Apple Strawberry was a red-orange with strawberry notes throughout. Apple Peach had peach notes on the aroma and peach and apple hints on the taste.
Muscadine was produced with Magnolia and Carlos varieties. The wine was foxy and the taste was of Magnolia grapes. The wine finished with a crisp taste. Apple Pomegranate was a sienna color. The wine offered a pomegranate aroma and taste with apple nuances. The finish was crisp. The wine seemed drier than the eight percent residual sugar suggests.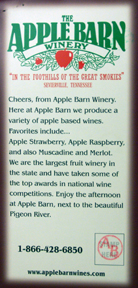 Rocky Top Wine Trail
Three wineries are located within three miles of each other. These wineries are Mountain Valley Winery, Apple Barn Winery and Hillside Winery. The wineries have developed a Wine Trail. When visiting the first winery, ask for a Passport. Have the Passport stamped at each winery. When visiting the third winery, visitors will receive a free wine glass.
Apple Barn Village
Apple Barn Village is located amid a large apple orchard. The area offers a delightful spot to enjoy a leisurely walk between boutique shops. The stores include the Winery, Cider Bar, Candy Factory, Creamery and Restaurant.
After a visit to Apple Barn Winery, be sure to stay awhile and wander through Apple Barn Village.
Apple Barn Winery
220 Apple Valley Road
Sevierville, TN 37862
GPS: N35º 49.594' W83º 34.638'
For more information
---
Visit these Tennessee wineries that partner with Wine Trail Traveler.