DelMonaco Winery & Vineyards
by
Kathy Sullivan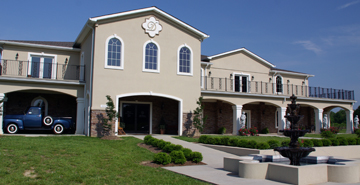 Summary: DelMonaco Winery & Vineyards, located in Baxter, Tennessee provides a southern style welcome. Wine enthusiasts will enjoy visiting the tasting room that offers a quality visit and tasting without the snobbishness sometimes associated with wine. Enjoy the ambience of the tasting room while tasting an array of wines. A large, event room offers spectacular one of a kind features.
Ask about the start of the winery and visitors may be told a story with a smile, "My husband said he couldn't keep supplying me with the wine I like…." No matter the real reason behind DelMonaco Winery & Vineyards, it is a delightful winery to visit. DelMonaco offers a Southern hospitality welcome to everyone.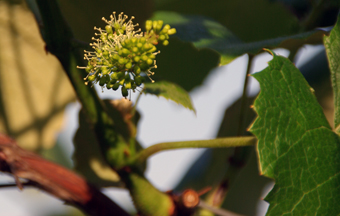 David and Barbara DelMonaco enjoyed wine so much they began making wine at home. The next step was the planting of two acres of grapes for their personal use. After finding a large piece of property, it was not long before more vineyards were planted and the stunning tasting room, winery and event room built. The facility opened November 16, 2008. Today the winery has 20 acres of vineyards. Varieties include Steuben, Cynthiana, Marchel Foch, Chardonel, Concord, Traminette and Noriet.
In the winery, with gleaming stainless steel tanks, one white wall is covered with flags. The flag collection began with a United States flag given to Barbara and David. After visitors saw the flag they began bringing in additional flags. The display of flags includes states, world countries and special interests flags such as the POW MIA flag. An interesting note is that the countries and states represented with flags all have wineries.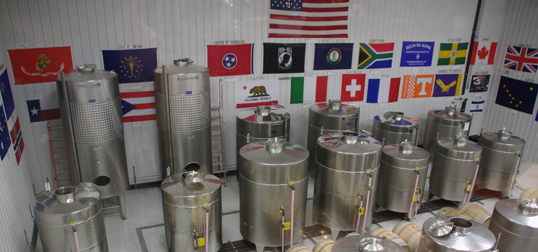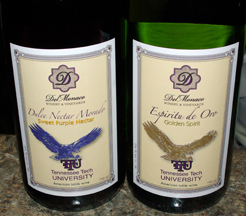 DelMonaco Winery and Vineyards has developed a good relationship with Tennessee Tech University and alumni association. Horticulture students have helped with planting vineyards and the fall harvest. DelMonaco Winery has bottled and labeled two wines in honor of the university alumni association. Espirtitu de Oro (Golden Spirit) is a dry white wine. Dulce Nectar Morado (Sweet Purple Nectar) is a sweet red wine. Each wine has a special label representing Tennessee Tech University.
Red Wines
With a baker's dozen of wines to offer, the DelMonaco tasting room offers a wine for everyone. Wines are produced from the onsite vineyards and are sourced from inside and outside of Tennessee.
Shiraz offered dark fruit and spice notes on the taste and aroma. The fruity finish was crisp with tannins. Cabernet Sauvignon had an aroma and taste of dark fruit and spice. The finish changed from fruit to spice and had bold tannins. Concord was a reddish pink. The aroma and taste reminds one of Welch's. The finish was dry and became drier.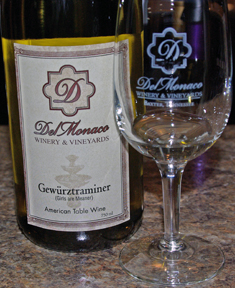 White Wines
The Gewürztraminer was a light straw color and offered floral and spice on the aroma. The taste also was floral and had some spice with pear nuances. The finish was spicy yielding to a hint of apple. Chardonnay, produced from Lodi California grapes, was a light straw color. The aroma and taste had notes of vanilla and pear. The finish was smooth and fruity with fruit yielding to vanilla. Espiritu de Oro was a Tennessee wine produced with Cayuga White and Traminette. Twenty percent of the price of the wine goes to the Tennessee Tech University Alumni Association. The wine offered an aroma and taste of tropical fruit. The fruity finish was crisp.
Barrel Club
DelMonaco Winery offers a special Barrel Club membership. Members of the Barrel Club receive quarterly shipments of three wines for four years. At the end of the four years the barrel is yours to keep. More benefits are included in the Barrel Club membership program. Be sure to check the DelMonaco Winery website for additional information.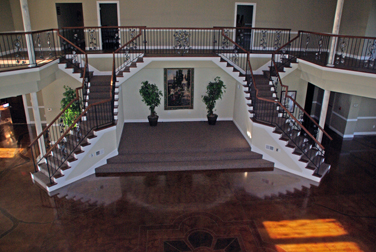 Events
DelMonaco Winery & Vineyards offers delightful event space for public and private events. The winery sponsors special events including wine and food pairings, a train and wine excursion and the harvest festival. For private events, the largest room is an idyllic event room, perfect for that special day in your life. Large windows/doors open up providing a delightful pairing of indoors and outdoors. Smaller rooms are also available.
Enjoy a visit to DelMonaco Winery & Vineyards. If you need an event space, be sure to look at what the winery has to offer.
DelMonaco Winery & Vineyards
600 Lance Drive
Baxter, TN 38544
GPS: N36º 09.818' W85º 36.928'
For more information
---