Tennessee Valley Winery
by
Kathy Sullivan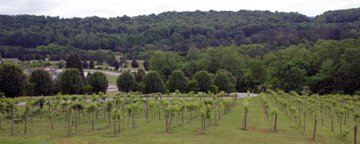 Summary: Tennessee Valley Winery, located within a mile of Interstate 75, is an easy stop for travelers. Visitors can look forward to tasting a variety of wines and purchasing wines for vacation or home.
Jerry Reed started Tennessee Valley Winery in 1984. For years Reed was a pilot for Delta and frequently flew over the area in a private plane. Since his wife was from the South and he liked wine, Jerry settled on establishing a winery at this location in 1984. John Smook joined the winery in 2002 and became a partner in 2004. About 90 percent of the wine is made from locally grown fruit. Cameran Birkholz is the winemaker.
The vineyards consist of 11 acres and include Concord, Niagara, Cynthiana (Norton), Sunbelt (similar to Concord developed by the University of Arkansas), Seyval and Golden Muscat.
Great Location
Tennessee Valley Winery is located in an ideal area. South of Knoxville and only one minute off Interstate 75, it is easy to see the sign and decide to stop. The winery is located on a higher elevation than the Interstate. Frequently visitors will stop to purchase wine while on vacation. While visiting, a young man from Maryland, who had obviously been there before stopped in. He quickly went directly to the shelves and pulled off the wines he wanted, purchased them and was on his way. John noted that return visitors know where the wines are located, one reason why the wines are always kept in the same locations.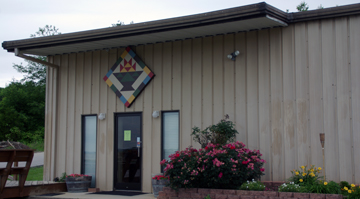 Outside of the laid back tasting room, a variety of flowers add bright colors to the building. In May, flowers included yellow lilies, red and white geraniums, chrysanthemums, and gaillardia. Inside in addition to numerous wines to choose from, the tasting room has locally made pickled veggies, jellies, jams, salsa.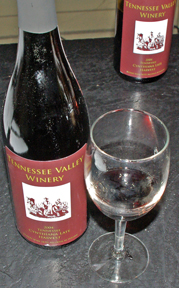 Red Wines
The winery produces 12,000 cases of wine. Tennessee Red produced with Chambourcin was a dark ruby color. This wine was aged in oak. There was an aroma of red berry fruit. The taste had raspberry and strawberry notes with oak highlights. The finish offered mild tannins with fruit yielding to earthiness. Red Muscadine was produced with the Noble variety. The wine was a dark red. There were notes of Muscadine on the aroma and taste. The finish was crisp. Late Harvest Cynthiana (Norton) was a port-style wine with 18.5 percent alcohol. The color was a dark purple to black. The aroma was of jammy fruit. The taste was slightly sweet with a lighter body than most Ports. The finish was crisp with dark, jammy fruit on the aftertaste.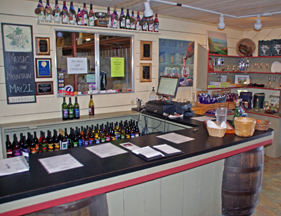 White Wines
Captain's Reserve 2007's aroma offered a hint of smoke. The taste had notes of smoke with hints of apple, pear, and citrus. The finish was crisp and dry with a faint caramel nuance. Vidal Blanc was sweet with notes of apple and pear. Country White was a light yellow wine blend of Niagara and Cayuga grapes. The wine had aroma and taste notes of Niagara and Cayuga grapes. The wine was sweet and dried on the aftertaste. Suggested pairings included cheeses and fruit. White Muscadine was produced with mostly Carlos and Doreen grape varieties. The golden wine offered a Muscadine aroma and a smooth taste. The finish dried with a bit of tartness. The aftertaste of Muscadine lingered.

Fruit Wines
The winery produces several fruit wines including strawberry, peach, wild cherry, and blackberry. Strawberry wine was produced with locally grown strawberries. As what one might be expect, there were strawberry notes on the aroma and taste. More importantly the taste was like "fresh" strawberries. The sweet/dry finish lingered.
Events
Music on the Mountain events occur several times from May to September. Music and wine lovers will want to return for these events. Take a picnic basket, chairs or blankets and purchase a bottle of Tennessee Valley wine to enjoy while listening to the likes of 50 Something, Jeff Stewart or Plan 9. Watch for the Annual Pig Roast.
Be sure to stop by Tennessee Valley Winery while traveling on Interstate 75. Plan to attend one of several music events during the summer.
Tennessee Valley Winery
15606 Hotchkiss Valley Road East
Loudon, TN 37774
GPS: 35º 47.278' W84º 20.777'
---