Long Hollow Winery and Vineyards
by
Kathy Sullivan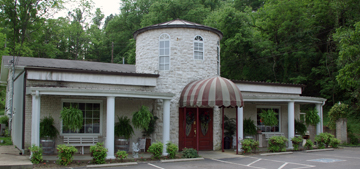 Summary: Long Hollow Winery, located in Tennessee, is a short distance from Nashville. Wine tastings are accompanied with a variety of cheese bites. Stu Phillips, a member of the Grand Ole Opry and his wife, Aldona, are the owners.
Stu Phillips, a member of the Grand Old Opry, and his wife Aldona, own Long Hollow Winery in Goodlettsville, Tennessee. As a member of the Grand Ole Opry, Stu traveled around the world and tasted many wines. As a child, he lived in Quebec near a Trappist monastery where bread, cheese and wine were made. Stu recalls that as a boy, he would try to make the monks talk. However, the monks were good-natured about it. Today Long Hollow Winery building is a modernistic version of a monastery that Stu designed. According to the winery's literature, "Our mission is to emulate the gifts of the early Trappist Monk's, 'to provide products for the enrichment of our friends and patrons.'"
Ten years ago Stu and his wife went into the winery business. In 2000, the property where Long Hollow Winery is located was auctioned. Stu purchased the property and opened the winery in September of 2001. The winery was named for the road, Long Hollow Pike. When Long Hollow Winery first opened, Stu did everything including the winemaking. In addition Stu sings country music and will ocassionally sing for the visitors in the tasting room. He is also an Episcopal priest.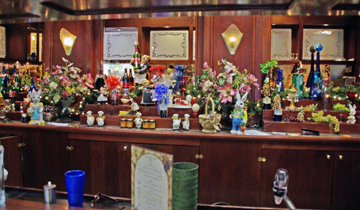 Tasting Room
The tasting room, located in the inspired monastery-style building offers a delightful selection of gift items to browse while visiting. It reminds one of opening a treasure chest with the array of items available. Be sure to notice the 1914 Ford model on display.
Vineyards
About 16 miles from the winery is a newer vineyard. The previous vineyard was lost due to a tornado about four years ago. The current three-acre vineyard is used for experimenting with grape varieties. The vineyard has Niagara, Concord, Seyval, and Chancellor. Soon Stu wants to add Roussane to the vineyard. Grapes are sourced from the local area and from out of state including the Finger Lakes in New York, California and Washington.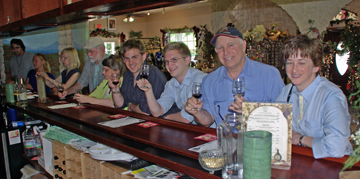 Wines
Stu noted, "Wine is a living entity." Most of the wines are produced with recipes that Stu picked up during his travels. In the tasting room wine tastings are accompanied with cheese bites. Cheeses include Buttermilk, Tomato Herb, Hickory Smoked, Veggie, Jalapeno, and Onion & Chives. There was a steady stream of visitors to the tasting room. Two families were celebrating a nearby college commencement. Other visitors included travelers passing through the area and people living in the community that stop by to taste and pick up some of their favorite wines.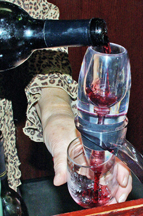 Signature was a Vidal wine that was crisp with a hint of citrus. Suggested pairings are hors d'oeuvres and white meat. Chardonnay had nuances of apple and pear. The finish was crisp with pear nuances yielding to apple and citrus.
Shackle Island was a Chancellor grape wine that was a dark purple with a ruby rim. The aroma offered dark fruit with plum notes. Plum notes were also on the taste. The finish was crisp with mild tannins. Merlot, purple with a ruby rim, had notes of violets and black fruit. The crisp and fruity finish had mild tannins. Tara was a ruby color. This wine was a blend of reds. The taste was fruity and semi-sweet but dried on the finish. Plantation also had a ruby color. It had a Welch's aroma and a Concord grapey taste. It dried on the finish. Stu obtained the recipe from a plantation where he had a country music performance.
Stop by Long Hollow Winery to enjoy good wines and perhaps be lucky enough to hear Stu Phillips sing.
Long Hollow Winery & Vineyards
665 Long Hollow Pike
Goodlettsville, TN 37072
GPS: N36º 20.100' W86º 41.270'
---