Corey Ippolito Winery
by
Kathy Sullivan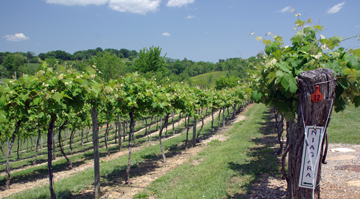 Summary: Corey Ippolito Winery and Vineyard in Blountville, Tennessee, is just a short distance off Interstate 81. The winery owned by Kevin and Nancy Corey, is a multi-use facility featuring a wedding and reception venue and a winery. Upon reflection, Kevin quotes his wife, Nancy's saying, "This is sombody's dream, we are just in it." The winery has a particular niche in the wine industry as it uses only Tennessee fruit in the wines.
Background
Kevin Corey and his wife, Nancy, moved from the Syracuse, New York area to Tennessee several years ago. While looking for a five-acre lot to build a home, they discovered a 22-acre parcel. After purchasing the large parcel, they asked themselves, "What can we do to utilize the land?" Kevin did not want to have dairy cows. He remembered as a youth, going out to chase his uncle's cattle when they would wander from the pasture. A Christmas tree farm was considered for the property. Finally they went to Countryside Winery, a nearby winery, and asked about growing grapes. Eventually the Coreys settled on planting a vineyard.
Vineyards located at an elevation of 1,770 feet, were prepared in 1999 and vines were planted in 2000. Now the vineyards occupy 8.5 acres and the couple plans to expand the acreage by 2.5 acres. Currently the grape varietals include Cynthiana (also known as Norton), Niagara, Steuben, Traminette, Cabernet Sauvignon, Sun Belt, La Cressent, Marquette, Cabernet Franc, Catawba, Leon Millot and Golden Muscat. Sun Belt is a cross between Concord and Steuben.
After successfully growing several acres of grapevines, grapes were available for sale. When they were not able to sell all of the grapes the first year, Kevin tried making wine. The results were mixed. It did not take long to learn more about winemaking and eventually, the Coreys decided to add a winery and tasting room to the property.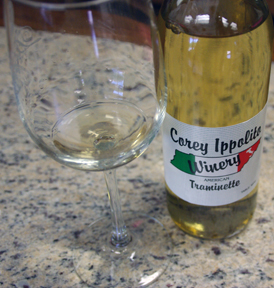 Wines
The winery currently produces 800 cases of wine. Most wine is sold directly from the tasting room.
Traminette was a straw color with crystal highlights. The smooth taste had floral notes with a hint of wood. The finish had a hint of fruit. Suggested pairings included Chinese and German foods. Rocco Bianco was a light straw color. This wine was a blend of Niagara, Golden Muscat and Chardonel. The crisp finish cuts the semi sweet taste. Suggested food pairings included fruit and cheese.
Leon Millot was a sienna color. There were notes of red fruit. The finish was crisp and fruity. Cynthiana was dark purple and had dark fruit notes on the aroma and taste. The crisp finish offered mild tannins. Sonnino Sunset was named after Nancy's grandfather. He was raised in Sonnino, Italy. This sweet wine is a good sipping wine for a day on the veranda. Cervo Bianco was a gold color with crystal highlights. The aroma was sweet while the taste offered notes of toast. The finish was dry with a hint of toast. Suggested pairings for Cervo Bianco included pork, chicken and seafood.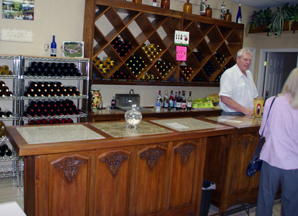 Tasting Room
The boutique-size tasting room offers a number of items to browse while tasting wines. Of special interest is a collection of Italian handmade ceramics. The tasting room also offers several Tennessee food products include Blueberry Jam, Frog Jam, Muscadine Jelly, Hot Pepper Jelly and Blackberry Jelly. Relishes are also available. Be sure to notice the antique siphon on a wall that Kevin discovered in a nearby antique store.
For anyone interested in making a little wine at home, the tasting room also offers some winemaking equipment including carboys and bottle corkers.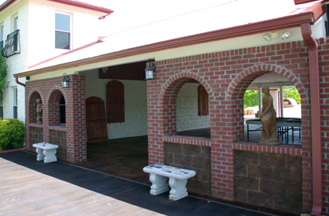 Events
The winery offers a beautiful venue for weddings and receptions. An open airway with arches has a delightful ambience with views of the vineyards. Outdoor events can accommodate up to 275 people. Corporate events also take place at the winery. Businesses enjoy the winery as a unique setting for business meetings.
Enjoy a delightful drive to Corey Ippolito Winery and Vineyard in the Tennessee countryside. The location is wonderful for weddings and receptions.
Corey Ippolito Winery
533 Rogers Oakdale Private Drive
Blountville, TN 37617
GPS: N36º 31.022' W82º 24.705'
---