Arrington Vineyards
by
Kathy Sullivan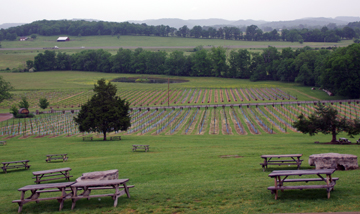 Summary: Arrington Vineyards is located on a spacious property with numerous picnic tables. Visitors are encouraged to bring picnic baskets to enjoy with a bottle of Arrington Vineyards wine in the park-like setting.
As visitors approach Arrington Vineyards they will see a large gated entrance with two large barrels. Many picnic tables are visible around the park-like property. Nearby vineyards appear to be thriving. The tasting room is on a hilltop with vineyards sloping below. A driveway winds around the tasting room facility to a back parking area where visitors will notice the entrance.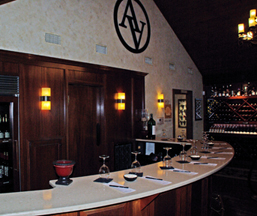 Stephen Oldenburg provided an enthusiastic tour of Arrington Vineyards. Arrington Vineyards' tasting room is located in a restored farmer's house. Visitors can enjoy a wine tasting inside or purchase wine and enjoy it on the large deck overlooking green fields and vineyards. The tasting room has a good selection of wine related items. Visitors can find cheeses, summer sausage, decanters, cheese knife sets and more. The curved tasting counter is of a light beige solid- surface material with a wood base. On the opposite wall is a large stone fireplace. The deck, with a fireplace, has a roof offering protection from sun and rain.
Background
Kix Brooks, Kip Summers, Fred Minderman and John Russel partnered to achieve this idyllic place for wine lovers to enjoy. Kix is a country music artist. The winery opened in July 2007.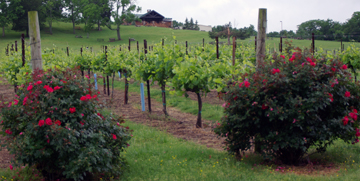 Vineyards
The 17 onsite acres of grapes include Chambourcin, Petit Verdot, Vidal, Traminette, and Viognier. These grapes make up one-third of the production. The others grapes are sourced from the West Coast.
Winery
The winery is located in separate buildings from the nearby tasting room. The winery buildings have solar panels on the roofs. This reduces some of the winery's power requirements. Tall stainless steel tanks fill the tank room. Arrington Vineyards produces 50,000 cases of wine. Eighty percent of sales are from the winery.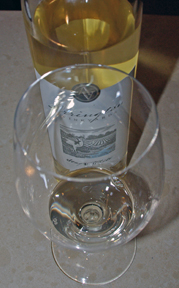 White Wines
The best selling wine at Arrington Vineyards is Stag's White, a blend of Vidal Blanc, Gewürztraminer, Traminette, Viognier, Riesling, and Muscat Blanc. The label has a white deer. White deer can be seen occasionally on the property. The wine aroma and taste offered layers of floral, apple, spice and peach nuances. The finish was crisp with a fruit salad aftertaste.
Red Wines
The best selling red wine was Red Fox Red, a blend of Sangiovese, Petit Verdot, Chambourcin, Petit Sirah, with a bit of Viognier. This ruby wine had an aroma of cherry and spice notes. The taste was of cherries. The finish with tannins was fruity yielding to plum. Cabernet Sauvignon 2008 was a blend of Washington and California grapes with a touch of Petit Verdot. This dark ruby wine offered notes of black fruit. The finish was crisp and fruity with bold tannins. KB308 2008 was produced from Cabernet Sauvignon with grapes sourced from Red Mountain in Washington and Napa Valley in California. The wine was aged in new French oak. The aroma had notes of blackberries and currants while the taste had additional cedar notes. The fruity finish had bold tannins. Syrah 2008 offered an aroma and taste of blackberries and woodsy notes. Tannins were on the fruity finish.
Dessert Wines
Encore was produced with estate grown Chambourcin. This ruby Port-style wine with 19 percent alcohol offered notes of raisins. The wine was smooth and fruity with a very slight burn on the finish. Raspberry with 15 percent residual sugar offered a good balance of sweetness and raspberries. This wine pairs well with dark chocolate. Consider using this wine for a reduction sauce.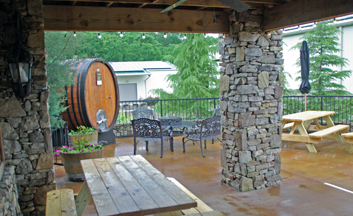 Winery Music Events
Arrington Vineyards is popular for its free weekend Music in the Vines events. Wine and music lovers can bring in picnic baskets to enjoy while listening to live music performances.
Enjoy spending time with a picnic basket at this oasis-like winery facility that offers quality wines. Visitors are attracted to this winery for its delightful setting and good wines. Spend time on the deck overlooking the winery and vineyards. In order to help with the crowded times a second building, a Saloon, is open for visitors who wish to purchase wines.
Arrington Vineyards
6211 Patton Road
Arrington, TN 37014
GPS: N35º 50.373' W86º 41.689'
---