Mountain Valley Winery
by
Kathy Sullivan

Summary: Located in Pigeon Forge, Tennessee, Mountain Valley Winery offers German-style wines. Three tasting counters provide a congenial, more personal experience for visitors.
The outside of the winery and tasting room is stone. The center is circular while two wings spread out to the sides. The architecture tends to add a certain mystique to the wine tasting and winery building.
Don Collier began his first foray into the winery business with the 1991 opening of Mountain Valley Winery in Pigeon Forge, Tennessee. He followed this successful winery with two wineries in Sevierville. Don wants his wineries to produce wines that people want to drink. According to Doug Seitz, executive winemaker, the goal was to "Have all three wineries distinctly different from each other."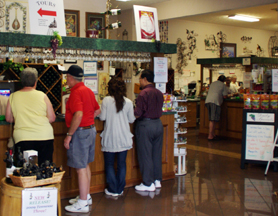 Tasting Room
The tasting room has three tasting counters, two of which are U-shaped. The tasting experience is more individualized; catering to each small group of visitors makes the tastings more personal.
Numerous wine accessories and everyday gifts are available to browse. Enjoy looking at ceramic plates and dishes, decanters, coasters and ceramic canister sets. Refrigerated Tennessee cheeses and sausages are available.
While in the tasting room inquire about wine tours.
Mountain Valley Wines
Mountain Valley Winery produces 18,000 cases of wine. There are five dry wines, two semi-sweet wines and six sweet wines. A selection of special wines is produced solely for wine club members.
The list of wines is unique. Five of the wines have a heart symbol next to their name. The heart symbol indicates "Heart Smart Selections."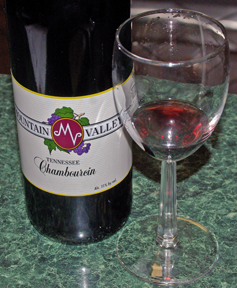 Chardonnay 2010 was a light yellow with apple and citrus notes and caramel nuances. The crisp finish had some tannins. Chambourcin offered red fruit notes with a hint of earthiness. The finish was crisp and fruity with hints of cherry pits. Muscadine was a blend of Magnolia, Doreen, Carlos and Sterling. The result was a foxy and grapey wine with a sweet finish. Three was a blend of Chardonel, Traminette and Golden Muscat. The aroma had notes of floral, especially honeysuckle and orange blossom. The finish was crisp with fruit yielding to floral. Collier Reserve was a blend of Noble, Fry and Black Beauty grapes. The wine was foxy and grapey with mild tannins on the finish.
Merlot had perfumy nuances. This was a dark purple wine with an orange tinge. The wine was dry with a smooth taste. The wine dried on the finish and lingered on the aftertaste. Mountain Valley White was produced with Riesling from Washington. The aroma was light floral. The taste was medium sweet with good flavors and aroma. The fruity finish was dry. Blackberry wine offered a fruity blackberry taste. The finish was tart that increased for a time.
Wine Club
Wine drinkers can choose between the Dry Wine Club and the Sweet Wine Club. Wine club members receive two shipments, one in April and one in October. In addition, winemaker notes and recipes are included. Contact Mountain Valley Winery for more information and benefits.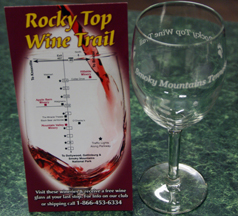 Rocky Top Wine Trail
Three wineries are located within three miles of each other. The wineries have developed a Wine Trail. When visiting the first winery, ask for a Passport. Have the Passport stamped at each winery. When visiting the third winery, visitors will receive a free wine glass.
Enjoy a visit to Mountain Valley Winery and taste wines with a German influence. Be sure to browse the gift selections.
Mountain Valley Winery
2174 Parkway
Pigeon Forge, TN 37863
GPS: N35º 49.083' W83º 34.743'
For more information
---