Stonehaus Winery
by
Kathy Sullivan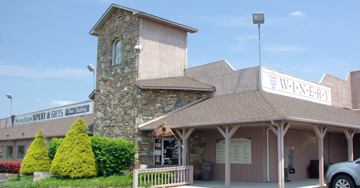 Summary: Stonehaus Winery, a family-owned winery, offers a variety of wines. These include vinifera, Muscadine, and sparkling. Take time to enjoy tasting wines and exploring the gift items available for purchase.
Fay and Kathy Wheeler, and Bob and Bell Ramsey founded Stonehaus Winery in 1991. Eventually the Ramsey family purchased Stonehaus. Bob is the President of Stonehaus and Bell is the General Manager. Their son, Rob, is in charge of marketing and public relations. Kim Ramsey Wheeler, their daughter, is the assistant general manager and accountant.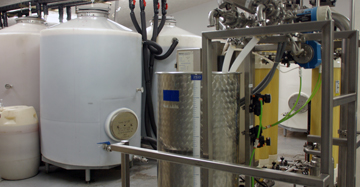 Jan Nix, an enthusiastic winemaker, has worked at Stonehaus since 1993. Jan began in the tasting room however; the winemaker, Fay Wheeler, mentored Jan. She became the winemaker while holding a second 40-hour a week career job. Jan is thrilled to be working with the Ramsey family who are almost like family to her. Jan looks at wine as a living product and you can't press delete if you make an error.
The Stonehaus Winery successfully produces wine using 79 polyethylene tanks and 7 stainless steel tanks. A column filtration system is used. Wine production is between 12,000 and 15,000 cases. Kim is designing a computer tracking system for the wines. Jan noted that keeping track of wine at a winery is difficult because the wine is constantly moving from one location to another.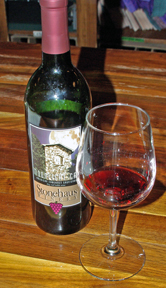 Stonehaus Winery Wines
Stonehaus produces both regional wines and dry wines. Wines are distributed throughout Tennessee and numerous states.
Pinot Gris 2008 was a light straw color and offered an aroma and taste of citrus. The finish was crisp and slightly sweet on the finish. Seyval Blanc was a light straw color with a refreshing light bodied taste. The wine was off dry. Moonlight Cab 2009 offered blackberry notes on the aroma and taste. The wine had mild tannins on the finish. Merlot 2009 offered red fruit aromas and a red berry taste. The finish was crisp with mild tannins.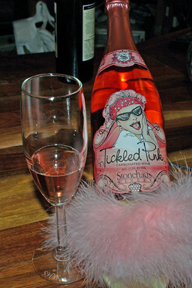 Sweet Wines
Tickled Pink was a blend of Steuben and Catawba. The result was a pink wine with a grapey taste. The finish was sweet and very refreshing. This is a patio, pool and picnic wine. Blackberry Summer was dark red with blackberry nuances and a sweet finish. Raspberry Mist was orangish pink with raspberry nuances on the aroma and taste. The aftertaste was semi sweet. Pairing this wine with fudge makes the wine seem drier.
Sparkling Muscadine
Sparkling Muscadine was produced with the Magnolia grape. The taste was grapey with a hint of foxiness. The wine was refreshing with a long aftertaste.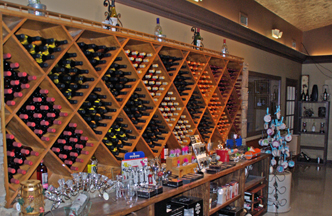 Tasting Room
The Stonehaus Winery tasting room is large. The tasting counter of dark wood adds ambience to the room. Numerous colorful gift items as well as many wine accessories are available throughout the room. Be sure to inquire about the availability of gift baskets.
When you visit Stonehaus Winery, you will have the opportunity to try many different styles of wine. Try your favorites but expand your horizons by tasting new wines. Be sure to allow enough time to browse the many gift items and wine accessories.
Stonehaus Winery
2444 Genesis Road
Crossville, TN 38571
GPS: N35º 59.094' W85º 00.647'
---