Countryside Vineyards and Winery
by
Kathy Sullivan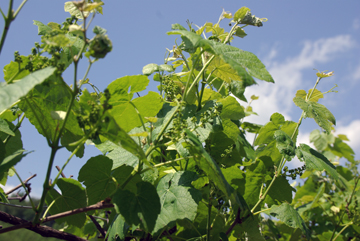 Summary: Countryside Vineyards & Winery is located a short distance from Interstate 81 in Blountville, Tennessee. Enjoy a visit to a Tennessee winery with vineyards dating back to 1990. Visitors will discover red, white and fruit wines. In addition, the tasting room has a wide range of home brewing and winemaking supplies.
Jim and Annette Thomas founded Countryside Vineyards & Winery. In 1990, they built a barn and added vineyards. Jim had been making wine for years before deciding to start a commercial vineyard and winery.
The first harvest in 1993 was small. The Thomas' called on friends and neighbors to become involved. The crush took place in the barn using a power take off from a tractor to fill the bladder press. The tasting room opened for business on
March 31, 1991.
Today the vineyards occupy 17 acres. Varietals include Buffalo, Golden Muscat, Vidal, Concord, Chambourcin, Cayuga White and Steuben varietals. Wines available in the tasting room include eight white, one blush, seven reds and three fruit wines.
Nick Thomas, son of Jim and Annette, helps with winemaking and other winery needs. Nick saw a need for winemaking and home brewing supplies to be available locally and introduced numerous items to the tasting room.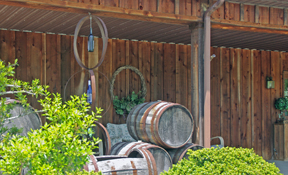 Tasting Room at Countryside Vineyards & Winery
The boutique-size tasting room offers a variety of wine accessories. Nick introduced many winemaking supplies including numerous winemaking items and beer making supplies. Hobbyists can stop by the tasting room to taste wines and pick up winemaking supplies such as carboys, corks and more.
Neighbor's Wonderful Help
When neighbor, Sharon Cline, saw the construction begin, she was concerned that it would be a trailer park. Sharon was delighted when she learned that it would be a vineyard and tasting room. Today she is a neighbor who can be called upon to help at any time, whether it be helping with harvest or working in the tasting room.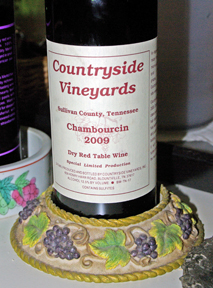 Countryside Wines
Chambourcin 2009 was dark red with red berry fruit. The finish was crisp and fruity. Countryside Blush was a burnt orange. The taste was smooth and reminded one of a fruit salad. Suggested pairings included chicken or hamburgers. Countryside Red was an estate wine. Every wine with Sullivan County on it is produced from estate grown grapes. This light red wine was sweet but dried on the finish making it a good "porch wine." The winery describes this wine as "the kind of wine grandpa used to make." Autumn Harvest is the best selling wine. The wine produced from Steuben grapes was sweet and grapey with a foxy aftertaste. Suggested pairings are Chinese food and pork dishes. Golden Muscat Blush was a light orange with honey tones. The wine was sweet with floral notes and a touch of honey.
Visit Countryside Vineyards & Winery to taste and purchase wines. Winemaking hobbyists and home brewers can stop by to purchase equipment needs for their hobbies.
Countryside Vineyards & Winery
658 Henry Harr Road
Blountville, TN 37617
GPS: N36º 31.192 W82º 25.047'
---