Sumner Crest Winery
by
Kathy Sullivan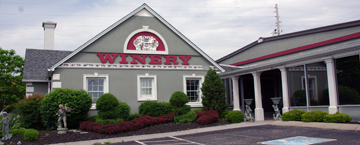 Summary: Sumner Crest Winery offers a friendly welcome and experience in the tasting room. Enjoy meeting the staff while tasting quality wines. Plan enough time for your visit to include browsing the many unique gift items available.

Justin Hall started Sumner Crest Winery in 1997. Arriving at Sumner Crest Winery, visitors will see an extended L-shaped building with many ceiling to floor length windows. Outside four red clay statues from Paris dating back to 1896, add to the décor.

Sumner Crest Winery, about 30 miles north of Nashville, Tennessee offers quality wines, a large selection of unique gift items and numerous antiques. The tasting room is filled with an array of colors that encourage visitors to want to stay awhile to taste wines and browse. Very likely you will meet Sherrie Ellis or Jimmie Jacobs who are happy to share their knowledge of Sumner Crest Winery with visitors.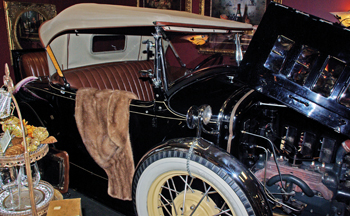 Sumner Crest Winery offers numerous wine tastings and a wonderful experience. Enjoy browsing the array of colorful gifts available for sale as well as the spectacular 200-year-old chess set and an antique vintage automobile.
Background
Vineyards were planted long before the concept of establishing a winery began for the owners. On the wall of the tasting room, travelers will see a large wall painted with an old house surrounded by vineyards. Today Sumner Crest Winery purchases grapes from several Tennessee vineyard growers and produces 25,000 cases of wine.
Rooms
Sumner Crest Winery has a one of a kind experience for visitors. The tasting room has a beautiful tasting counter that gleams of dark wood. Colorful ribbons, decorations, gifts and antiques provide a celebration atmosphere. Adjacent to the tasting room is a retail area with so many gift items one can easily shop for the holidays, birthdays and anniversaries. The next room is the Chandelier room with eight different styles of chandeliers gracing the ceiling. Here there are even more gift items to browse. Don't miss the room on the lower level. This room has richly colored wood walls and ceiling that emphasizes the wine artifacts.
Educational Experience
Sumner Crest Winery offers customized wine tastings, providing detailed information about wine and the region. For instance, at the mention of strawberry wine, visitors will be entranced with information about strawberries in the area. During colonial times deer were often seen with sides covered with red. At the time wild berries were prolific and when deer lay down, they became red from the strawberry juice covering them. This may have been the reason behind planting so many acres of strawberries. Many years later, strawberries were shipped out of the Portland, Tennessee area each year. Thirty train carloads of strawberries were known to leave the area daily. The 70th anniversary of the regional Strawberry Festival occurred in 2011.
Chris Wallin is the master winemaker. He currently produces18 wines at the winery.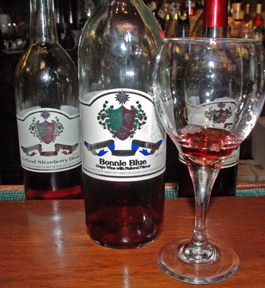 Fruit Wines
Portland Strawberry Blush was a light red. The wine was produced with strawberry puree and Seyval. The wine offered floral and strawberry aromas. There was a strawberry taste on the crisp finish. Bonnie Blue had blueberry notes throughout the taste. The wine was sweet but not too sweet.
White Wines

Sumner Queen was a blend of Riesling and Vidal. The almost clear wine offered floral and peach notes on the aroma and taste. The wine was crisp and off dry but became drier on the finish. Steuben was a light straw color. There were notes of yellow stone fruit with a hint of floral. The crisp finish was slightly sweet but dried.
Red Wines
Robertson King, the number one seller, was produced in Robertson County with a blend of Concord and Chambourcin. The wine was not as sweet as other Concord wines and the wine dried on the finish. New Deal Sweet Red was produced with the Fredonia grape. The color was a bright red. There were berry fruit notes with tartness on the finish.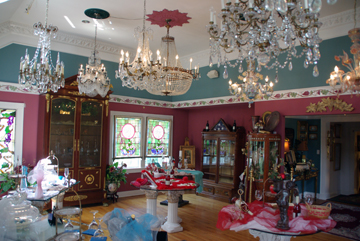 Events
Sumner Crest Winery has a number of free special events each year from May to October. Some events are annual including the Annual Beach Bash and the Annual Grape Stomp. Events include live music and fine wine tailgating. Consider taking blankets, lawn chairs, appetizers or picnic baskets to the events. Check the winery website for events.
There are also private events. The Chandelier room is available for small private events such as bridal parties, birthdays, and anniversaries.
Visit Sumner Crest Winery and discover quality wines and a delightful array of unusual gift items to purchase.
Sumner Crest Winery
5306 Old Highway 52
Portland, TN 37148
GPS: N36º 35.473' W86º 35.776'
---