Blue Slip Winery
by
Kathy Sullivan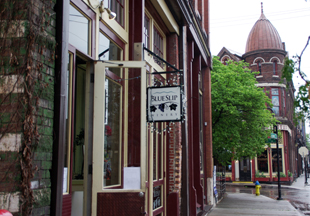 Summary: Blue Slip Winery, an urban winery, is located in Knoxville, Tennessee. It is the first winery in Knoxville. Blue Slip also has the distinction of being the first urban winery in Tennessee.
Blue Slip Winery offers a friendly spot in an old section of Knoxville, where visitors can stop by to taste wines produced on the premises. The boutique tasting room offers numerous gift items to browse including artwork from local artists. Gift baskets are also available.
Blue Slip Winery Background
Linn Slocum, owner of Blue Slip Winery, is also the enthusiastic winemaker. Linn enjoys wine and began making wine at home. By 2007 she began renovating the bottom level of an 1800's building. In the 1870's, the building had been a slaughterhouse. Previous to Linn's ownership, the building had been used as a grocery store and art gallery. Renovations took two years and in 2009 the tasting room opened to the public. Linn noted that Knoxville residents and tourists enjoy visiting Blue Slip.
The Blue Slip name was chosen for the various interpretations that could be made. References to "blue slip" include a temporary pass, a woman's garment, or perhaps a boat slip. It certainly is a topic for conversation while tasting wines.
Winemaking
Artisan wines are produced behind the tasting room that is separated by an elegant screen. An adjacent area is used for processing grapes and fruit as well as barrel aging.

Grapes and fruit are sourced from growers within Tennessee. Linn produces red, white and fruit wines. At the current time, Linn concentrates on producing artisan wines in small batch quantities. Current production of wines is 600 cases. Linn has plans to up production to 2,100 cases. However, an indication of how much visitors enjoy the Blue Slip wines is the list indicating several wines were sold out at the time of our visit. Anyone looking for a wine that is sold out can be added to a waiting list.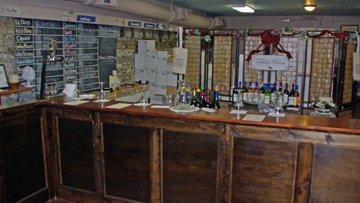 White Wines
Chardonnay offered an aroma and taste of apple notes. The crisp finish had apple nuances yielding to caramel. Golden Muscat offered nuances of honey and white fruit especially apple. The finish was dry and lingered a bit.
Blush Wines
Rocky Top Blush was a blend of Cayuga and Red Steuben. The color was an orange/rose. The aroma and taste offered red berry nuances. The finish was slightly sweet with red berry notes.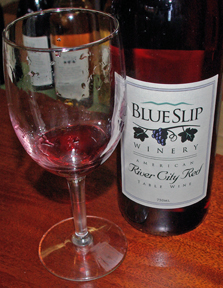 Red Wines
Chambourcin was aged 18 months in American oak. There was an aroma and taste of red berries. The wine finished with mild tannins and dried fruit with a hint of earthiness. Whup Ass Red was a dark ruby blend of Chambourcin, Campbell Early and Touriga Nacional. The aroma and taste were of dark fruit. The finish was crisp and fruity with tannins. Red Muscadine was made with the Noble grape. The aroma and taste were of Muscadine grapes and foxiness. River City Red was a reddish pink. The aroma and taste were reminiscent of a Concord and had the distinctive Welch's grape juice aroma. The crisp finish had grape juice notes.

Fruit Wines
Smoky Mountain Apple was a gold/orange color. There were notes of apple on the aroma and taste. The finish had apple and spice nuances. Big Blue was a blueberry wine. The wine offered blueberry notes with tannins on the dry finish. More fruit wines will be introduced including blackberry, peach, and strawberry.
Events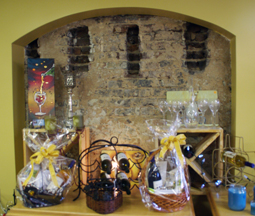 Blue Slip Winery participates in Knoxville's First Friday Art Crawl. In addition, they can be found on Saturdays at the Market Square Farmers' Market.
Adjacent to the tasting room, the barrel room is also used for small events including wine pairings. The Blue Slip Winery offers to customize small, special events for those interested.
Whether visiting or living in Knoxville, Tennessee be sure to stop at the Blue Slip Winery, which will offer you a southern style welcome.
Blue Slip Winery
105B W. Jackson Ave.
Knoxville, TN 37902
GPS: N35º 58.226' W83º 55.143'
---