Savannah Oaks Winery
by
Kathy Sullivan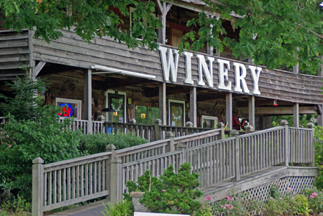 Summary: Savannah Oaks Winery is a family owned and operated winery specializing in Muscadine wines. The venue is one of the largest in the area for hosting public and private events. Savannah Oaks Winery is the dream of Betty Davis, owner.
Savannah Oaks Winery, a family owned winery, was established in 2002. Prior to opening the winery, grapes from the vineyards were sold to other wineries. Additional grapes used to make wine are sourced from the local area as much as possible; some are sourced from New York's Finger Lakes region.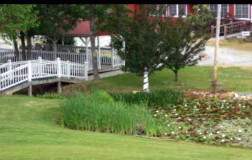 As you approach the tasting room be sure to note the picturesque small, white bridge near the winery as well as the pond filled with colorful water lilies.
Savannah Oaks Winery is part of Savannah Farms that at one time had 25,000 acres. Back in the late 1800's, three sisters owned the property and sharecropped it out to others. Today Savannah Farms occupies 11,000 acres with 15 acres of vines. The original vineyards, about a mile away, were started in 1990. Currently there are 23 varieties of Muscadine grapes.
Tasting Room
The tasting room is located in a barn built in 1861 by 40 men in one day. A large fireplace is opposite the entrance to the tasting room. Numerous items are available to browse and purchase including an assortment of gifts. Consider a purchase of pumpkin butter or one of the many jellies available. Jellies include blueberry, cinnamon honey, pecan honey, raspberry honey and apple cider. Other items to enjoy looking at include wineglasses, decanters, bottle holders, picnic packs, ceramic dishes, candelabra, and seashell frames. A fine selection of fudge is also available.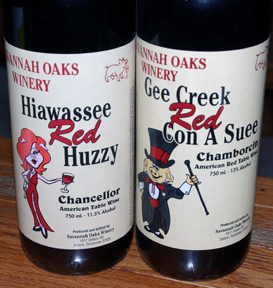 Wines
The number one selling wine at Savannah Oaks is the Red Muscadine wine. A historical note is added to wine labels. "In 1990 the first acre of Muscadine grapes were planted, with the dream of some day having our own winery, since then we have planted several acres." You may notice a line drawing of a pig on some of the bottles and wine glasses. The initials for Savannah Oaks Winery is SOW which also spells "sow," an adult female pig.
White Wines
White Muscadine was a light straw color with sweet hints of yellow stone fruit yielding to the foxy Native American grape notes.
Red Wines
Baco Noir was a ruby color with earthy notes on the aroma and red berry fruit on the taste. The finish was crisp, sweet, and fruity. Moonlight Merlot was produced with grapes sourced from upstate New York. The wine offered an earthy aroma with cherry notes. The taste had cherry nuances. The finish was earthy with tannins. Gee Creek Red Con A Suee, a Chambourcin, was a dark purple wine with a ruby rim. Red berry fruit notes were on the aroma and taste. The finish was crisp with red berry notes.
Fruit Wines
Blueberry was produced with 100 percent blueberry. There was a light purple color with a sweet blueberry taste. The blueberry taste dried on the finish. Razzle Dazzle produced from 100 percent raspberry was dark ruby. The Raspberry aroma was deliciously strong and the taste was of raspberries. The sweet raspberry taste dried on the finish. There was a long raspberry aftertaste.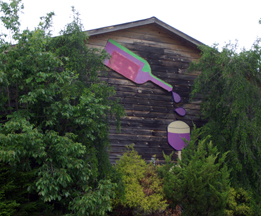 Savannah Oaks Winery Events
The winery has the largest venue for public and private events in the surrounding area. Each year public events include three concerts. Several weddings occur on the property each year. Facilities are also available for business meetings, anniversaries and birthdays.
Be sure to stop by the Savannah Oaks tasting room, taste wine, observe the 1861 structure and delight in the views of the lily pond and heart warming little white bridge.
Savannah Oaks Winery
1817 Delano Road
Delano, TN 37325
GPS: N35º 15.057' W84º 33.668'
---
Visit these Tennessee wineries that partner with Wine Trail Traveler.