Beans Creek Winery
by
Kathy Sullivan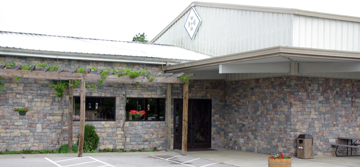 Summary: Beans Creek Winery in Manchester, Tennessee is easy to locate near the crossroads of Interstate 24 and Route 55. Visitors will discover red, white, sparkling and fruit wines.
Beans Creek Winery is a rural winery. Its location at a nearby crossroads is easy for visitors to find and stop at. The winery is between Nashville and Chattanooga, Tennessee. It was named for nearby Beans Creek.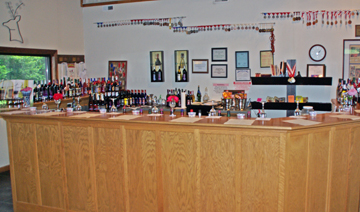 The Beans Creek Winery facility is a modernistic building with stone-style outside walls. A small grape arbor is just outside of the door. Inside, the tasting room has subdued lighting. Near the lightwood tasting counter is an array of gifts and wine accessories to browse. Behind the counter, a large mirror and many medals decorate the wall.
While growing up Tom Brown did not have much wine, however his grandfather and uncle made wine. While with them he had his first taste of wine. His mother had a small vineyard. She used the grapes to make and can grape juice. One day in 1976 as Tom and two friends were on their way to go fishing, they saw the grapes hanging that his mother was not planning to use. Tom, Joe and Dan decided to pick the grapes and make wine.
As an adult Tom entered the Military and during his travels learned to enjoy wine. Tom spent many years making wine. In 1992, he entered the Indiana wine competition and took a gold medal for a sparkling wine. People suggested he should open a commercial winery.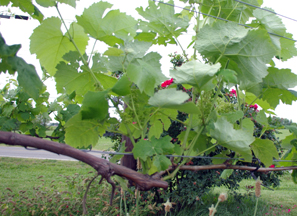 Tom started building Beans Creek Winery in 2003 and in 2004 opened the winery to the public. Prior to this point he had been producing wine at a custom crush winery. Today Beans Creek Winery uses Tennessee grapes and fruit to produce the majority of the wines. Tennessee wines include Chambourcin, Cynthiana, Chardonel, Roseycheeks, Stone Fort White, Nana's White, and Golden Muscat. The winery produces 9,500 cases. Visitors to the winery include retirees going South for the winter and returning for the summer. Other people stopping by include millennials, workers on their way home from work, and vacationers.
Partner vineyards occupy 25 acres in Tennessee. Varietals include Chardonel, Cynthiana, Chambourcin, Traminette, Niagara and Sunbelt.
Beans Creek Winery produces numerous wines including red, white, rosé, sparkling, and fruit wines. Three sparkling wines include Brut, Rosé and Strawberry. Fruit wines produced are peach, strawberry, blackberry, and raspberry.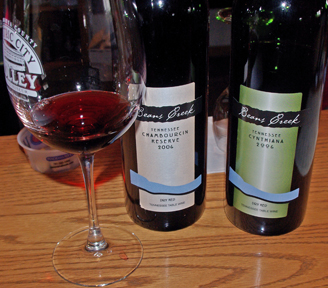 White Wines
The best selling wine is Chardonel. It was a straw color. The aroma and taste offered notes of apple and pear. The taste also had peach nuances. The finish was crisp with a perceived slight sweetness. Chardonel Reserve had an aroma of apple and pears with a hint of caramel. The taste had apple and pear notes with oak. The finish was crisp with the fruit yielding to caramel.
Red Wines
Chambourcin Reserve was red and offered red berry notes on the aroma and taste. The finish was crisp with mild tannins. Apropos, a port-style wine, was produced with Cynthiana grapes. The wine was a dark ruby. There were raisin notes on the aroma and taste. The finish was bright and jammy with dark berries. This was a totally Tennessee Port-style wine. Enjoy this Port-style wine with chocolate.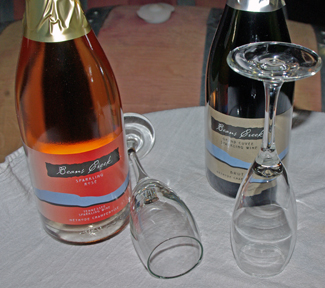 Sparkling Wines
The sparkling wines are produced using the methode de Champagne. Brut was produced with Gewürztraminer, Traminette and Muscadine. The wine was dry with a hint of spiciness and Muscadine grape. The Strawberry sparkling wine was a reddish-orange color. It was made with 100 percent strawberries. As might be expected, there were strawberry notes on the aroma and taste.
Tom wants everyone to stop by to taste his quality wines and enjoy a memorable experience. Enjoy a visit to Bean's Creek Winery, a rural winery.
Beans Creek Winery
426 Ragsdale Road
Manchester, TN 37355
GPS: N35º 29.235' W86º 04.174'
---