Ocoee Winery
by
Kathy Sullivan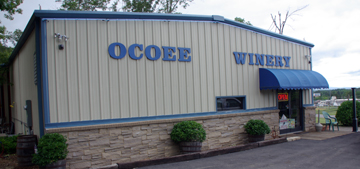 Summary: Ocoee Winery located in Cleveland, Tennessee is an easy stop to make for travelers on Highway 64. Here is your opportunity to taste Scuppernong that is sometimes referred to as "God's gift to the sunny South." Other wines available include Merlot, Blackberry and Muscadine.
Located in Cleveland, Tennessee Ocoee Winery is easy to access on Highway 64 (Waterlevel Highway). The winery is situated between Chattanooga and Nashville. Set on a hill, the winery overlooks Highway 64.
Steve Hunt and his wife, Martha, own Ocoee Winery and Gift Shop. After tasting Ocoee wines at the tasting counter, step into the adjacent gift room, Martha's Cupboard, to browse the eclectic array of gift items.
Steve learned his winemaking skills from Joe Morris at Mountain View Winery. Originally Steve took up winemaking as a hobby because the county, Bradley, was dry at the time. People would visit Steve and encourage him to make wine commercially.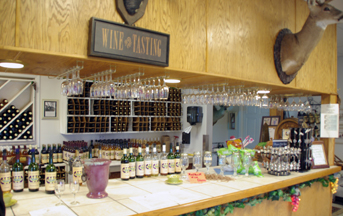 Ocoee Winery opened in 2006. Fruit for Ocoee wines is sourced locally and from other states. Steve is handcrafting his wines and wants people to know that the wines are all made on site. Currently the winery is producing 4,000 to 5,000 gallons (about 2,000 cases). The tasting counter can accommodate several people. Notice the mounted animals around the tasting room, Steve likes to hunt.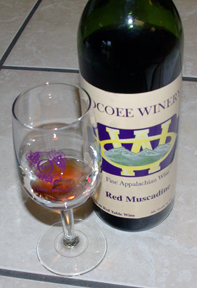 Wines
The best selling wines are Ocoee Red, Red Muscadine and White Muscadine.
Red Muscadine, the flag ship wine, was a sienna color. It was produced from mainly the Noble grape blended with other Muscadine grapes. The result was a wine that was foxy with cherry nuances. The crisp, fruity finish with nutty notes had just a hint of foxiness.
White Muscadine was produced with mainly Scuppernong. The gold wine offered honey hints on the aroma. The taste was sweet and the wine finished with hints of honey. Steve remarked that it has been said Scuppernong is "God's gift to the sunny South." Niagara was slightly oaked. The aroma was a typical Niagara with a bit of foxiness. The taste was earthy with caramel notes.
Blueberry Wine was produced with blueberries sourced from Michigan. The wine was a sienna color. The aroma and taste had blueberry notes. The finish was sweet with a blueberry taste and begins to dry on the aftertaste. Blueberry is Martha's favorite wine.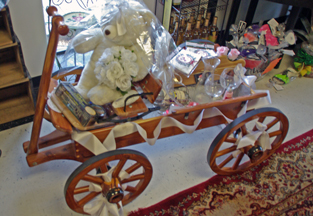 Martha's Cupboard
The gift shop, Martha's Cupboard, is under Martha's domain. In the gift shop, she offers a wide range of products including Icewine scented candles, handcrafted jewelry, mini garden flags, red wine and white wine wineglasses made of canning jars. In addition, look for a variety of jams including Tennessee Toe, Muscadine and Raspberry Jams. Other foods available include Pickled Okra, Apple Butter, Barbecue Sauce, Hot Pepper Jelly, Dilly Beans and Pickled Corn. Enjoy browsing paintings and furniture with an Appalachian focus.
Ocoee Winery is very conveniently located on Highway 64 between Chattanooga and Nashville. While traveling Interstate 75, stop by to taste handcrafted wines and visit Martha's Cupboard.
Ocoee Winery
5365 Waterlevel Hwy.
Cleveland, Tennessee
GPS: N35º 08.379' W84º 46.899'
---