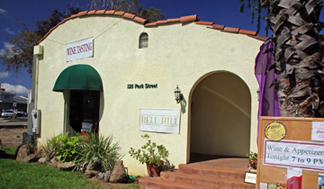 Bell Hill Vineyards
by
Kathy Sullivan
Summary: Bell Hill Vineyards is part of the Lakeport scene in Lake County, California. The wines at the Bell Hill tasting room showcase Cabernet Sauvignon and Merlot. The Bell Hill tasting room also features artwork by local artists.
Bell Hill Vineyards boutique tasting room, located at the edge of Clear Lake in Lakeport, California, is the only winery tasting room in this small town of a little over 5,000. The location is easy to reach and offers delightful views of nearby Clear Lake. Travelers will enjoy walking along the edge of the sparkling blue lake. A small park separates the tasting room from the lake. Ten restaurants are within walking distance of the tasting room.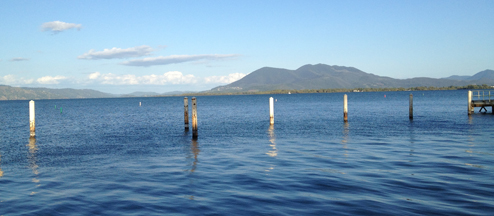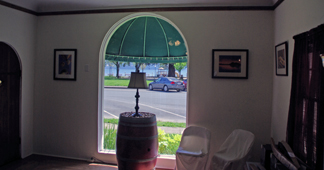 Julia and Phil Maxwell are grape growers and sold their grapes to winemakers. They have been growing grapes for over three decades. In 2004 they put some grapes aside and made wine at Steele winery, also a custom crush facility. Bell Hill used the custom crush facility for two years. Once they discovered that people would not buy wine unless they taste it, they made plans to open a tasting room. The Lakeport tasting room opened in 2011 in a former house built in 1935. The house had gone through several phases including an architect office, tattoo shop and children's clothing store. Now the original house features Bell Hill wines and artists creative endeavors.
The 40 acres of vineyards near Bell Hill Road have Merlot, Cabernet Sauvignon and Cabernet Franc. The owners continue to keep some of their grapes for wine production while selling grapes to vintners. The name, Bell Hill, was chosen because local residents would recognize it.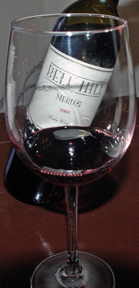 Wines
Currently Bell Hill Vineyards is producing 600–700 cases. Merlot 2006 with a splash of Cabernet Sauvignon was a ruby color. The wine was fruity with cherry nuances and tannins. This had bright fruit notes with a little oak on the finish. Merlot 2004 was produced with a splash of Syrah. This ruby wine was very fruity. The finish had bold tannins and was fruity. Cabernet Sauvignon 2006 was a ruby color. The aroma was of blackberries. The wine had chewy tannins and fruit nuances with a hint of oak.
The winery will often remain open during local events and provide tastings. They also host private events.
While tasting Bell Hill wines, browse the artwork that is available and adds to the overall wine scene. Take time to stroll along the delightful Clear Lake.
Bell Hill Vineyards
125 Park Street
Lakeport, California 95453
GPS: N39º 02.552' W122º 54.853'
---
Visit these California organizations and wineries that partner with Wine Trail Traveler.