Snows Lake Vineyards
by
Kathy Sullivan
Summary: Snows Lake Vineyards has the largest acreage of vineyards in Lake County. The vineyards supply "luxury grapes" to many wineries including renowned wineries such as Cakebread and Rosenblum. According to John Adriance, COO, "Snows Lake produces a terrific Cabernet that shows off the varietal character of the grape."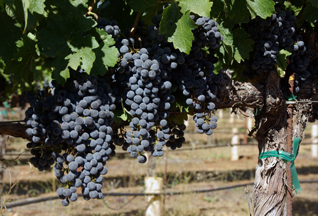 Snows Lake Vineyards is located in Lake County a little south of Clear Lake. On the east side of Perini Hill, the soil is volcanic with quartz crystals, referred to as "Moon Tears," glistening. These semi-precious stones have only been discovered in Lake County. In a Snows Lake brochure an Indian Legend explains the "Moon Tears." "According to one Indian legend, a Pomo Indian Chieftain and the moon fell in love. The moon could not stay with the Chieftan because she was needed by the people to light the night sky and make the seasons. She was so sad to leave the Chieftain that she wept "Moon Tears" which became Lake County diamonds."
This large vineyard is home to many grape varietals as well as an animal "pass-thru." Much of the land is devoted to a natural habitat. The Wildlife Corridor consists of 240 acres that provides space for wildlife to pass through the property. Wildlife types include wild boar, mountain lions, raccoons, deer, bobcats, snakes and raccoons. With rolling hills and high elevation, the vineyards are able to supply an abundance of grapes with different characteristics determined by the location of the grapes. The Mayacamas Mountains tend to isolate these vineyards where grapes thrive.
The Vineyards
About 15 miles northwest of Napa Valley, the red volcanic soil is ideal for growing grapes. The vineyards are within the recently designated Red Hills AVA. The vineyards of Snows Lake occupy 810 acres on 2,300 acres of land. Grapes are grown at elevations of 2,000 to 2,500 feet. The grapes reach maturity while retaining acidity and fruitiness. Snows Lake is growing ultra premium luxury grapes that include Cabernet Sauvignon, Cabernet Franc, Barbera, Merlot, Petit Sirah, Syrah, and Zinfandel.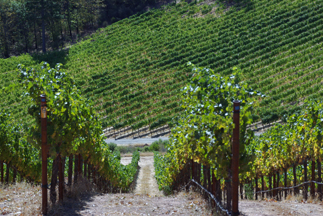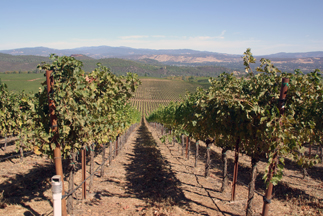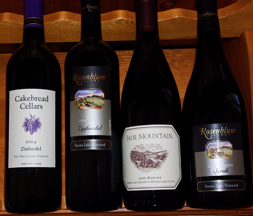 While most of the grapes are sold, a portion of the grapes are used to produce their own wines. Small lots are produced. These wines showcase the quality of the grapes produced in the Snows Lake Vineyards. According to John the "potential for wine is made in the vineyard." Grapes from the vineyards are purchased by wineries that include Rosenblum, Cakebread, Dynamite, Stag's Leap Wine Cellars and La Famiglia.
Wines
While talking with John, we had the opportunity to taste two of the Snows Lake wines. The first Snows Lake wine was produced with the 2004 vintage. When you purchase a Snows Lake wine, notice the unique wine bottle label. It wraps around the bottle and must be attached by hand.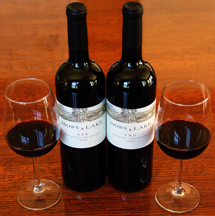 Snows Lake One 2005 was produced with 100 percent Cabernet Sauvignon. According to John, "We needed to show what our vineyard can do" and this 2005 vintage accomplished that goal. The aroma and taste were of blackberries and black fruit nuances. The finish offered bold tannins and was fruity. Snows Lake Two 2005 was a dark purple/black wine with an aroma and taste of dark fruit and spice. This blend of Cabernet Sauvignon and Cabernet Franc offered bold tannins on the finish with spice notes. These wines are produced in small batches with only 250 cases of each. They are available on the Internet and at locations in California.

Community Good Will
Snows Lake Vineyards, owned by the Myers family, believes in giving back to their community. As such they follow good conservation practices including the use of non-toxic products in the vineyards. They support NFTE, National Foundation for Teaching Entrepreneurship, which benefits youth by helping them to improve their business and life skills. In addition, Snows Lake Vineyards focuses on the environment. Check with Snows Lake Vineyards to discover other philanthropy projects they support.

In summary, John commented we "are not trying to be the biggest but the best."
Snows Lake Vineyard
11545 Perini Rd.
Lower Lake, CA 95457
GPS: N38º 53.133' W122º 38.600'
---
Visit these California organizations and wineries that partner with Wine Trail Traveler.