Cecchetti Wine Company
by
Kathy Sullivan
Summary: Cecchetti Wine Company started in 2007. The primary purpose of the company is to introduce consumers to new varietal wines in a $10 price range. They are focused on two brand labels the Red Tree and Line 39. Roy Cecchetti is a director of the PS I Love you website that promotes Petite Sirah.
We met Roy Cecchetti in an Italian restaurant, Della Santina Trattoria, in the town of Sonoma. This is one of his favorite restaurants in Sonoma and he remarked his father knew the owner back in Italy. After a successful career with another winery, Roy decided to take an early retirement. After realizing that there was more to life than travel and relaxing, Roy decided to start another company that focused on creating quality wines at reasonable prices for consumers. Today he and his wife are the owners of Cecchetti Wine Company.
Roy's background is marketing. He believes that the market for high priced wines is saturated and that reasonably priced, quality wines need to be available for consumers. Questions he asks himself include, "Where do I want to be on the shelf?" and "Where is the consumer?" To this end, he seeks to keep wines at $10 or below. While it may cost more to produce a particular wine, he averages the costs.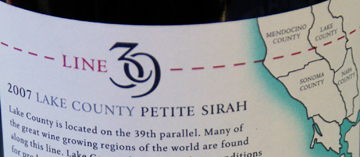 Roy worked at the Langtry Estate andVineyards in Lake County from 2005 to 2006. This opened his eyes to the Lake County AVA as an excellent grape growing area. Today Cecchetti Wine Company is producing Line 39 wines. Line 39 is the longitudinal line for Lake County. The grapes used in the Line 39 brands are from Lake County.
Cecchetti Wine Company also produces the Red Tree Brand. Currently the company is producing 100,000 cases of the Red Tree brand and 35,000 cases of the Line 39 brand. By 2010 he believes that production will be close to 200,000 cases for the entire portfolio.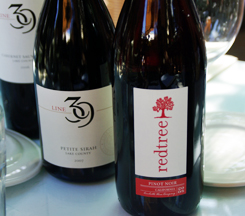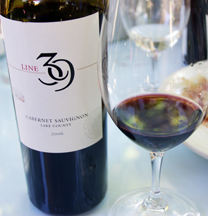 Wines
With our lunch, we tried three wines. Line 39 Sauvignon Blanc offered a citrus aroma and taste. The finish was crisp. Line 39 Cabernet Sauvignon 2006 was a ruby color. The aroma was of black fruit and the taste was jammy. There were mild tannins on the finish. Line 39 Petite Sirah 2007 was a dark purple/black color. The aroma and taste were of dark fruit. The finish was fruity with tannins. If you haven't tried a Petite Sirah, this is a good one to try. Roy is the director of the website PS I Love You a site devoted to the Petite Sirah grape. Don't expect a Petite Sirah to taste like a Syrah. They are unrelated.
When you have the opportunity, be sure to try Redtree and Line 39 wines.
---
Visit these California organizations and wineries that partner with Wine Trail Traveler.