Brassfield Estate Winery
by
Kathy Sullivan
Summary: Brassfield Estate Winery is a special winery to visit especially if you are looking for a relaxing visit and good wines. There is a sense of peace here that transcends the commercial world. We enjoyed a quote from the winemaker, "Winemakers are like snowflakes, no two are alike." We have met many winemakers and they are all unique.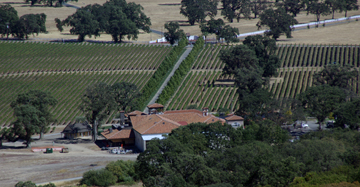 After traveling from Clear Lake over mountainous terrain we reached High Valley, which was designated as an AVA in 2005. The High Valley AVA is located within the Clear Lake AVA. Located in Lake County, Brassfield Estate Winery, originally established on High Serenity Ranch is at one end of the valley. Originally a location for a cattle ranch and private retreat. Jerry Brassfield began with weather and soil mapping for the vineyards in 1998. Sixty acres were planted in 2001 and the winery was established in 2002. Since then the winery has continually increased its size.
We could see the winery in the distance. There was a sense of peace to be found in this valley, which almost seems to be separated from the outside world. Unbeknownst to us at the beginning of our visit, this property had once been a retreat site. The building with gardens and a statue of St. Francis continue to provide a peaceful presence.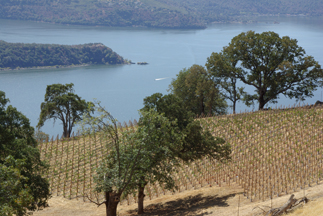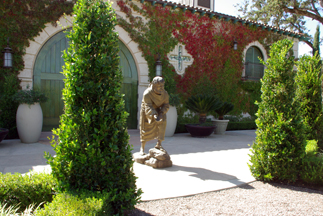 Our guide and winemaker, Kevin Robinson, provided us with a tour of the facility that was sorting and destemming grapes during our visit. Brassfield Estate Winery is a 2,500-acre property consisting of 360 acres of vineyards and natural habitat. The property also includes Round Mountain, a volcano.
Outside of the vineyards, the natural habitat is encouraged. Wildlife is given safe passage through the property. The property is also home to wetlands that are protected.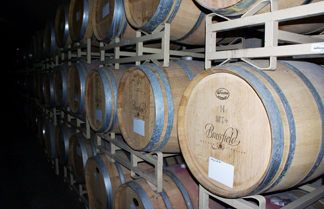 The vineyards benefit from the volcanic soil, elevation, temperature variations and wind flow. Varietals to be found in the vineyard include Pinot Grigio, Sauvignon Blanc, Riesling, Gewürztraminer, Chardonnay, Pinot Noir, Zinfandel, Cabernet Sauvignon, Syrah and Malbec. The winery produces 100 percent estate grown and bottled wines. Currently they are producing 25,000 cases with the Brassfield label.
Vineyards are spread across the 2,500 acres with many located on hillsides and at high elevations. Immense caves have been excavated into a nearby hillside. These caves are able to age thousands of barrels of wine with the present caves aging 8,000 barrels of wine.
Tastings at Brassfield Estate Winery are outside under a patio roof. The winery offers a Wine Club. Members of the club receive six bottles of wine quarterly.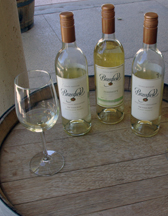 White Wines
Pinot Grigio 2007 was a light yellow with an aroma of citrus nuances. The taste had notes of citrus and tropical fruits. The finish was crisp and fruity. Sauvignon Blanc 2007 had an aroma of grapefruit. The taste offered citrus (grapefruit) notes and tropical fruit nuances. The crisp finish was fruity. Serenity 2007 was a blend of Sauvignon Blanc, Pinot Grigio, Gewürztraminer and Semillon. The aroma had floral notes and the taste was smooth with layers of citrus, tropical, rose and spice nuances. The finish was crisp with a slight sweetness.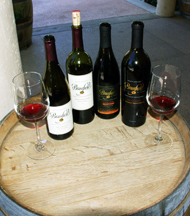 Red Wines
Pinot Noir had a transparent red color. The aroma and color was of light red fruit. The finish was crisp with light red fruit nuances leading to a slight earthiness. Zinfandel 2005 grapes were harvested from Round Mountain Volcano Vineyard. The color was dark purple/red. The aroma and taste were of plum and dark fruit. There were tannins on the finish and a fruity aftertaste. Eruption 2005 was a blend of Syrah, Mourvedre, Grenache and Petite Sirah. The aroma was of dark fruit. The smooth taste was of dark fruit and the wine finished with tannins. Cabernet Sauvignon 2006 was a dark ruby color. The aroma and taste were of black fruit and spice. There were bold tannins on the finish.
Enjoy a visit to Brassfield Estate Winery. Notice the location of the vineyards that are located on the valley floor and the higher elevations along the ridges and on Round Mountain Volcano. Take a camera with you for photo opportunities.
Brassfield Estate Winery
10915 High Valley Road
Clearlake Oaks, California 95423
GPS: N39º 02.763' W122º 42.478'
---
Visit these California organizations and wineries that partner with Wine Trail Traveler.