Lake County Wine Studio
by
Terry Sullivan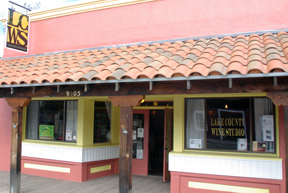 Summary: Lake County Wine Studio is a tasting room that offers wine tasting for wineries and winemakers who do not have tasting rooms. Visitors have an opportunity to taste the wines of Lake County in one stop.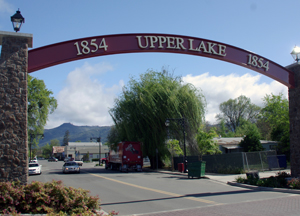 When visiting a wine region, it is hard to find a single place that you can taste many of the wines made by different producers in the area. Add to the challenge that there are virtual wineries that do not have tasting rooms, and you'll discover there are many wines that you do not have easy access to discover. Lake County Wine Studio changes that concept. It is a tasting room in Upper Lake that serves wines from more than ten Lake County wineries that do not have their own tasting rooms. Lake County also has several winemakers who make wine at a custom crush facility. They have no winery or tasting room. The Lake County Wine Studio is a perfect fit for them. Visitors can also taste some wines from wineries outside Lake County, if the wine is made with grapes grown in Lake County. Wine enthusiasts can also find wines that are served in tasting rooms in the county. Currently, the Lake County Wine Studio offers a selection of more than 125 Lake County wines.
The Lake County Wine Studio provides an opportunity for wineries and winemakers who do not have a tasting room. People like to taste a wine before they buy a wine. The studio brings the wine to the people.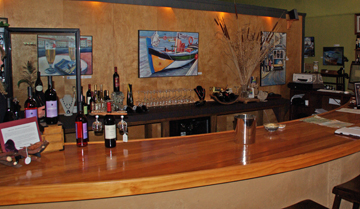 The curved tasting counter has stools to sit on, always a welcome feature at a wine tasting. The internal color scheme has earth tones. A comfortable seating area is to one side and art adorns the walls. A different artist is featured each month. The artwork is for sale and the local artist is on-hand for an opening reception. Visitors can view wines and wine accessories as they taste wines made with Lake County fruit.

Wines
Susan Feiler presented several wines for us to taste. The first wine tasted, a 2010 Alienor, came with a history lesson on the back label. The wine made by Dennis Malbec pays tribute to Aliénor of Aquitaine who, while married to Henry II turned many areas of Bordeaux into English territory, increased the production of wine and export of wine. This Sauvignon Blanc was a light straw color with grass and mineral on the aroma and taste. The finish was crisp with the grass yielding to citrus. Try this wine while watching The Lion in Winter. Another Sauvignon Blanc tasted was also a 2010. The Atascadero Creek Sauvignon Blanc was produced with grapes from the Di Ricco Vineyards. It offered citrus and mineral on the aroma and taste and had a crisp grapefruit finish. The 2009 Cache Creek Reserve Chardonnay was a straw color with caramel and vanilla and a hint of apple.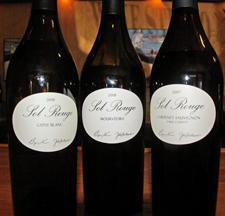 We tasted three wines from the Sol Rouge vineyards located in the Red Hills AVA. In French, sol rouge translates to red soil. Their 2008 Gypsy Blanc was a blend of Marsanne, Roussanne, and Viognier. The light yellow color wine reminded me of yellow stone fruit with a crisp finish. The 2008 Sol Rouge Mourvédre was a ruby color with violets and cherry aroma. The wine had mild tannins and the floral notes yielded to licorice. A 2007 Sol Rouge Cabernet Sauvignon was also a ruby color. There were blackberries on the aroma and taste. The finish had tannins and was fruity with a touch of oak.
Obsidian Ridge also has vineyards in the Red Hills AVA. The winery was named for the obsidian rock found in the vineyard. The 2009 Cabernet Sauvignon was aged in Hungarian oak. The aroma and taste offered layers of black juicy fruit especially blackberries. The finish had tannins and was fruity. The 2009 Obsidian Ridge Syrah was a dark ruby color and had dark fruit notes with bold tannins.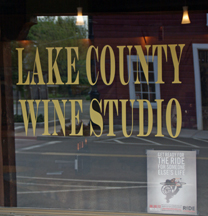 Wine Club
At Lake County Wine Studio there is a wine club that is different from many winery wine clubs. Members have a choice of the wine they want as well as how often they receive wine. Membership is free. Members receive discounts on an assortment of things such as Studio wine tastings and case purchases. What may be the most unique benefit is invitations to attend events such as vineyard tours and tastings at wineries and vineyards in Lake County.
Taste the wines of Lake County at the Lake County Wine Studio. Whether it is a wine tasting visit or a special event, enjoy the wines in this unique tasting opportunity.
Lake County Wine Studio
9505 Main Street
Upper Lake, California 95485
GPS: N39º 09.890' W122º 54.651'
---
Visit these California organizations and wineries that partner with Wine Trail Traveler.