Rosa D'Oro Vineyards
by
Kathy Sullivan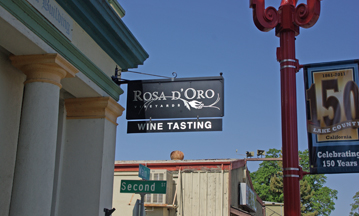 Summary: The Rosa D'Oro Vineyards' tasting room is located in the town of Kelseyville in Lake County. This family owned winery and vineyard offers several Italian-style wines. The tasting room is in a renovated bank with a small winery gift shop in the former bank vault.
Rosa D'Oro is Italian for Rose of Gold. The Rosa D'Oro tasting room is located in Kelseyville, California close to Clear Lake. The Buttitta family owns and operates the winery and tasting room. We met Livia Kurtz, daughter, who manages the tasting room.

Livia was enthusiastic and friendly while relating the story of grapes in the family. Both sides of her family are from areas in Italy - Sicily and Verona. However, Livia's Grandparents met in Youngstown, Ohio. Her grandfather, Peitro Buttitta, grew and sold grapes in Sonoma County. Livia's father, Nick, grew up on a vineyard.
In 1991 the family moved to Lake County where Nick bought a ten-acre parcel of property and planted a vineyard. Nick planted mostly Italian varieties in 1994. The venture became commercial in 2001. Today the varieties grown include Chardonnay, Refosco, Barbera, Primitivo, Dolcetto, Aglianico and Sangiovese. They also have two acres of olive trees. Wine labels are decorative with a silk-screened rose. Current production is 2,000 cases.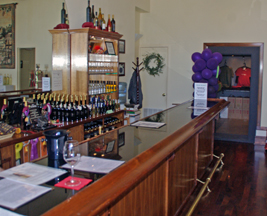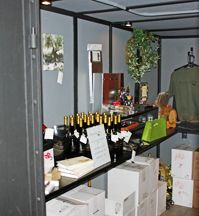 Tasting Room
The L-shaped tasting counter has room for several people while tables and chairs provide additional space to sit. The black glassy surface of the tasting counter has an elegant feel. Rosa D'Oro offers a unique small gift area experience with gift shop items in what was once a bank vault. What a unique idea! Artwork is available in the tasting room as well as the book The Passionate Olives: 100 Things to do with Olive Oil.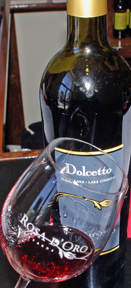 White Wine
Arneis 2010 Yolo County Dunnigan Hills with 13 percent alcohol was produced from hand-harvested grapes. The wine was unfined and lightly filtered. The back label notes, "Harvested by hand and whole cluster pressed by foot." The wine was a light straw color. The wine was crisp and fruity with nuances of yellow stone fruit. Only 40 cases were created. Chardonnay was a blend of 2009 and 2010 vintages grown in the family's vineyards. The wine was very aromatic with notes of apple blossoms. The finish was crisp with nuances of apples and pears.
Red Wines
Sagrantino 2010 Tracy Hills was a light ruby color with cherry nuances. The fruity finish had bold, chewy tannins. Primitivo 2009 Clear Lake was a ruby color with an aroma and taste of red cherries. The finish had mild tannins with a perceived sweetness from the fruit. Alcohol was 16.1 percent. This was a nicely balanced wine. Aglianico Reserva was ruby with black fruit notes on the aroma and a taste with plum and cherry nuances. The finish was crisp and fruity with mild tannins. Dolcetto 2009 was a ruby color with notes of red cherries. The finish was crisp with tannins and cherry notes.
Dessert Wine
The White Port wine was a straw color with crystal hints. It was sweet with hints of honey and dried on the finish. The wine had 18.5 percent alcohol.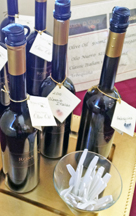 Olive Oil
Beginning in 2000, olive trees were planted on the property. In 2004 olives were harvested and milled at Chasewater Olive Oil Mill in Kelseyville. Today (in 2012) they have two acres of olive trees. Olive oils are available in the tasting room. The Olio Nuovo is a fresh press blend of the Tuscan olives. The Arbequina is from their estate grown Arbequina olives. The Classic Blend is made from a blend of Leccino, Frantoio, Pendolino, Maurino, and Coratina olives.
While in Kelseyville, California be sure to stop at the Rosa D'Oro tasting room to receive a friendly welcome and taste Italian-style wines.
Rosa d'Oro
3915 Main Street
Kelseyville, California 95451
GPS: N38º 58.672' W122º 50.319'
---
Visit these California organizations and wineries that partner with Wine Trail Traveler.