Chacewater
by
Kathy Sullivan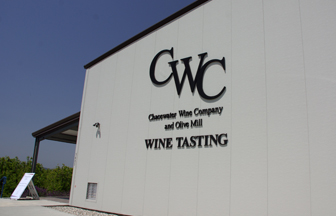 Summary: Chacewater Wine Company & Olive Mill in Lake County, California provides wine tastings and olive oil tastings. Chacewater originally began as an olive mill and now has added wine production.

Paul and Kellye Manuel are the owners of Chacewater and Paul is the General Manager. Chacewater is the name of a small village in England where Paul's ancestors lived. While walking through the Chacewater facility, visitors will see an atypical logo. The symbol is for a Chacewater church craftsman. This unique and elegant symbol is on the Chacewater wine labels.
Visitors to Chacewater Wine Company & Olive Mill see a large modern building with the letters CWC on the side. Walk along a small outdoor patio into the tasting room where one will see olive oil soaps, a little further on they will come to the tasting counter. Behind the tasting counter wines are laying flat presenting an elegant view of these carefully made wines.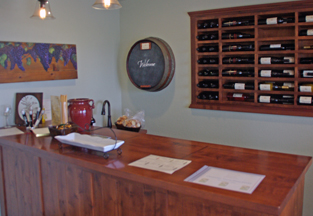 The small boutique tasting room that opened in 2011 has a small entrance and after passing the tasting room, visitors will discover it opens up to a large concrete covered area. This area is for producing wine beginning with the sorting of the grapes. The same area can also be used for large events. Numerous oak wine barrels add to the area's ambiance for events.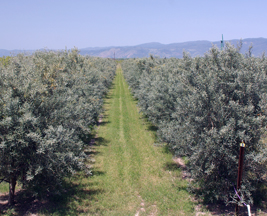 History of Chacewater Facility
The property in Lake County includes the new winery and olive oil facility and several acres of olive trees. In 2002 the property was donated to Saint Gregory of Sinai Monastery and they planted 3,000 olive trees. Between these 10 acres and a 300-acre farm, the Monastery eventually felt the need to sell the olive groves and olive mill and concentrate on the large farm. Paul and Kellye Manuel purchased the property that included the olive oil mill and the olive groves.
Chacewater owns 35 acres of grapes in Grass Valley. The vineyards are organic. Grapevine varieties include Merlot, Cabernet Sauvignon, Cabernet Franc, Syrah and Zinfandel. In addition they source fruit from Lake County grape growers.
White and Rosé Wines
We tasted several wines with Mark Burch, winemaker. The first year's production was 6,000 cases. In 2011 Chacewater produced conventional wines. Sauvignon Blanc 2011 Lake County was a straw color. This was not a simple Sauvignon Blanc. The aroma and taste offered notes of grapefruit, grass and tropical fruit. The finish was crisp and fruity with a touch of spice. Rosé Wine 2011 Syrah CCOF (California Certified Organic Farmers) was made from Sierra Foothills' grapes. This light red wine offered notes of red berries particularly red raspberries. The wine had strawberry notes. The taste was crisp and refreshing. Chardonnay Lake County 2010 was barrel fermented and yellow. The aroma offered apple and pear notes. The taste reminded one of apples and pears with baked bread nuances and a soft mouthfeel.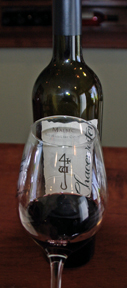 Red Wines
Malbec Red Hills Lake County 2009 was dark ruby with a light ruby rim. The aroma was of dark fruit. The finish had mild tannins and was very fruity. Petite Sirah Red Hills 2009 Lake County was a dark purple to black color. As it was poured into the glass it appeared black with a ruby rim. The wine offered nuances of blackberries and black raspberries. Bold, chewy tannins were on the finish. O-Eight Headache! 2008 was named for the difficulties of that year. The combinations of forest fires in California, the economy tanking and building a winery in 2008 all added up to a headache. The wine was a blend of Petite Sirah, Merlot and Cabernet Sauvignon. The wine had dark fruit notes. The fruity finish had very bold tannins.
Chacewater Special Clubs
Wine and olive oil enthusiasts can choose between three Clubs to join. While the Wine Club members receive eight wines annually, Olive Oil Club members receive eight bottles of olive oil annually. The Premier Club members receive quarterly shipments with two bottles of wine and two bottles of olive oil. Other benefits are included in the memberships.
While visiting to taste wines, ask to taste the organic olive oils grown and produced at Chacewater. In addition olive oil lovers will enjoy the opportunity to purchase a variety of aromatic soaps made with olive oil. Scented olive oil soaps include Orange, Chai, Mystical Dragon, Cucumber, Avocado as well as a Rose Geranium Shampoo Bar.
Visitors will enjoy the wines, olive oils, views of olive groves and the enthusiasm of the Chacewater staff. The tasting room is open to the public on Saturdays. Call for an appointment for other days of the week.
Chacewater
5627 Gaddy Lane
Kelseyville, California 95451
GPS: N38º 58.936' W122º 50.078'
---
Visit these California organizations and wineries that partner with Wine Trail Traveler.