Hawk and Horse
by
Kathy Sullivan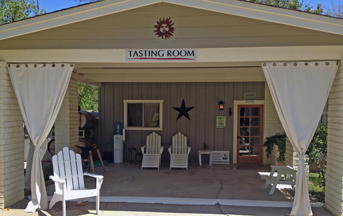 Summary: Hawk and Horse is both a vineyard with a winery and a ranch located in Lake County, California. Hawk and Horse Vineyards offers visitors wine tastings and customized tours of their property. Wines are produced with organic and biodynamic grapes.
Hawk and Horse Vineyards is much more than a vineyard and winery. Travelers to the ranch will be offered a tour that can focus on horses, cattle or vineyards. The ranch has several Scottish Highland cattle. Scottish Highland cows are friendly with brown, shaggy hair and large horns. The cows are used for biodynamic purposes.
Hawk and Horse Vineyards is owned by noted attorney, David Boies and family along with Managing Partners, Tracey and Mitch Hawkins. The Hawkins will meet visitors in the winery tasting room and offer an experience to be treasured. The hilly and mountainous property is located in the Red Hills American Viticultural Area.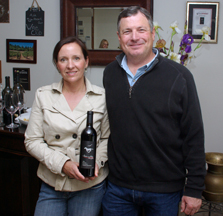 We met Tracey and Mitch Hawkins who had just arrived home after attending and particiating in a rodeo event. They are horse lovers and enthusiastic about the experiences they can offer visitors as well as the quality of their wines.
History
According to the Hawkins, "David Boies purchased the historic property over two decades ago. His love of wine and of California's beautiful North Coast wine growing region motivated the purchase." Tracey grew up in Sonoma County's wine country. While growing up, her family would take guests wine tasting. After college she "worked in the wine industry for several years before running the family ranch full time. She and Mitch along with Mr. Boies and members of the family then began to plan the vineyard and winery." This property is home to virgin forests. Prior to the Boies family owning the property, Beringer Patterson, a homesteader, planted walnuts on the wilderness land over 100 years ago. Not only do the Boies and Hawkins families enjoy wine and want a vineyard, they saw having a vineyard as a way to help preserve the land. Mitch has a background in farming. He has worked on numerous farms including a horse ranch.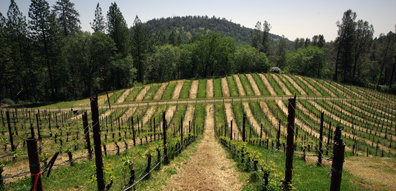 Organic and Biodynamic Vineyards
Vineyards are cultivated with organic measures. The Hawkins also use biodynamic principles. The vineyard has biodynamic certification from Demeter. In 1998 the Hawkins began clearing the mountainside land, taking out wild shrubs and trees. In 2001 they planted their first grapes, Cabernet Sauvignon, on raw wild soil. In 2007 they added Cabernet Franc and Petite Sirah and currently have 18 acres of vineyards. Vineyards in this country area are protected from deer by tall fences. Bird boxes including owl boxes dot the vineyards to encourage raptors that will scare the smaller birds away.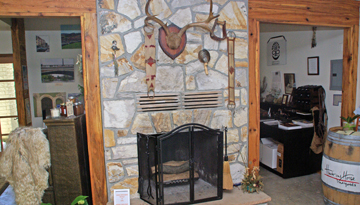 Tasting Room
The boutique tasting room is decorated with several saddles. On the wall a quote from John Wayne says, "Courage is being scared to death – but saddling up anyway." A wood burning stone fireplace adds to the ambiance of wine tasting. Wine tastings are offered in Riedel stemware.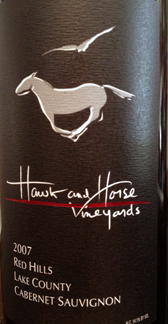 Wines
The Hawkins who have a consulting winemaker, Dick Peterson, produce red wines. The first wine produced and bottled by Hawk and Horse Vineyards was a Cabernet Sauvignon in 2004. The wine bottle labels feature a galloping horse with a hawk flying overhead. This is a label that will be easy to remember.
Red Hills Lake County Cabernet Sauvignon 2007 was a dark ruby with blackberry notes. The taste was crisp and the finish had tannins with fruit nuances. Red Hills Lake County Cabernet Sauvignon 2008 was a ruby color with an aroma and taste of blackberries. Red Hills Lake County Cabernet Sauvignon 2009 was a dark ruby with notes of blackberries. The finish was bold with chewy tannins and fruity notes.
Latigo Cabernet Sauvignon 2006 was a port-style wine. The wine was ruby with Sienna hues. This wine was aged for 26 months in new French oak barrels. The nuances included blackberries. The wine was fruit forward. This is a dessert port-style wine that one can also drink as a dinner wine.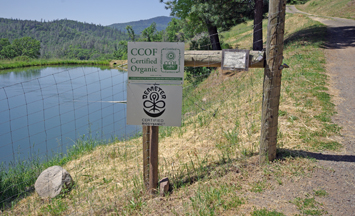 Hawk and Horse Tours
Tracey and Mitch will customize tours for visitors. Travelers can choose among several ways to tour this property. For those who enjoy hiking consider a walk along trails. Others may want to learn more about biodynamics that might include a visit to the Scottish Highland cattle. Horse lovers may want to visit the horses and have an opportunity to pet the pony.
Our tour centered on the vineyard and wine tasting experiences. We began our tour with a ride across the road up to a high elevation. We passed a pond that is fed by spring water. After passing two metal gates, we arrived at the vineyard where we saw a jackrabbit and two deer. There was not too much concern about the jackrabbit. Mitch noted that deer have a way of finding their way past the tall deer fences.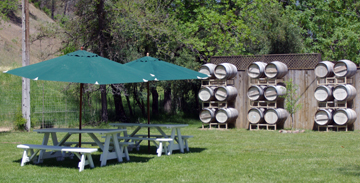 Picnics
A picnic area near the fenced in horses is available to visitors to the tasting room. Make a day of it by planning to visit Hawk and Horse Vineyards tasting wines, touring and picnicking on the grounds.
Enjoy visiting Hawk and Horse Vineyards, meeting Tracey and Mitch Hawkins, and tasting quality wines. Call and plan in advance to take a tour.
Hawk and Vineyards
13048 Hwy 29
Lower Lake, California 95457
GPS: N38º 51.895' W122º 37.425'
---
Visit these California organizations and wineries that partner with Wine Trail Traveler.