Fults Family Vineyards
by
Kathy and Terry Sullivan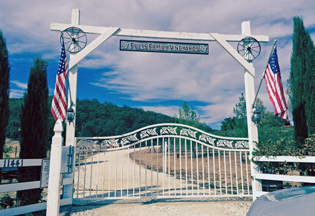 Summary: Fults Family Vineyards is a boutique winery located in Lower Lake, California. The tasting room is open weekends only. They have a unique and fun but difficult way for visitors to win a case of wine.
The Fults Family Winery tasting room had just opened with a few last minute things to be done, but we were able to get a good sense of what visitors can expect when they visit.
The tasting counter is a unique pattern of wood. Outside, a small deck with seating overlooks vineyards, the countryside, and a small golf green.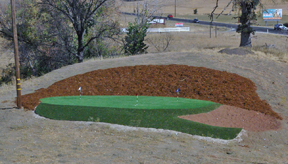 Fults Family Vineyards is a family winery owned and operated by Kendall and Dustin Fults. They are a father and son team, who have a passion for wine, football and golf. At the tasting room and close to vineyards they have a small golf range. Visitors can choose a golf club from a bucket filled with clubs. If anyone can hit the golf ball and make a hole-in-one, they will receive a case of wine. Each visitor is allowed two swings.
According to an email from Dustin Fults, "We want people to know that this is a dream of both my father and myself showing off the property that we developed together ourselves.  We enjoy farming and love to play golf, so we decided why not make our business about both.  We love having friends and family over to the property to help us make our wines with the direction of our winemaker Eric Stine who happens to be a very good friend of the families.  We really want to focus on our Estate blends and the different regions of not only Lake County, but of California as well.  We hope that our wines reflect what we enjoy drinking.  To us Family and Friends are what is most important and we could not have gotten to where we are without them."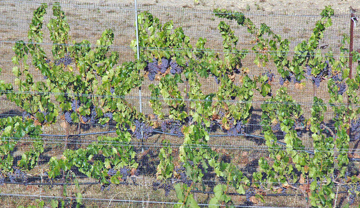 In 2001 Kendall bought the 45-acre ranch. In 2002 they began thinking of planting a vineyard so they could make wine for their personal use. By 2006 they decided to become a commercial winery. Currently they have 3.8 acres of vineyards with plantings of Cabernet Sauvignon, Petite Sirah, Sangiovese, Sauvignon Blanc, Moscato, Pinot Gris, Petit Verdot, Malbec and Grenache.
Currently they produce 250 cases. As they increase the size of the vineyards, they hope to eventually reach 10,000 cases.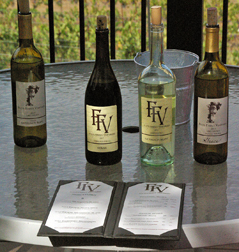 Wines
We tasted several wines while in the shade out on the deck. This was a wonderful setting with vines close by and a golf green begging us to try to hit it even though we never played the sport.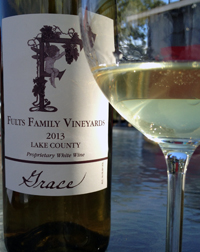 Sauvignon Blanc 2013 Lake County was produced with grapes sourced from Langtry. This light yellow wine offered notes of lemon, lemon grass and tropical fruit. The wine was medium-bodied and balanced. The wine retails for $18. Estate Sauvignon Blanc 2013 Lake County with 13.8% alcohol was yellow and had notes of lemon, lemon grass and tropical fruit especially mango. The wine was medium-bodied and crisp. Grace 2013 was named for Dustin's great-grandmother and Kendall's grandmother. This was a blend of Muscato and Pinot Grigio. The wine with 14.1% alcohol was yellow with floral and tropical fruit notes. The almost dry wine had less than .5% residual sugar. The wine was medium to full-bodied and balanced. The retail price is $25.
Syrah 2007 Sierra Foothills was a translucent ruby color. The wine had 14% alcohol and offered plum, black cherry, cloves, cinnamon and a little leather. The wine had medium tannins. It was full- bodied and would pair well with food.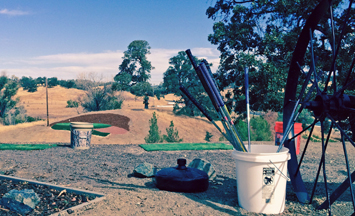 Golf
Never having swung at a ball did not deter us. Close to the tasting room is the launch greens for the balls. We selected clubs for no apparent reason and freely started swinging. After all, the motivation to wine a case of wine was rather strong. The only thing we knew about swinging at a golf ball was to bend our knees and keep an eye on the ball. It sounds like tennis. Admittedly, there were some swings and misses. There were also some rolls that went further than the flight. One ball I hit went over the target green. Actually, that felt pretty good. Although we did not come close, the activity was fun and I would love to try it again. This is a great idea for a winery.
When visiting Fults Family Vineyards, taste their wines and then see if you can make a hole-in-one.
Fults Family Vineyards
11441 Hwy 29
Lower Lake, CA 95457
GPS: N38º 53.368' W122º 36.334'
Article written September 2014
---
Visit these California organizations and wineries that partner with Wine Trail Traveler.