Shed Horn Cellars
by
Kathy Sullivan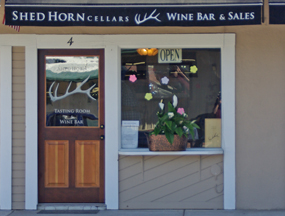 Summary: Shed Horn Cellars in Middleton, California is located in Lake County just north of Napa Valley. At Shed Horn Cellars, wine enthusiasts will discover small lots of handcrafted wines.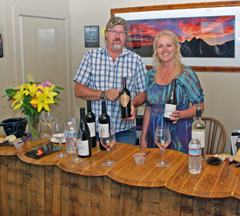 The owners of Shed Horn Cellars, Michael and Adawn Wood are the only people involved in the winemaking and tasting room. Michael and Adawn are happy to share their experiences with visitors to the tasting room. In addition to producing his own wines under his own label, Michael is also the winemaker for two large Lake County wineries. Michael is a do-it-yourself person. He created and built the tasting room counter using barrel staves. Michael also created most of the furniture in the tasting room including tables and stools using oak barrel parts. One table is decorated with elk antler images.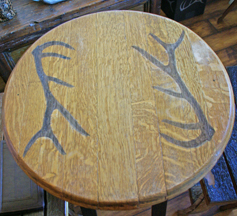 Asked about the name for the winery, Michael noted that while hunting he would find antlers that had been shed by elk. He was fascinated with shed horns. Thus the name Shed Horn was discovered. The wines produced by Michael have the logo of an elk antler. It is an elegant image that has been captured by the artist.
Michael has been making wine for other wineries for years. Eventually he decided he wanted full control over the winemaking process. In 2004 while working for Langtry, he produced 75 cases of Cabernet Sauvignon. Michael began producing wine in a small bonded, renovated barn. Little by little he increased production and now makes 1,500 cases. The bottling is done by hand. During our visit Michael said that he enjoys the difference in winemaking from year to year.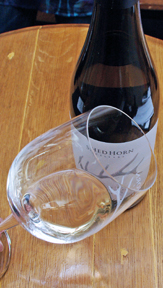 White Wines
All wines at Shed Horn Cellars are produced with Lake County fruit. Lake County Chardonnay 2010 was a light yellow with an aroma and taste of pear, apple and vanilla. The finish was crisp and fruity with a faint hint of tannins. Lake County Sauvignon Blanc 2011 was aromatic with floral and grapefruit notes. The taste also had nuances of grapefruit.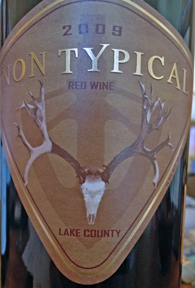 Red Wines
Lake County Zinfandel 2009 with a ruby color offered berry fruit notes. The finish was fruity with bold tannins. Lake County Cabernet Sauvignon 2009 was a dark ruby. The aroma and taste had blackberry notes. The taste also had a hint of blueberries. Lake County Non Typical Red Wine 2009 was a blend of Zinfandel, Barbera, Cabernet Sauvignon, Syrah and Petite Sirah. The aroma was earthy and fruity. The taste was of black fruit with notes of black raspberries. A suggested pairing was with dark chocolate covered blackberries.
Shed Horn Cellars wines are available in the Middleton tasting room, restaurants and locally. Two distributors also handle this small production winery. Another way to obtain the Shed Horn wines is to join the Wine Club. The Wine Club includes two shipments per year.
Shed Horn Cellars tasting room is open with limited hours on Thursday, Friday, and Saturday. Other days the shop is open by appointment only.
Enjoy visiting the tasting room for wine tastings and friendly conversation with Michael and Adawn at this small handcrafted production winery.
Shed Horn Cellars
21108 Calistoga Street
Middletown, California 95461
GPS: N38º 45.188' W122º 36.864'
---
Visit these California organizations and wineries that partner with Wine Trail Traveler.