Vigilance Winery & Vineyards
by
Kathy Sullivan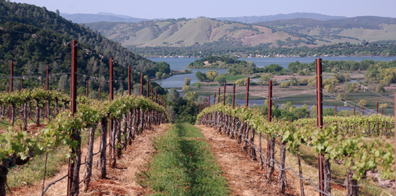 Summary: With an emphasis on red wines, Vigilance Winery & Vineyards also offers wonderful views of Clear Lake, Anderson Marsh and vineyards. Be sure to stop by to enjoy the wines of this beautiful area. Vigilance Winery also has a lovely guesthouse available for vacation rental. What could be better than waking up in comfortable lodging surrounded by vineyards and beautiful scenery and wildlife?
Driving in the Lower Lake region in Lake County provides wonderful views of vineyards and Clear Lake. Visitors who arrive at Vigilance Winery & Vineyards will travel by car to reach a long narrow driveway. Winding their way along the dirt driveway, they will find themselves in front of a picnic area that leads to the tasting room.

Vigilance Winery Tasting Room
The tasting room is located in an old farmhouse. The area in front of the Vigilance tasting room offers a delightful spot to picnic. A deck offers views of vineyards and Clear Lake. Inside a short oval stone fence, the area is landscaped with trees and picnic tables. Nearby a similar stone fence encloses a fire pit. The area overlooks a bocce court available for visitors to enjoy. The farmhouse built in the 1930s has a cellar with stonewalls. With a long table and benches, the rustic cellar room provides an unusual atmosphere for special events.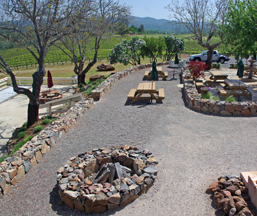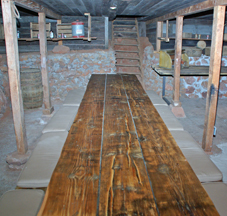 Vineyards and Sheep
The owners, Clay and Margarita Shannon, grew up in Napa Valley and met while working at a winery. Today they have more than 200 acres of sustainably farmed vineyards. Varieties include Chardonnay, Sauvignon Blanc, Cabernet Sauvignon, Syrah, Petite Sirah, Petit Verdot, Malbec, and Zinfandel.
The Shannons also raise 1,000 sheep. The sheep are allowed in the vineyard after harvest continuing on until April. Michael Wood, winemaker at Vigilance Winery, notes that sheep will not eat tiny grapes but will eat the green leaves. Sheep dogs are used to watch the sheep. The dogs need to be watchful and vigilant. The name of the winery, Vigilance, is from this connection to the sheep dogs.
Winemaker
Michael Wood has always been interested in horticulture. As a young man he worked at a golf course and eventually went on to work at Langtry Estate and Vineyards where he worked his way up to becoming the winemaker. In 2007 Michael began working for the Shannons at Shannon Ridge Vineyard and Winery and in 2009 also became the winemaker at Vigilance Winery and Vineyards.
Vigilance Wines
Chardonnay 2010 was a light yellow with an aroma of pear and apple nuances. The taste offered citrus, pear and apple notes. The finish with mild chewy tannins was crisp and fruity. Cimarron 2010 was a blend of Zinfandel, Syrah, Barbera and Cabernet Sauvignon. This opaque purple wine was spicy and reminded one of a mulled wine. The taste was smooth with cherry notes. The fruit laden finish had notes of cherry and tannins. For the holidays add a bit of brown sugar to the wine and warm it. Cabernet Sauvignon 2009 was dark ruby. The aroma was of blackberry and oak. Blackberry notes with some nuances of blueberry were noted on the taste. The finish had bold, chewy tannins and a fruity aftertaste. Petite Sirah 2009 was a dark purple to black color and appeared black as it was poured into a wine glass. The wine offered notes of black fruits.
Labels on wine bottles note, "As vintners, it is our honor and responsibility to care for the land that sustains us; to preserve the environment for our children and generations to come. Every bottle of wine that we make is truly a harmonious expression of the earth and our commitment to it."
Vineyard Trail
Outdoor enthusiasts will want to take note of the trail that leads through vineyards connecting Vigilance Winery tasting room with the Gregory Graham Winery tasting room.This is a delightful addition to wine travel.
Vigilance guesthouse offers the delightful experience of staying on a vineyard for two days or a week. Enjoy waking up in the morning with the sunshine highlighting the vineyards, Clear Lake and Anderson Marsh. Read more about Vigilance Vineyards Guest House.
Enjoy a visit to Vigilance Winery & Vineyards tasting room. Take a picnic lunch with you and enjoy it with a bottle of Vigilance wine.
Vigilance Winery & Vineyards
13888 Point Lakeview Road
Lower Lake, California 95457
GPS: N38º 54.871' W122º 38.932'
---
Visit these California organizations and wineries that partner with Wine Trail Traveler.