Laujor Estate Winery
by
Kathy Sullivan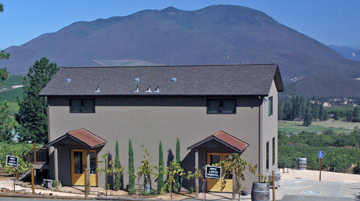 Summary: Laujor Estate Winery is located in the Red Hills AVA. The views from the tasting room patio are amazing with vineyards closeby and mountains in the distance. The focus of Laujor Estate is on quality red wines.
We arrived early at Laujor Estate and spent time enjoying the awesome views of the Lake County countryside with its bucolic ambiance of mountains, hillsides and vineyards. Later we learned that the vineyards overlook Mount Konocti. The outside of the tasting room sits very close to the vineyards and is landscaped with pathways and flowers.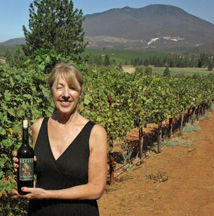 Cheryl and David Lucido's earlier careers were in finance but they had a dream of owning a vineyard. Prior to moving to Lake County, they purchased property in Napa but the hillside was not good for planting grapes. In 2003 they purchased land in Lake County planted with a rundown walnut grove. By 2006 they had cleared the land and planted several wine grape varieties. In 2009 they became a commercial winery. The winery was named Laujor for their two children Lauran and Jordan. Cheryl who was a home winemaker went from making one barrel to three barrels to forty-two barrels and decided she needed more education. She then attended UC Davis. David is the vineyard manager and Cheryl is the winemaker.
Vineyards
Today the vineyard consists of 15 acres. The vineyard is planted in Cabernet Sauvignon, Petite Sirah, Cabernet Franc and Syrah Noir, a clone of Syrah. These vineyards are adjacent to vineyards owned by neighbors but it creates a vision of vineyards completely covering the hillside, painting a beautiful setting.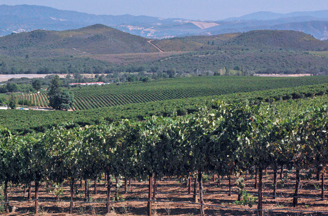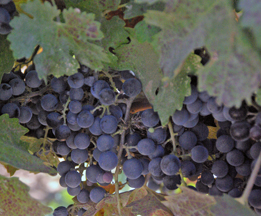 In 2014 the winery is producing 1,750 cases. However, they would like to average 1,250 cases. In addition to their own vineyards the winery sources grapes from neighboring vineyard growers.
Tasting Room
The tasting room was built and opened in May 2013. The second story of the building is a rental unit. It would be a delightful writer's retreat. Inside the light and airy tasting room is separated into two sections. One section has a small tasting counter with a few wine-related gift items available including olive oil. The other area has a fireplace and comfortable seating. A sign over a large signed oak barrel reminds people, "Every empty bottle is filled with stories."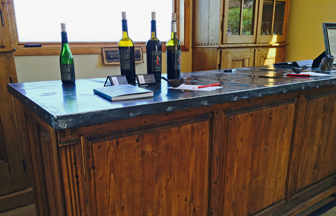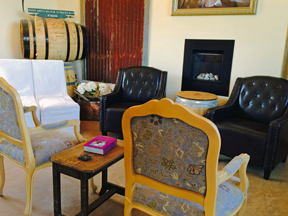 Our tasting was outside in the shade at a table with chairs. We were just feet from the vineyards. It is always enjoyable to sit down while tasting wines and the setting was perfect.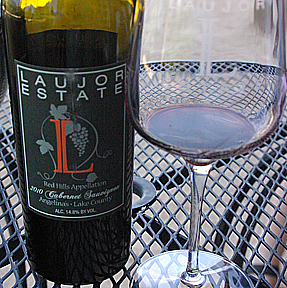 Laujor Estate Wines
Cabernet Sauvignon 2011 Red Hills AVA was an opaque, dark ruby color with 14.8% alcohol. This wine was produced with mostly Cabernet Sauvignon with a splash of Cabernet Franc. The wine offered notes of blackberry, cassis, and cloves. The full-bodied wine had bold tannins and was balanced. The wine retails for $26. Cabernet Sauvignon Reserve 2011 Red Hills AVA was an opaque, dark ruby color with a purple hue. The wine was 14.8% alcohol and offered blackberry, chocolate and spice notes. The wine had bold tannins and was full-bodied with good balance. The retail price is $28. Cabernet Sauvignon 2010 Angelina's Reserve Red Hills AVA was a blend of two clones of Cabernet. The wine had 14.8% alcohol and had notes of blackberry and black raspberry. The full-bodied wine had bold tannins and is food friendly. The wine retails for $32.
Petite Sirah 2011 Red Hills AVA was an opaque, dark ruby color with 14.1% alcohol. The wine had blackberry, black raspberry and spice notes. With bold tannins the wine was full-bodied and was balanced. Syrah Noir 2012 Late Harvest Red Hills AVA was a translucent ruby color and had 15.2% alcohol. The wine offered notes of blackberries and cloves. It was slightly sweet with bold tannins and full-bodied. The wine retails for $17 for 375ml.
When visiting Lake County, be sure to stop at the Laujor Estate Winery tasting room. You may want to consider renting the unit that overlooks the vineyards.
Laujor Estate Winery
8664 Seigler Springs North Road
Kelseyville, California 95451
GPS: N38º 54.813' W122º 44.926'
Article written September 2014
---
Visit these California organizations and wineries that partner with Wine Trail Traveler.