Cache Creek Vineyards
by
Kathy Sullivan


Summary: Cache Creek Vineyards opened its delightful tasting room in the summer of 2014. Enjoy a visit to the tasting room, that in addition to wines, has a focus on elk. Located just off Route 20, the location is ideal for travelers and visitors to Lake County.
Cache Creek Vineyards is a family winery with a focus on future generations. The winery was named for the Cache Creek that runs through the property. Preserving the local elk is also a high priority of the owners.
The Cache Creek vineyards and winery were the inspiration of Bill Van Pelt who purchased the 600-acre land in the late 1970s. Unfortunately he passed away before the tasting room was built. Over the years Bill enjoyed seeing elk on the property and was inspired to protect them. Planting vineyards was one way to preserve the land as naturally as possible. Beginning in 1999 he planted 70 acres of vineyards. The first harvest was 2005.
Today Bill's son, Don, and his family run the vineyards and tasting room. Currently the wines are produced at Miner Family winery in Oakville. There are plans to use the space adjacent to the tasting room for a winery.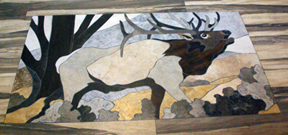 Visitors to Cache Creek Vineyards tasting room will discover a modern tasting room with a friendly, welcoming ambiance. In addition to the wine labels with an elk image, the tasting room offers many gift items that promote elk. Whether one is looking for a shirt, a book about elks or a deck of playing cards featuring elk, they will find it.
The tasting counter is an unusual brown striated granite. The base of the counter is specially treated copper. The tasting room tables have seats reminiscent of old tractor seats.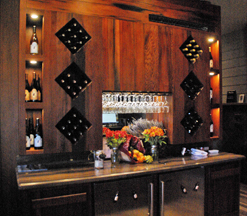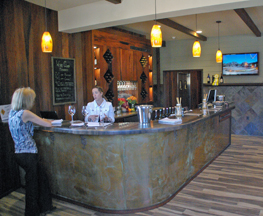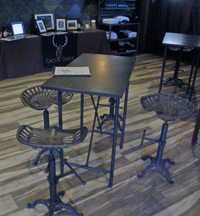 Vineyards
The vineyards have several grape varieties including: Sauvignon Blanc, Chardonnay, Syrah, Cabernet Sauvignon and Petite Sirah. The Sauvignon Blanc is not quite ready for harvesting yet. The winery sources Sauvignon Blanc grapes from an area vineyard.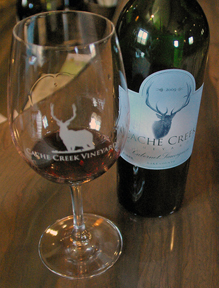 Cache Creek Wines
Currently Cache Creek Vineyards is producing 2,000 to 2,500 cases of wine. They hope to increase wine production slowly and add a winery close to the tasting room.
Chardonnay 2011 Lake County with 14.1% alcohol was a yellow color with tropical fruit notes. The crisp wine was medium-bodied. The wine retails for $24. Chardonnay Reserve 2010 Lake County with 14.3% alcohol was a dark yellow color with pear and tropical fruit notes. Caramel was also noticed on this crisp, full-bodied wine. The retail price is $28. Sauvignon Blanc 2013 with 13.6% alcohol was produced with sourced grapes. The color was a light yellow. The wine offered notes of peach and citrus especially grapefruit. This light-bodied wine is a thirst quenching wine that would pair well with a rocking chair on a porch. The retail price is $18.
Cabernet Sauvignon Lake County 2009 was a translucent dark ruby color. The wine had 13.9% alcohol and blackberry notes. The wine had bold tannins and was full-bodied and crisp. Petite Sirah Lake County 2008 was an opaque dark ruby wine with 13.5% alcohol. The wine had blackberry, cassis and baking spics notes. The wine was full-bodied and crisp. It sells for $29. Petite Sirah 2010 Lake County was a dark ruby opaque color. The wine with 14.5% alcohol had blackberries, cassis and some spice notes. The wine offered very bold "kissing tannins." The wine was crisp with medium/bold tannins. The wine retails for $30. Syrah 2009 was 13.9% alcohol. This wine was a garnet color and offered dark fruit berry notes. It was smooth and crisp with bold tannins. This wine would be very food friendly especially with beef dishes. The retail price is $25.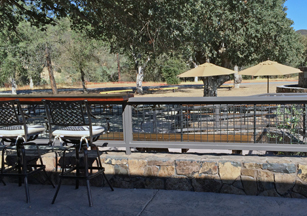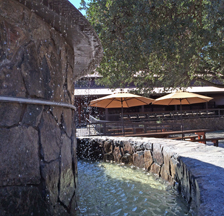 Events
Public and private events including weddings take place at Cache Creek Winery.
Be sure to stop by Cache Creek Vineyards when you have the opportunity. A double door leads from the tasting room outside to an event area. The event area is perfect for activities and includes a wall of water, bocce court, picnic tables and a barbecue grill.
Cache Creek Vineyards
250 New Long Valley Rd 
Clearlake Oaks, California 95423
GPS: N39º 01.103' W122º 34.216'
Article written September 2014
---
Visit these California organizations and wineries that partner with Wine Trail Traveler.