Don Angel Cellars
by
Kathy Sullivan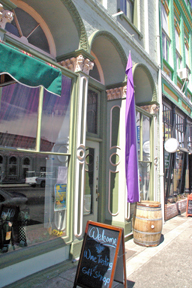 Summary: Don Angel Cellars' tasting room is a recent addition to Lakeport in Lake County, California. The tasting room is bright and cheerful. Visitors will enjoy the experience and the wine.
We stopped at Don Angel Cellars tasting room in Lakeport, California. Lupita and Miguel Silva own Don Angel Cellars. Miguel is the winemaker and Lupita is the tasting room manager.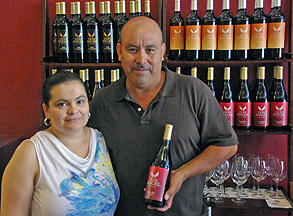 A purple flag was flying just outside the tasting room and with two oak barrels displayed in the window. We knew we were in the right place to enter this urban winery tasting room.
When we entered Lupita quickly greeted us. The tasting room is decorated with bright colors especially red and orange. A wall of arches separates the front of the tasting room from the back. Visitors can wander through both sides. In the back area a television and seating provide a nice spot to enjoy a glass of wine. At the time of our September visit our home town Baltimore Orioles were playing. It was nice to experience home when thousands of miles away.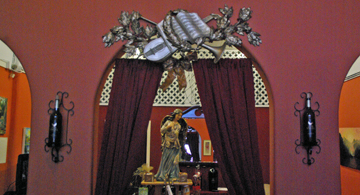 Throughout the tasting room there are figurines and statues of angels. Visitors can also view and purchase original artwork that hangs on the walls.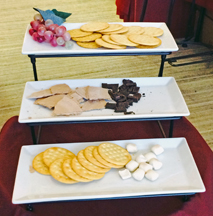 Next to the tasting counter a three-level stand holds an assortment of crackers and cookies to enjoy with your wine tasting.
Miguel has a long experience in winemaking. He began at Wildhurst as a cellar worker. He was offered a job at Wildhurst because of his ability to communicate in Spanish and English. Miguel gained much hands-on experience including punching down with his hands as opposed to using a tool. Eventually he left Wildhurst to work at Steele Wines and Mt. Konocti Winery in Kelseyville.
Currently producing 1,100 cases, Miguel hopes to eventually market his wines outside of the county and then outside of California. Miguel is content to grow slowly. In 2014 he wants to enjoy his success and the recent opening of the tasting room.
Wines
Viognier 2011 Lake County was a light yellow color. With 13.9% alcohol, the wine offered some yellow stone fruit notes. The wine was medium-bodied and balanced. The retail price is $13. Sauvignon Blanc 2011 Lake County with 13.9% alcohol was a light yellow. The wine offered notes of lemon grass and some tropical fruits. The wine was medium-bodied and would pair well with food. The retail price is $15.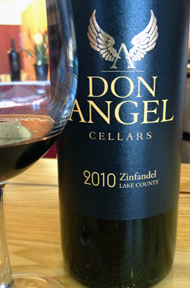 Zinfandel 2010 Lake County was an opaque dark ruby color with 15.2% alcohol. The wine offered dark fruit including black cherry, black raspberry and blackberry. The wine had bold tannins. The wine was medium/full bodied. This wine would pair well with beef and lamb. The retail price is $25. Cabernet Sauvignon 2010 Lake County was an opaque, dark ruby color with an alcohol of 14.9%. The wine offered blackberry and raspberry notes with bold tannins. The wine was full-bodied with good balance. The retail price is $27.
Dessert Wine Lake County was produced with Petite Sirah. The opaque dark ruby to black color wine was 18% alcohol. The wine offered notes of jammy berry fruit with medium tannins. The wine was full-bodied and crisp. There was some heat on the finish. The residual sugar was 7%.
When visiting Lakeport in Lake County, California be sure to stop by the tasting room where you will have an enjoyable time and wine.
Don Angel Cellars
165 North Main Street
Lakeport, California
Article written September 2014
---
Visit these California organizations and wineries that partner with Wine Trail Traveler.