Steele Wines
by
Kathy Sullivan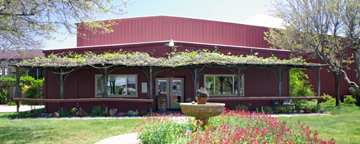 Summary: Steele Wines located in the Lakeport area near Clear Lake offers a large variety of wines. Visitors have various choices including Tempranillo, Zinfandel, Pinot Noir, Syrah and more. Steele Wines participates in the new Lake County Quilt Trail.
When wine enthusiasts visit Steele Wines they will see a number of references to a shooting star. This is from an Indian legend and an image of a shooting star is on some of the Steele labels.
Steele Wines, a winery and a custom crush facility, is the result of Jed Steele who first started as a cellar worker at Stony Hill in Napa Valley in 1968. Jed worked as a winemaker after receiving a Master's Degree in Enology. He was winemaker at different wineries. He left Kendall-Jackson to start Steele Wines in 1991. Jed has a fascination with wines made from different varieties from different vineyards.
Steve Tylicki, General Manager and Viticulturist, gave us a tour of the facility. After a stint in the U.S. Navy, Steve became intensely interested in gardening and wanted to find a way to connect gardening to a career. For Steve, vineyards provided the answer. Steele Wines sources grapes from four regions in California: Santa Barbara County, Sonoma County, Mendocino County and Lake County.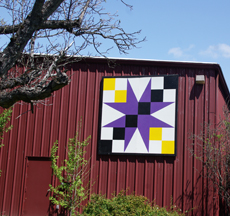 Steele Wines, in Lakeport, is housed in a modern red-sided building. At one side of the building travelers will see a quilt painted on the building. Steele Wines participates in the Lake County Quilt Trail that helps to promote agri-tourism. The quilt square pattern is Fifty-Four Forty or Fight, a slogan used by James K. Polk during the 1844 Presidential election. The quilt square reminds one of a shooting star, an image frequently seen at the winery.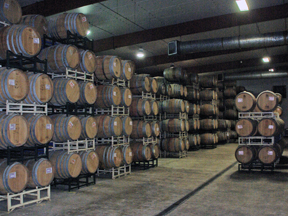 In addition to bottling wines, Steele Wines offers wines in kegs for restaurant use. Kegs are available in two sizes: five gallons as well as fifteen and a half gallons. The barrel aging room is immense with 6,000 oak barrels. Jed uses French, Hungarian and American oak (sourced from Minnesota). The winery produces 72,000 cases of wine on average.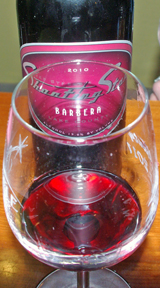 Red Wines
Steele Carneros Pinot Noir 2009 was ruby with cherry notes. The finish had tannins and was fruity with hints of vanilla. Shooting Star 2010, a Barbera wine, was dark ruby. The aroma and taste offered cherry and black raspberry notes. The finish was very fruity with tannins. Tempranillo 2009 was ruby with dark fruit notes. The finish had nuances of fruit and tannins. Zinfandel Catfish Vineyard 2009 reminds one of a fruit salad. The taste had red fruit notes with a faint hint of perfume. Fruit nuances included raspberry, cherry, and black raspberries. The wine had mild tannins. Catfish Vineyards was planted in 1901. Founder's Reserve 2009 was a Syrah wine. The purple/reddish wine had an earthy aroma. The taste was dry and smooth. This wine was tasted with chocolate covered caramel.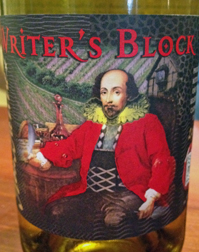 White Wines
Shooting Star Aligote 2009 was produced with grapes sourced from Yakima Valley in Washington. The pale yellow wine was aromatic and fruity with a crisp finish. Suggested pairings included grilled chicken, quiche and shellfish. Writer's Block 2011 Roussanne was aromatic and dry. Wine lovers who enjoy writing may enjoy a bottle of one of the wines labeled Writer's Block with an image of Shakespeare. Perhaps it will inspire a writer's ideas. The wines with the Writer's Block label may be the perfect gift for a writer.
Wine Clubs
Steele Wines has 1,100 members in their Wine Club. Steve noted that people like to receive something special and a letter is included with wine shipments
Enjoy a visit to Steele Wines where you will receive a friendly welcome. Be sure to note the Quilt Block painted on the outside of the building.
Steele Wines
4350 Thomas Dr.
Lakeport, California 95453
GPS: N38º 59.585' W122º 52.508'
---
Visit these California organizations and wineries that partner with Wine Trail Traveler.