Andrew Lane Wines
by
Kathy Sullivan
Summary: Andrew Lane Wines has discovered a unique niche for marketing their wines. Breakfast with wine? Sure, why not? The winery features a Nouveau wine, that is atypical of most other Napa wineries. Andrew wants the public to know that the wines produced are ultra premium and created from grapes found in small vineyards in the eastern foothills of Napa Valley. Using whole berries during production adds to the quality of the wines.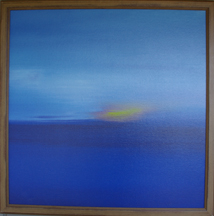 Andrew Lane Wines is a family venture started by David Dickson. Today Andrew and his brother Lane are actively involved with the winery. Andrew is the CEO and winemaker. Lane is on the east coast and an ambassador for the winery. The image from a painting hanging in the barrel room is used on the bottles of wine.
Visitors to the Andrew Lane Wines location in St. Helena, California can opt to have "Beaujolais Breakfast." This includes a breakfast in the family home's dining area. Breakfast includes a large array of fruit displayed in the center of the table. A delicious New Mexico egg casserole and English muffins are served. The choice beverage is a Nouveau wine produced by the winery. A London tasting bar, Gordon's Wine Bar which serves breakfast on Beaujolais day once per year, inspired this type of breakfast. Another option is the "Cheval Blanc" breakfast featuring Oakville Cabernet Franc jelly on locally made english muffins and a glass of Merlot.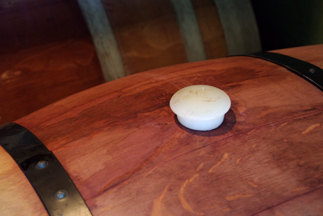 As we enjoyed breakfast with Andrew, he provided us with a history of Andrew Lane Wines and his interest in Nouveau wines. Andrew's father, David Dickson started the winery onsite in 1978. In 1983 he named the winery after his sons, Andrew and Lane. Andrew has been involved in the winery since he was two years old. He recalled taking a bath in a five-gallon bucket. Asked whether he would rather taste his wines with Queen Elizabeth or President Obama, Andrew replied, that he would like to have the President taste his wines.
After enjoying breakfast with Andrew, we went to the barrel room. Andrew Lane Wines barrel room is located underground below a family dwelling. It is here that visitors will discover several oak barrels of wine aging. The back wall of the small room offers a realistic view of wine caves filled with wine barrels. The colorful wall painting adds a delightful touch to the room. Currently the winery produces 2,000 cases of wine but would like to increase to 3,500 cases. We tasted the Andrew Lane wines.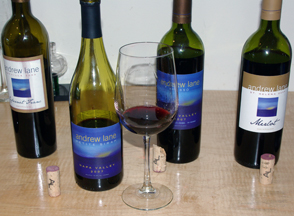 Gamay Noir Non-Vintage (70% 2007 30% split betwenn '06 and '08)was a dark purple. The aroma was of a black fruit and spice. The taste was of a fruit salad with a mix of fruit notes while the crisp finish had mild tannins. Gamay Nouveau was a translucent red with an aroma of light red fruit. The taste was of light red fruit with notes of strawberries and raspberries accentuated by the use of whole grape clusters during fermentation. The finish was very crisp and fruity. With this wine, Andrew uses whole cluster fermentation with minimal extraction since the grapes are not crushed. Merlot 2005 offered an aroma and taste of red cherries and earthiness. The crisp finish with tannins had fruit yielding to earthiness. Rosso 2007, Andrew's favorite wine, was a dark red/purple. This was a blend of Sangiovese, Zinfandel and Valdique. The aroma and taste were of cherries and spice. The finish was crisp with spice notes. Petite Sirah 2007 was a ruby color with an aroma of dark fruit, notably jammy, and blueberries. The taste had blueberries with spice notes. The crisp finish had tannins with fruit nuances yielding to spice. Cabernet Franc 2005 was a ruby color with spices on the aroma. The taste was of dark fruit while the finish had tannins with spices and fruit notes.
If you are planning on breakfast at Andrew Lane Wines be sure to make reservations in advance. Enjoy a visit to Andrew Lane Wines in St. Helena.
Andrew Lane Wines
742 Sunny Side Rd
St Helena, California

GPS: N38º 32.328' W122º 27.972'
---
Visit these California organizations and wineries that partner with Wine Trail Traveler.