Stag's Leap Wine Cellars
by
Kathy Sullivan
Summary: Stag's Leap Wine Cellars has been an inspiring influence on the California wine industry. A giant leap forward in the world of wine occurred when Stag's Leap Wine Cellars ranked first for their Cabernet Sauvignon at the Judgment of Paris in 1976.
Stag's Leap Wine Cellars in Napa Valley, California is a renowned winery known for its high quality wines. In the 1976 Judgment of Paris where nine red wines from California and France were blind tasted, Stag's Leap Cellars' 1973 S.L.V. Cabernet Sauvignon was ranked first.
Warren Winiarski, founder of Stag's Leap Wine Cellars, learned about winemaking in the United States. In 1966 he worked for Robert Mondavi. Warren learned the craft of creating wine by working as an apprentice winemaker. In 1969 Warren visited Mr. Fay's vineyard. They shared a glass of wine that Mr. Fay had made. That glass of wine changed Warren's life. He purchased an orchard in the area, removed the trees and planted grapevines.
Today vineyards consist of 102 acres with the majority of vines planted with Cabernet Sauvignon and a little Merlot and Petit Verdot. Great care of the vines is part of the viticultural practices along with sustainable practices. Each vine is treated separately rather than as an entire field of grapevines. Special efforts are made during harvest. Grapes are harvested as they reach ripeness rather than harvesting the entire crop at one time.
Tours of the winery include a walk past the Hands of Time wall. Plaques of the actual handprints of winemakers and assistants were made in 2003 during a celebration of Stag's Leap Wine Cellars history.
Caves
Stag's Leap has 38,000 square feet of caves. Designed by a Spanish architect, Javier Barba, construction took four years, 1995-1999. To break through the volcanic rock, workers used eleven tons of dynamite in addition to their hammer and chisel tools. In the center of the caves a Foucault pendulum hangs. Only 50 of these unique pendulums exist. The pendulum is symbolic of time passing and wine aging. In one area of the caves a sculpture features bears sleeping on barrels as the wine sleeps in the barrels.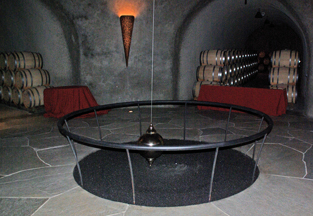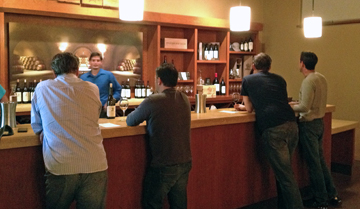 Tasting Areas
There are two tasting areas inside the tasting room facility. Outside there are several tables and chairs for visitors. One tasting area is reserved for wine club members. The long table across the other side of the room can accommodate several people. Round table tops sitting on barrels are spread throughout the tasting area. On the day of our visit, we tasted wines with Anna Carminito outside on the patio.
White Wines
Sauvignon Blanc Napa Valley 2009 was a blend of Sauvignon Blanc, Sauvignon Musque and Semillon. The light yellow wine offered an aroma of tropical fruit. The taste had tropical fruit notes with grapefruit nuances. The finish was crisp and fruity. Arcadia Vineyard Chardonnay Napa Valley 2008, a light yellow, was produced with fruit from the Coombsville vineyard. The wine was very aromatic with pear nuances. The taste was smooth with pear notes. The crisp finish had notes of pear with a hint of vanilla. Karia 2009 Chardonnay Napa Valley had notes of apple and citrus. The finish was crisp and fruity.
Red Wines
Merlot Napa Valley 2007 was produced with a bit of Cabernet Sauvignon. The dark ruby wine offered dark fruit notes especially cherry. The wine was crisp and the finish had tannins, with fruit and spice notes. Artemis Cabernet Sauvignon Napa Valley 2009 was a blend of Cabernet Sauvignon with a touch of Merlot. The dark ruby wine had an aroma of tobacco and the taste was of dark fruit. The finish had tannins with fruit and tobacco notes. Fay 2008 Estate Cabernet Sauvignon was a dark ruby with a red rim. The wine had cherry notes. The finish with tannins had nuances of cherries, tobacco and spice.
S.L.V. 2008 Estate Cabernet Sauvignon was ruby with a red rim. The aroma was of dark fruit with cedar hints. The wine had bold tannins and blackberries. Cask 23 2008 Estate Cabernet Sauvignon was a dark ruby with a red rim. The taste offered dark fruit and cocoa nuances. The wine finished with bold tannins and fruit yielding to cocoa.
Events
Stag's Leap Wine Cellars offers several events throughout the year. Some events are by "invitation only" while others are open to the public. Special events include winemaker dinners, annual Valentine ball, and club member pickup parties. Stag's Leap Cellars also participates in the Stags Leap District Annual Vineyard to Vintner weekend that is hosted by Stags Leap District Winegrowers.
Stop for a visit at Stag's Leap Wine Cellars in Napa Valley. It offers visitors quality wines without being pretentious.
Stag's Leap Wine Cellars
5766 Silverado Trail
Napa, California 94558
GPS: N38' 23.928º W122º 19.511'
---
Visit these California organizations and wineries that partner with Wine Trail Traveler.