Cakebread Cellars
by
Kathy Sullivan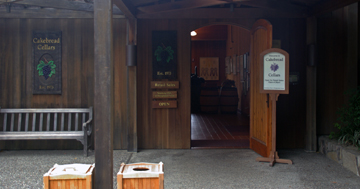 Summary: Cakebread Cellars is a family owned winery dedicated to producing consistent elegant wines. The winery has an enthusiastic staff. Appointments at the winery are required.
Visitors to Cakebread Cellars will delight in the friendly welcome they receive when visiting the tasting room. When arriving at Cakebread Cellars look for the produce stand where extra produce from the garden is available for purchase.
Cakebread Cellars was founded by Jack and Dolores Cakebread in 1973. The name cakebread originated in England where ancestors were bakers. In baking terms, cakebread is a round loaf of bread referred to as cakebrede. Jack and Dolores married after high school. Jack took over his father's mechanic shop. He also enjoyed photography. Jack took an excursion with famed photographer Ansel Adams. Jack did the photography for the book The Treasury of American Wines. While taking photographs in Napa for the book, Jack casually commented that one day he would like to own a vineyard. That afternoon, he received a call from family friends asking him to make an offer on their vineyard. Cakebread Cellars was created.
Today a second generation is involved with the winery. Bruce Cakebread is the winemaker and a current owner. Bruce, his brother Dennis, and his sister Stephanie are the Board of Directors.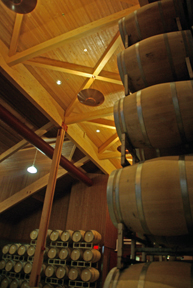 Tours
Tours of the winery are conducted with a glass of wine in hand. According to our guide, "It's an experience to which everyone is invited." Even though the day was rainy and cool, the tour included parts of the vineyard, the cooking facility (where chefs were busy prepping), gardens and a barrel room.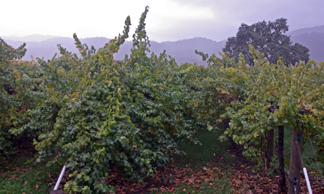 Vineyards
Cakebread has 65 acres of Semillon grape variety onsite and 432 acres in Napa including Sauvignon Blanc, Semillon, Merlot, Sauvignon Musque and Cabernet Sauvignon. Some of the many vineyards are farmed organically. Wines are produced using green techniques.The winery strives to produce consistent wines while continually increasing quality. Our guide noted the owners "don't want to lose our vineyard in the fermentation." The winery produces 130,000 cases with 15 different wines.
Wine and Food Experiences
Besides winemaking, the winery supports wine and food pairing. Dolores had a love of food. She brought food to the winery for the harvesters. Dolores established a large garden near the winery. The chef uses the fresh vegetables in the Culinary Center. The Culinary Center is for preparing food for special events. Hands on cooking classes take place throughout the year.

Cakebread Cellars White Wines
Cakebread Cellars Chardonnay 2010 was a straw color with a nose and taste that had apple with a bit of pear. Besides these nuances the taste had a touch of vanilla. The taste was smooth. The crisp finish had apple and citrus notes accompanied by mild tannins. This is the wine that put Cakebread on the map. Chardonnay Reserve 2009 sur lie was pale yellow. Apple nuances were on the aroma. The taste was very smooth and fruity. The crisp finish was fruity with a hint of apple and lemon. A touch of caramel was on the aftertaste.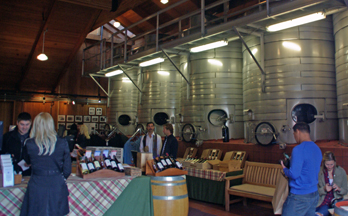 Red Wines at Cakebread Cellars
Zinfandel 2009 was a ruby color with an aroma of dark chocolate. The taste offered dark fruit with dark chocolate notes. The crisp finish, with very mild tannins, had dark fruit and dark chocolate nuances. Cabernet Sauvignon 2008 was a dark ruby to purple with a ruby rim. The nose offered nuances of red and black raspberries. The taste had notes of red raspberries and blackberries. The finish, with tannins, was very fruity with a long aftertaste; fruit yielded to cocoa. Syrah 2009 was a dark purple to black. The aroma was smoky. The taste offered plum and dark fruit notes. The finish had layers of fruit yielding to spice. Benchland Select Cabernet Sauvignon was a dark purple with a ruby rim. The aroma was of raspberries and blackberries. The wine finished with bold tannins; was chewy, fruity and had a very long aftertaste.
Enjoy a very pleasant visit to Cakebread Cellars. Visitors will receive an enthusiastic welcome and tour.
Cakebread Cellars
8300 St. Helena Hwy,
Rutherford, California 94573
GPS: N38º 26.871' W122º 24.728'
---
Visit these California organizations and wineries that partner with Wine Trail Traveler.