Summers Estate Winery
by
Kathy Sullivan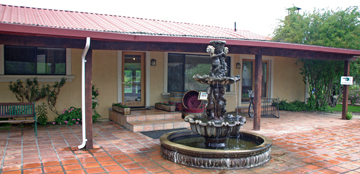 Summary: Enjoy a visit to Summers Estate Winery in Calistoga. The tasting room offers a bright cheerful area to taste wine and a patio is available for tasters. One of the specialty wines here is the Charbono. Enjoy tasting this dark ruby wine.
Summers Estate vineyards' grapes were originally sold to wineries. Jim and Beth Summers started in Knights Valley as grape growers. Then they began to make wines and were "bit by the bug." They have been making wine ever since. According to Beth this is a "labor of love from start to finish."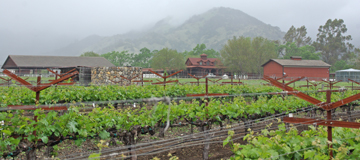 Vineyards
With 22 acres of vineyards onsite, the Summers hand sort the grapes. The 22 acres of vines include Cabernet Sauvignon, Charbono, and Zinfandel. Summers Estate vineyards have 10 acres of Charbono. This is a large sized grape that is difficult to grow and hard to ripen. Harvest is usually in late October to early November before the California rains begin. When harvested, the Charbono usually has 23 brix. The family also has vineyards in Knights Valley that include Cabernet Sauvignon, Merlot, and Petite Sirah.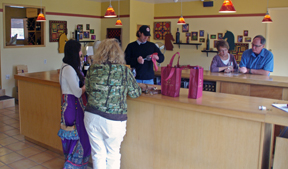 Tasting Room and Winery
The Summers purchased the present site in 1996 and opened the tasting room in 1997-1998. The original tasting room was small. Today the tasting room is much larger. The tasting room is located in a Spanish-style building with red tile roof and yellow walls. There is a fountain and a red brick patio leading up to the doors of the tasting room. Inside, visitors will discover a brick fireplace. The U-shaped tasting counter is lightwood. The bright and cheerful tasting room has unusual board games painted on wood trays decorating the yellow walls. A few items are available for purchase in the tasting room including handcrafted Cabernet Sauvignon Chocolate Truffles.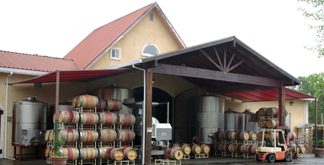 Outside the back of the tasting room there are patio areas. One area is covered and has several tables and chairs. The other area is open with tables, chairs and umbrellas. A bocce court runs along the landscaped area.
The winery is in an adjacent building. The end sections of the facility house barrels, usually a different vintage on each side. The middle section houses stainless steel tanks and winemaking equipment. Current production at the Calistoga winery site is 5,000 cases and they are looking forward to producing 10,000 cases.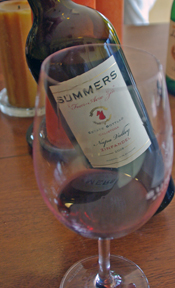 White/Rose Wines
We tasted several wines with Beth Summers. Reserve Chardonnay Alexander Valley 2008 offered an aroma and taste of pear and apple The finish was fruity with a touch of vanilla. The fruit provided a perceived sweetness. Charbono Rose 2011 was a dark pink. The wine had a cherry aroma, light body and the taste was fruity. This dry wine would be a good 3P wine – patio, picnic and pool. It is a wine that is good by itself and with food. Foods suggested to pair with this rose include shellfish and foods with garlic.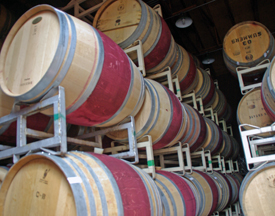 Red Wine
Charbono, Estate 2009 grapes were from the onsite Villa Andriana Vineyard. The color was a dark ruby. The nose and taste offered blackberry and plum nuances. The finish had tannins that were very fruity. Suggested pairings included dishes with basmati-based sauces and gamey meats. Estate Zinfandel 2008, "Four Acre Zin", was a dark ruby wine. The taste had layers of fruit while the finish was very fruity with tannins. The Summers suggest this wine for barbecues. Reserve Cabernet Sauvignon 2007 was a dark ruby color. The aroma and taste had notes of blackberries and blueberries. The wine finished with bold tannins.
Dessert Wine
Muscat Canelli 2006, with a straw color offered orange blossom notes with a hint of honeysuckle. The finish was sweet with nuances of honey and orange.
When visiting Summers Winery be sure to ask to taste the Charbono, a somewhat unusual varietal wine. The Summers want wine lovers to know that they are making very special wines.
Summers Estate Wines
1171 Tubbs Lane
Calistoga, California
GPS: N38º 35.549' W122º 36.329'
---
Visit these California organizations and wineries that partner with Wine Trail Traveler.