Krupp Brothers
by
Terry Sullivan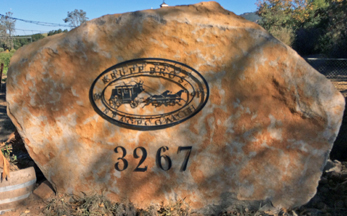 Summary: Wine travelers can have an outstanding tasting experience at Stagecoach Vineyards. You will take a vineyard tour and taste several Krupp Brothers" wines at the vineyard pavilion surrounded by grapevines.
The physician, Dr. Jan Krupp has a passion for great wine as does his brother Bart. As a doctor, during the week Jan helped save people, then on weekends he liked to relax and make wine. Jan first started making wine while in college. Then he continued to make wine in his garage.
His wine enthusiasm led him to search out land in Napa Valley, not as someone with stars in his eyes, but a wine enthusiast with a true passion for the wine. He saw an ad in the San Francisco Chronicle for a 41-acre parcel in Napa Valley's eastern hills. Jan purchased the lan. Six months later, an adjacent 650-acre piece of land became available. The land was covered with rocks and chaparral, and many other interested buyers decided to pass once they flew over the property. After discovering water over 400 feet below the surface with the help of a dowser, Jan approached his neighbors to inquire about easements. His neighbors supported the idea of a road and Jan bought the property. Jan built a road and begin to clear the land of rocks and chaparral.

In 1995, Jan enlisted Bart's help to purchase and clear additional acres. A billion pounds of rocks and debris were cleared from the land. The brothers planted two vineyards, Stagecoach Vineyard and the Krupp Brothers Vineyard. Only a small percentage of select fruit from these vineyards are used to craft Krupp Brothers' wines.
Dr. Krupp still practices medicine. He is the first responder for the vineyard workers in case someone gets hurt. His medical background helps in the vineyard. Rather than looking at lab tests for human patients, Dr. Krupp examines lab work done on the vines. For example, he looks at nitrogen, phosphorus and boron levels. He determines the nutrition the vines need as well as what would help the vines fight diseases.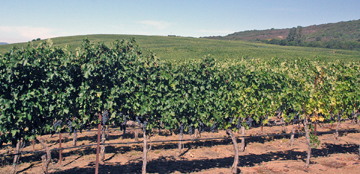 Vineyards
The elevation of the two vineyards is above the fog line. The soil is a thin layer of volcanic rocks, ideal for wine grapes. The two vineyards stretch over 1,200 contiguous acres of land with 700 acres planted to wine grapes making it one of the largest contiguous vineyards in the Napa Valley AVA. The Krupp Brothers Vineyard, acquired in 1999, is adjacent to Stagecoach Vineyard. The soils are deeper and are planted with vines on slow growing rootstock.
The Krupp Brothers Vineyard is planted with Cabernet Sauvignon, Chardonnay and Syrah. The much larger vineyard, Stagecoach is planted with Cabernet Sauvignon and Syrah as well as other grape varieties: Cabernet Franc, Grenache, Malbec, Merlot, Petite Syrah, Petit Verdot, Sangiovese, Tempranillo and Zinfandel for the red grapes. Chardonnay, Marsanne, Roussanne, Sauvignon Blanc and Viognier are planted for the white grapes.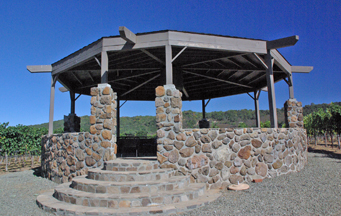 A pavilion was built at one of the summits. Prior to planting the vineyard, Jan brought his girlfriend to the spot to show her where he was going to plant a vineyard. She suggested that he build a house there instead because of the views. Jan wanted to plant grapevines on this spot. He did build a pavilion though. He then proposed to his girlfriend in the pavilion, another sign of the romance associated with a vineyard.
The pavilion is used for special events and for wine tastings. Wine enthusiasts interested in visiting Stagecoach Vineyard and tasting Krupp Brothers' wines should make an appointment. Tours are small, just a few people. You are driven to the pavilion where you will enjoy wonderful views and a relaxed wine tasting.
Winemaking
The first Krupp Brothers vintage was in 1999. Only five percent of the grapes from the vineyards go into the the 2,000 cases of Krupp Brothers' wines.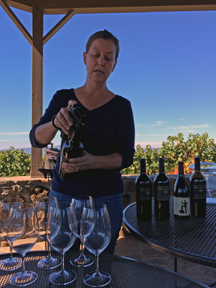 Wine Tasting
We tasted several Krupp Brothers wines in the pavilion on a warm September day. Around the pavilion there were Cabernet Sauvignon vines. We also tasted some berries and noted that harvest was a few weeks away.
The first wine was the 2011 The Doctor Napa Valley AVA. This wine was a blend of Cabernet Sauvignon, Tempranillo, Syrah and Merlot. The transparent dark ruby wine was 14.5% alcohol. It offered dark fruits with medium tannins. The wine was full-bodied and was crisp. The wine retails for $90. The 2011 Synchrony Napa Valley AVA was a blend of Cabernet Sauvignon, Cabernet Franc, Merlot, Malbec and Petit Verdot. The translucent ruby colored wine had notes of spice, black fruit and a touch of cedar. There were medium/full tannins on this full-bodied crisp wine. The wine retails for $100.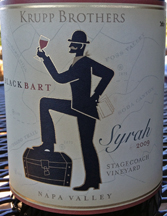 A story goes with the Black Bart Syrah. Black Bart was a stagecoach robber and considered a gentleman. Black Bart committed 29 stagecoach robberies from 1875 to 1883. He was considered a gentleman, because he left a poem at each holdup.
"I've labored long and hard for bread
For honor and for riches
But on my corns too long you've tread
You fine haired sons of bitches."
Black Bart PO8
Black Bart was eventually captured after leaving his mark and poetry on stagecoach travel. These holdup experiences are best paired with a Syrah. The 2009 Black Bart Syrah Napa Valley AVA is mostly Syrah with just a splash of Viognier. The opaque ruby colored wine had floral notes and black fruit. Bold tannins were on this full-bodied, crisp wine that retails for $65.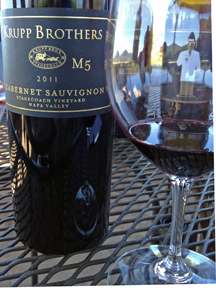 The 2011 Malbec Napa Valley AVA was an opaque, dark ruby color. There were dark fruits and a hint of floral on the aroma and taste. The wine with bold tannins had a full body and was crisp. It retails for $85. Our last wine was the 2011 M5 Cabernet Sauvignon Napa Valley AVA made with grapes from the M5 block of Cabernet Sauvignon. This opaque, dark ruby colored wine was 14.5% alcohol. The wine had notes of blackberries, cassis and a hint of leather. The full-bodied wine had bold tannins and was well balanced. It retails for $150.
For an out of the tasting room and into the vineyard tasting experience, make an appointment with Stagecoach Vineyard. Tasting wines in the pavilion surrounded by grapevines and wonderful views is a moment to cherish.

Krupp Brothers
3267 Soda Canyon Rd
Napa, California 94558
GPS: N38º 26.322' W122º 17.641'
Article written September 2014
---
Visit these California organizations and wineries that partner with Wine Trail Traveler.