Sullivan Vineyards
by
K.L. Sullivan
We had promised ourselves we would stop at Sullivan Vineyards, a boutique winery that believes in combining wine and art, before our first trip to California came to a conclusion. Sullivan Vineyards was our final winery to visit in Napa Valley. A smaller winery, Sullivan Vineyards is happy to have visitors but kindly requests an appointment be scheduled in advance. When visiting this winery there is a chance to meet the winemaker. From our experiences on the West Coast, it is unusual to actually have a wine tasting facilitated by the winemaker. There is something to be said about visiting small wineries.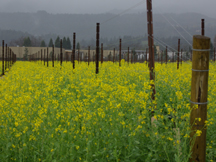 Sullivan Vineyards is located just a little off Route 29 and is easy to find. As we drove along the driveway, there was a vineyard on each side. On the left side, mustard was growing throughout the grapevines. Seeing mustard growing as a cover crop among the grapevines quickly brings to mind a patchwork quilt.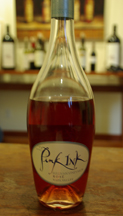 As a smaller winery, Sullivan Vineyards produces six to seven thousand cases each year. With 26 acres, Sullivan Vineyards includes Merlot, Cabernet Sauvignon and Petit Verdot. Sullivan Vineyards produces several wines including: Pink Ink, Red Ink (a Bordeaux/Rhone blend), Chardonnay, Cabernet Sauvignon, Merlot and Coeur de Vigne, a Bourdoex blend and that means Heart of the Vine.

Jim Sullivan, a graphic designer, came to Napa Valley in 1972 and by the early 1980's had planted Merlot, Cabernet Sauvignon and Petit Verdot. Today Jim's son, Sean, is the winemaker and general manager of Sullivan Vineyards. This is definitely a family run winery. Sean's sister Kelleen is also deeply involved with the winery and both are very passionate about wine. Kelleen is also an artist whose art is spectacular. Again we see the combination of the art of winemaking and art. You may want to check out Kelleen's art website at www.kelleensullivan.com.
Sean made us aware of differences in tannins. He spoke of finer and silkier tannins and harsh tannins. Someone who brews tea for twenty minutes may still be able to drink the tea because tea has soft tannins. If you don't care for red wines with tannins ask for a red wine with soft tannins.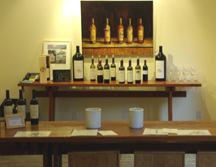 We enjoyed the tastings in the tasting room. The wines were served in Riedel wineglasses, while Sean answered our many questions. After speaking with Sean and Kelleen, we were taken to the barrel room. Leading us up a set of stairs we were able to see many oak barrels. Stacked in fours, these barrels were an impressive sight. Behind us were the offices of the winery.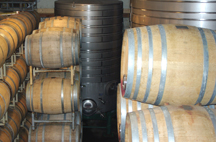 Since the office was so close, I asked Sean if he had a refractometer, an instrument used to measure the level of brix in the grapes. We had heard refractometers referred to frequently but had yet to see one. He obligingly found a refractometer and allowed us to see how it worked and to photograph it.
Across from the building with the wine tasting room and barrel room is the family home with space set up to entertain. Tastings in the tasting room are $10 while in the house across from the tasting room one can make a reservation and have a Reserve tasting with wine and cheese, this special tasting is $40.
We enjoyed our visit to Sullivan's Vineyards and believe you will also. If you are looking for a quiet outing and the chance to explore some red wines, you will want to visit Sullivan Vineyards. Sean and Kelleen will be happy to have you stop by and try some of their wines. Just remember to call ahead for an appointment.
Sullivan Vineyards
1090 Galleron Road
Rutherford, CA 94573
Tel: (707) 963-9646
---
Visit these California organizations and wineries that partner with Wine Trail Traveler.