Hestan Estate Wines
by
Kathy and Terry Sullivan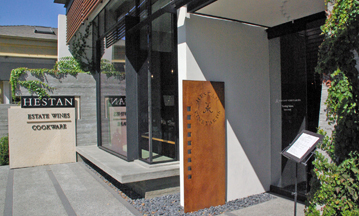 Summary: Hestan Estate Wines' tasting room is located in the quaint town of Yountville. In addition to producing wines, they have their own Napa Valley vineyards. The focus is on Bordeaux grape varieties. The tasting room offers an array of high-end cookware to purchase and unique gift items made from cork.
The Hestan Estate Wines' tasting room is located in the old, charming town of Yountville. The wines are produced at a custom crush facility where they are producing 5,000 cases a year. The winery produces wine in small lots using estate grown fruit.
History
Stanley and Helen Cheng, proprietors of Hestan Estate Wines, purchased property in 1996 on Napa Valley's eastern slopes. They planted grapes on the 127-acre ranch a year later. Now the estate has 56 acres of vineyards planted with Cabernet Sauvignon, Cabernet Franc, Petit Verdot, Malbec and Merlot. They also have a 2.5 acre Chardonnay vineyard located near the mouth of the Napa River that was planted in 1997. The name Hestan is a combination of the couple's first names.
For several years grapes were sold to other Napa Valley wineries. Then in 2002, Stanley and Helen started producing their own wines. Their first wines were released three years later with the Hestan Vineyards label and the Meyer label. In 2008 the Chengs released the label Stephanie, named after their daughter. The 2008 release was a 2005 vintage.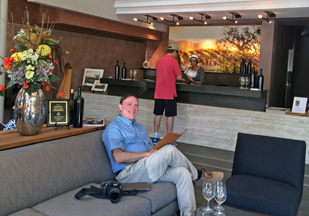 Winery Tasting Room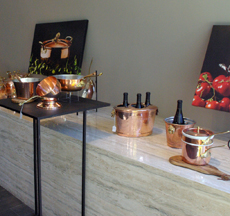 The focus of Hestan Estate Wines is on food and wine as a marriage. This theme is quite evident in the tasting room. Our wine tasting was accompanied with a platter of almonds, dried fruit and two different varieties of cheese. The tasting room is particularly unique because of the addition of high-quality cookware. Across one wall a counter and assortment of gleaming copper pots and pans are displayed. The cookware by Ruffoni Opus Cupra is copper clad with stainless steel interiors. A couple of pieces for chilling wine bottles caught our attention.
The opposite side of the room offers numerous types of stainless steel cookware also by Ruffoni Opus Cupra. The outside is hand-hammered giving the cookware a beautiful handcrafted look. Another set of items that wine enthusiasts may appreciate are Spicer Bags including wallets and bags made from cork.
Although there is a small tasting counter at the end of the room, in the middle of the room, comfortable seating is available for wine tastings. We sat in the middle enjoying the relaxed wine tasting.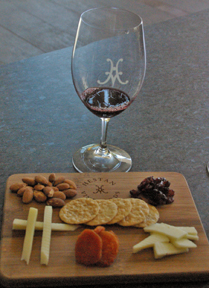 Hestan Wines
Hestan Chardonnay 2011 San Francisco Bay AVA was a yellow color with 14.2% alcohol. This wine was unfiltered and unfined. This full-bodied wine offered notes of caramel, apple, and pear with some citrus. This food friendly wine retails for $50.
Meyer Vineyard Cabernet Sauvignon 2010 Napa Valley AVA with 14.9% alcohol was an opaque, dark ruby color. The full-bodied wine offered notes of blackberry and black raspberries with bold tannins. A food friendly wine, the wine retails for $40. Stephanie Vineyard Cabernet Sauvignon 2008 Napa Valley AVA was a blend of Cabernet Sauvignon with small amounts of Petit Verdot, Merlot, Malbec and Cabernet Franc. The wine had notes of blackberries, cassis and leather. This full-bodied, food friendly wine retails for $55.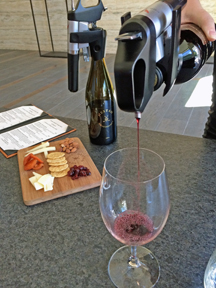 Syrah Meyer Vineyard 2004 Napa Valley with 14.5% alcohol was an opaque ruby color. The wine had notes of black fruit and plum with bold tannins. This full-bodied wine retails for $50. Proprietary Red 2009 Napa Valley was a slightly translucent ruby color. The wine with 14.8% alcohol offered black fruit and spice notes with medium/bold tannins. The full-bodied wine retails for $72. Hestan Cabernet Sauvignon 2011 Napa Valley was a translucent ruby color. The wine offered black berry and black raspberry notes with bold tannins. The medium/full-bodied wine was food friendly.
There is a strong connection between wine and food. Stanley and Helen Cheng think of this as a marriage and the Hestan Estate tasting room accents this theme.
Hestan Estate Wines
6548 Washington Street
Yountville, California 94599
GPS: N38º 24.190' W122º 21.789'
Article written September 2014
---
Visit these California organizations and wineries that partner with Wine Trail Traveler.