Storybook Mountain Vineyards
by
Kathy Sullivan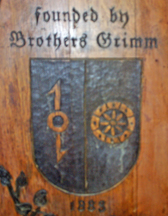 Summary: This one of a kind winery offers an unusual story. During the late 1800's, two Grimm brothers planted a vineyard and dug three tunnels into volcanic rock to use for wine aging. The property was purchased in the 1970s and renamed Storybook Mountain Vineyards. To visit the winery wine enthusiasts need to make an appointment. This is a small family owned and operated winery.
The beginnings of the vineyards at Storybook Mountain Vineyards in Napa Valley, California began back in the 1800s where a German family with the name of Grimm was involved in winemaking. Eventually a younger member of the family, Adam Grimm, moved to Calistoga in northern Napa Valley to pursue his own dreams of owning a vineyard and winery. North of Calistoga, Adam purchased more than 400 acres and planted grapevines including Zinfandel. In 1889, Adam's brother, Jacob, arrived. Together they dug three tunnels into volcanic rock to use as storage for wines. When Prohibition came about Jacob began to sell wines for medicinal and sacramental use. Overtime, the vineyards and winery were no longer maintained and the winery became one of California's ghost wineries.
In 1976, Jerry and Ingrid Seps discovered the property and purchased land around the winery. They decided to plant Zinfandel. From then on the story continues with the production of award winning Zinfandel wines.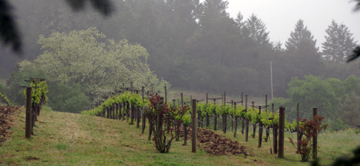 We met Rick Williams outside the caves. He took us to a redwood grove where we had some protection from the light rainfall and could view the vineyards. Rick said that he likes to take visitors to the top of the vineyard for a view of the vineyards and scenery. Unfortunately on the day of our visit the weather was rainy and too wet. However our forest-like vantage point provided a storybook setting. Vineyards consist of 42 acres that include Zinfandel, Cabernet Sauvignon, Merlot, Petit Verdot and Viognier. According to Rick, Storybook Mountain Winery is an authentic, small family farm where everyone is involved in the planting, harvesting and winemaking. He added, "It's all about the land."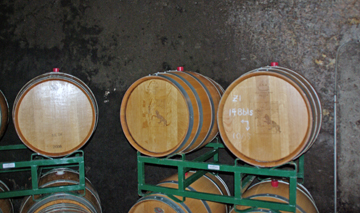 Not far away from the redwood trees an entrance opens into the caves. Each cave is approximately 100 feet in length. The temperatures in the caves are relatively cool and constant. Humidity is high and good for wines aging in oak. Oak barrels are Italian and the oak is from two different forests.
Wines are tasted in a small area at the back of one of the tunnels. Wine enthusiasts will enjoy walking through these caves that are more than 100 years old. In this area visitors will see an artistic and extensive carving on an oval oak barrel. The carving by Ingrid shows a grape leaf, grapes, a fox, and notes the winery and vineyards were founded by Brothers Grimm in 1883. Also in the tasting area is a notebook with pages of history including the Grimm brothers.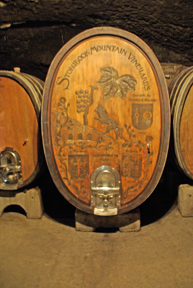 Wines
The flagship wine is Zinfandel 2009 Napa Estate Mayacamas Range. It was produced with organic grapes and indigenous yeast. The wine was a dark ruby color. The wine offered dark fruit notes. The finish had tannins with the faintest hint of perfume. According to Rick, this Zinfandel is one-half of their production. Cabernet Sauvignon 2007 was dark purple. The aroma and taste had blackberry notes. The finish was fruity with bold tannins. Cabernet Sauvignon 2005 was also a dark purple with notes of dark berries. The finish offered bold tannins. Viognier 2010 offered a floral aroma while the taste had peach notes. The finish was crisp with peach nuances.
Wines are distributed to 83 San Francisco restaurants and 49 restaurants in Napa. Storybook Mountain wines are also available in many states where distributors handle them. Wine enthusiasts can join a Storybook Mountain wine club. Storybook Mountain's wine club has three tiers. Members receive shipments five times a year. Members can choose between receiving three, six or twelve bottles with each shipment. A reminder at the winery is, "Take home enough Storybook Wine to live happily ever after!"
Enjoy a visit to Storybook Mountain Vineyards where you will learn about its long history, tour the original wine caves and taste award-winning wines.
Storybook Mountain Vineyards
3835 Highway 128
Calistoga, California 94515
GPS: N38º 36.013' W122º 38.329'
---
Visit these California organizations and wineries that partner with Wine Trail Traveler.