Artesa Vineyards & Winery
by
Kathy Sullivan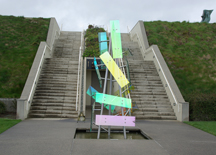 Artesa is a unique experience. As we approached Artesa Vineyards and Winery located in the Carneros region, we knew we were in for an outstanding adventure. Driving up the long, winding driveway we were surrounded by grapevines, as we looked for any sign of a winery. The driveway leads around and to the back of a hill and there before us were several sets of stairs between mini water falls. When we arrived at the top of the stairs, a large, long area led the way to double doors. Amongst all of these sights were a variety of bright, cheerful artistic displays.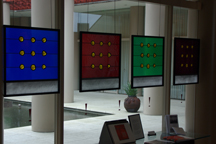 Upon entering the facility, we were met by a receptionist who warmly welcomed us to Artesa. She directed us to the tasting room, just past a gift shop. The tasting room is large with a long tasting bar and several tables to accommodate more visitors. Art is placed on the walls at certain locations to enhance the atmosphere. This art is available for purchase. If you are looking for a unique piece of art, Artesa may be the place to visit.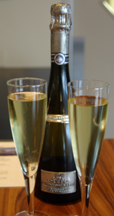 As we approached the wine tasting bar, a wine server greeted us and openly welcomed our questions. He had no hesitation in answering any questions we asked. The sparkling wines at Artesa are a combination of two wines: Chardonnay and Pinot Noir. Fascinated as I always am by wine bottles and labels, we discovered that the sparkling wine has a unique silver label and above it a smaller label attached with a silverish chain. Labels on a new champagne bottle must be placed by hand due to the shape of the bottle. Another label used on Artesa wine bottles has a grape vine root that looks like a woman's leg. Their top sellers are Sparkling wine, Estate Chardonnay, Estate Pinot Noir and Napa Valley Cabernet. The wine is produced in small batches and only minimal filtering is used. Sparkling wine is aged for five to six years.
In 1991 this winery was opened as Codorniu, named after a family in Spain. In 1999 it's name was changed to Artesa. Currently Artesa owns 530 acres of grapes and produces 110,000 cases of wine per year.
All too soon our wine tour began, led by a very knowledgeable enthusiastic gentleman. Our tour guide has lived in the area for a long time and he was able to recall bicycling in Napa Valley when development of the valley had barely begun. Our small tour went outside and despite a light rain and clouds in the distance we were able to almost see San Francisco. On a clear day it would be possible to see Napa Valley, the Carneros region and San Francisco Bay. We proceeded inside to the area where wine is aged and bottled.
Our guide told us that grapes require a certain amount of rain in order to produce good grapes for wine. We were told that the bright, fresh green hills we were seeing in February would be brown in six months. Artesa has reservoirs available to help with their need of water. A quote was mentioned on our tour, "Whiskey is for drinking, water is for fighting over."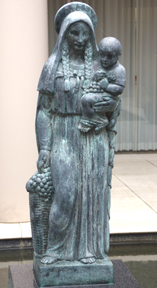 At Artesa grapes are picked only at night or early morning. In this area, grapes picked at noon under the heat of the sun are not as good as if they are picked before the temperatures rise. Our tour guide stopped at a fountain where a detailed statue stood. This statue is a replica of the original found in Europe. The statue is unique because it shows the Madonna and Child holding grapes.
Artesa is the first winery we have visited that has an Artist in Residence. The in-house artist is a master of glass and steel. Gordon Huether began showing his art at Artesa in 1992. In 1997, Artesa asked him to be their Artist in Residence. As our tour guide noted, Gordon's art is art that one can never get tired of looking at. With a glass of fine wine in their hand, visitors can freely walk and enjoy these eye catching pieces of art.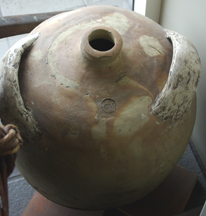 We noticed other interesting things on our tour. Three amphorae were displayed. Amphorae are ancient wine jugs used before glass was mass-produced. Gregorian chant was piped through the barrel aging room in order to provide the workers with a sense of wellbeing. It also provides tourists with a sense that winemaking is an ancient art. Despite the expense of these oak wine barrels, at Artesa barrels are used only two times. We also learned that hand riddling is necessary on their new sparkling wine bottles because of the shape of the bottle.
If you enjoy good wine, architecture and art, Artesa may be just the place for you to visit.
Inside we saw a description of Artesa, which indicated that Artesa is a combination of fine wine, art and architecture. One only has to take a look around them and taste their wines to realize they have met this goal.
Artesa Vineyards & Winery
1345 Henry Road
Napa, CA 94559
707-224-1668
---
Visit these California organizations and wineries that partner with Wine Trail Traveler.