Del Dotto Vineyards
by
K.L. Sullivan
Our decision to visit Del Dotto was made easy when we learned of their "old" caves in which they age their wines. One focus of Del Dotto Vineyards is the use of "ancient" techniques in making superb wine. A Del Dotto's brochure says, "The past will teach us the future!"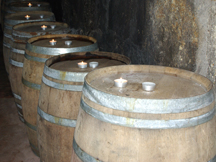 The caves at Del Dotto were built in 1885 by Chinese workers who used shovels and picks. According to our guide, no dynamite was used in the construction. The construction of the caves took five to six years. Del Dotto is a boutique winery and is well known. They do not need to advertise as news of their winery is spread by word of mouth.
Del Dotto produces red wines. These wines are not filtered and are racked every four to six months. Del Dotto started by producing 500 cases of wine in 1993 and today produces 7,000 cases. Their port is aged for three years.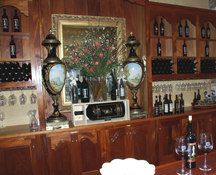 As we entered the winery through a large, ornate door to our right was a beautiful wood counter and cupboards displaying various bottles of wine. On the left side is a small room with various size bottles displayed ranging from a small 375 ml bottle to a very large 27 liter bottle. We learned that the larger the bottle the better the wine will age. It must be a challenge to hold and pour it though. Del Dotto prides itself on bottling wine directly from the barrel for the consumer. Therefore we did not see numerous cases of wine ready-to-go.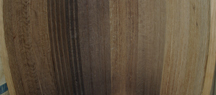 As we were about to set off on our tour, we were supplied with a wine glass. Guiding us toward the caves, our guide stopped at a display showing the features of oak barrels. This is a unique opportunity to see an oak barrel cut in half vertically. Our guide explained the various toasts of oak barrels and the importance they play in the flavors of the wine. The photo on the right shows, from left to right, heavy toast to no toast.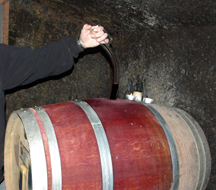 Continuing into the caves, the walls were lined with barrels. Sitting on each barrel on the top layer were small lit candles adding to the ambience of the tour. Occasionally our guide would stop and open a barrel for a barrel tasting. We were able to compare several wines from the barrels. On the barrel, covers cards were available with the name and price. If a participant on the tour wished to buy a tasted wine, they picked up the card and take it to the tasting room where they can complete an order form. If possible the wine would be bottled immediately or within two to three days for pickup. This seems to be the ultimate in wine service.
Our tour guide provided us with various unique facts including, women have more taste buds than men. What does this mean in terms of tasting? Is this significant enough to make a difference when tasting wine or any type of food? This is something we will explore in a future article.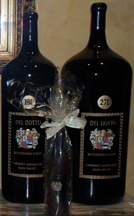 When the tour ended, we went back to a small tasting room where we tasted wine and chocolate. Most remarkable was a wine bottle coated with chocolate and dribbled chocolate design.
Del Dotto is building new facility. When it opens visitors will be able to see two ancient clay vessels from Tuscany. These clay vessels are so large that someone can walk inside them. Already in use in producing Cabernet, the wine produced using these clay vessels is high quality.
For your next visit to Napa Valley, plan on a visit to Del Dotto. If you are a history buff, this will be one winery tour you won't want to miss. It is best to contact Del Dotto for more information regarding tours and directions.
Del Dotto Vineyards
1055 Atlas Peak Road, Napa, CA 94558
Tel 707-256-3332 option 1
---
Visit these California organizations and wineries that partner with Wine Trail Traveler.